Spotify vs Tidal vs Amazon Music Comparison
In the old day, people who are obsessed with music, they would buy cassettes, vinyls and CDs. It means spending more money if you want to listen to the latest released songs. Worse, the earlier audio recorders can't be carefully preserved. If they go something wrong, people just throw them into the garbage. Luckily, the technical media fashion took place, streaming music and digital songs have been a close-knit hobby. When you are hunting for some extremely old yet classic or some niche songs, there are plenty of music services ready for you. With larger music discovery and higher audio quality, streaming music becomes the higher ups for music lovers. The question now is, which streaming music service is best for you? And what are the similarities and differences of them? Here in this article, we list you the features about Spotify, Tidal and Amazon Music for a clear comparison.

1. Spotify Music, hottest music streaming service overall
The hottest online music service goes to Spotify. It will freely navigate 500 million users worldwide to tens of millions of tracks, 4 million podcast titles. Another reason people vote for it is that you can share what you're listening to in real-time, assemble playlists with others and follow artists you like. By placing your demand data within the app, Spotify is perfectly suitable to you. About the money plan for Spotify, the price is relatively affordable. If you're on a tight budget, Spotify has you covered.
2. Tidal Music, best for audiophiles
Tidal music is Tidal is outstandingly known for its HiFi tier, which offers a variety of higher-quality listening options than most competitors, albeit at a higher price. Most content is available in lossless, CD-quality audio. It priovides Tidal Free, Tidal Hi-Fi, and Hi-Fi Plus subscriptions. Hi-Fi Plus users go a step further to offer music at 24-bit/192kHz quality. Tidal Masters also offers immersive formats such as Sony's 360 Reality Audio and Dolby Atmos. If you're interested in the Masters format, you will need a separate DAC and wired headphones/speakers, or AptX HD-enabled wireless headphones to take advantage of it. A subscription to Tidal HiFi is comparatively expensive,
3. Amazon Music, Echo music native provider
Amazon is well known for the odd premiere. Country singer Garth Brooks, for example, was a huge exclusive for Amazon Music Unlimited. As for the aspect of audio quality, Amazon Music Unlimited is less specific when it comes to streaming quality, claiming to support 'multiple bitrates'. That might be no different from Spotify's 320kbps streams, some users answered. Amazon Music offers Prime subscribers a discount at £7.99 per month. While a regular Music Unlimited membership will set you back £9.99 per month. As you'd expect, Amazon Music Unlimited integrates seamlessly with Echo devices.
Complete Comparison Table
Name
Spotify Music
Tidal Music
Amazon Music
Subscription
Free/Student Premium, $4.99/Premium,$9.99/Duo, $12.99/Family, $14.99
$9.99/$19.99 (HiFi/Hi-Fi Plus)
$7.99/$9.99 (Unlimited)
Audio Catalogue
100 million (Premium)
100 million
100 million (Unlimited)
Audio Fidelity
Free: 128kbps AAC;
Premium: 320kbps AAC
Tidal Free: 160kbps;
Tidal HiFi: 1411kbps (16-bit / 44.1 kHz);
Tidal HiFi Plus: 9216 kbps (24-bit/ 192kHz)
320kbps
Platforms
Windows, macOS, iOS, Android
Android, iOS, Web
Echo devices, FireTV, Fire Tablets, Alexa-enabled devices, Android, iOS, Web
Other Features:
Spotify Connect (Wi-Fi), Bluetooth
Exclusive artist content, 360 Reality Audio and Dolby Atmos support
Curate playlists for almost any activity, mood or occasion
---
Download Spotify, Tidal and Amazon Music to Personal Storage
-Permanently Own Streaming Music at Lowest Cost
The common place for Spotify, Tidal and Amazon Music is that offline music caching will be expected of all streaming music apps. All of them are based on a subscription identity. You can either play the music via the app or web online. Or you play the music offline within the app, still being a subscribed user all the time. In plain, you will never get rid of the service at all even you are on an offline playback.
This is not what one who just wants to download the songs for further ringtone editing, for instance. That will be a headache for music lovers to enjoy themselves. Consequently, we would love to let you know how you can take good advantage of the streaming music if want to further cut down the expenditures. I think the best way is to download the music and save them to your person pocket. I mean, put the music in your local storage, you will forever own the music. You can also move the music beyond the music app to other platforms or devices as you like. So in the following part, we get you an ultimate solution to download music from a specific platform.
AudiCable Audio Recorder, as it is named, is to record and convert streaming music to common formats, saving them to personal local path like computer. It is fully compatible with diverse music platforms like Spotify, Amazon, Apple, Line Music, Pandora, Tidal and more. All recorded music will retain 100% lossless original quality & ID3 tags. Optional formats you can choose to convert cover MP3, AAC, WAV, FLAC, AIFF and ALAC. As long as you get the music recorded, the music will be on that mission to download and convert to your desired format, saving music to your personal storage like computer drivers, letting you permanently own the music even subscription ends. If you are still puzzled how AudiCable Audio Recorder works, then take a specific look at these steps on recording Spotify Music to 320 kbps from below: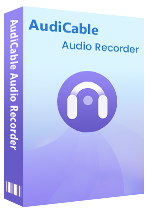 AudiCable Audio Recorder
Download music from Spotify, Apple Music, Amazon Music, Tidal, Line Music, Deezer, YouTube Music, Pandora, etc.

Record and save streaming music to MP3, AAC, WAV, FLAC, AIFF, ALAC.

Fully support for kinds of streaming music apps.

Keep Hi-Fi audio quality after conversion.

Free updates & technical support.
Step 1:

Pick up Spotify platform in the sources

Firstly, download AudiCable Audio Recorder to your computer. If you have downloaded it, run it to start. On the homepage, you can see all common music sources displayed like Spotify, Apple Music, Amazon Music, Tidal, Line Music, Deezer, YouTube Music and Pandore (Kindly refer to the figure below). If you are looking for obscure music from some niche platforms, click the 'Add Other Source' button to add the platform with the official music website.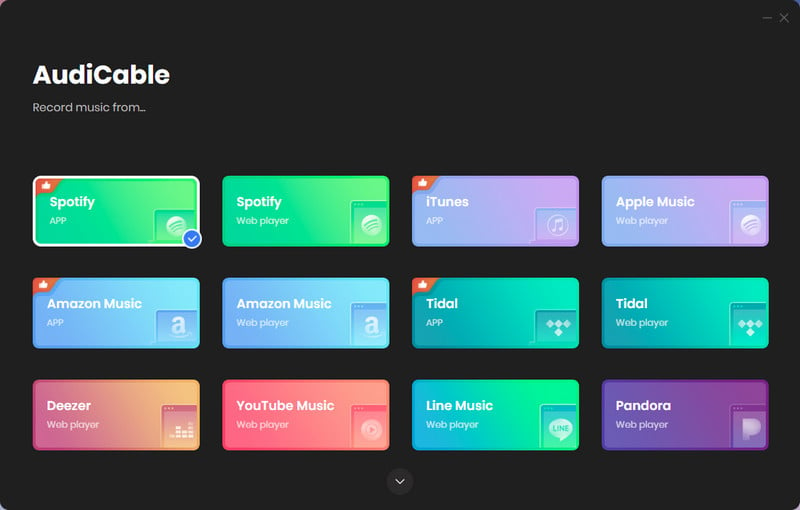 Step 2:

Customize the output parameters

Go the Settings part in the upper right corner, where you can customize the output settings on the music file to convert. Mainly, there are 3 parameters affecting the outcoming audio file. They are output formats covering MP3, AAC, FLAC, WAV, AIFF, output quality including 128kbps, 192kbps, 256kbps, 320kbps. And the output path is what you ought to create a computer path to store the files after conversion. Here you can simply choose MP3 format which is the basically suitable file format for most player devices and apps. And the highest sound quality 320 kbps will bring you a wonderful listening experience.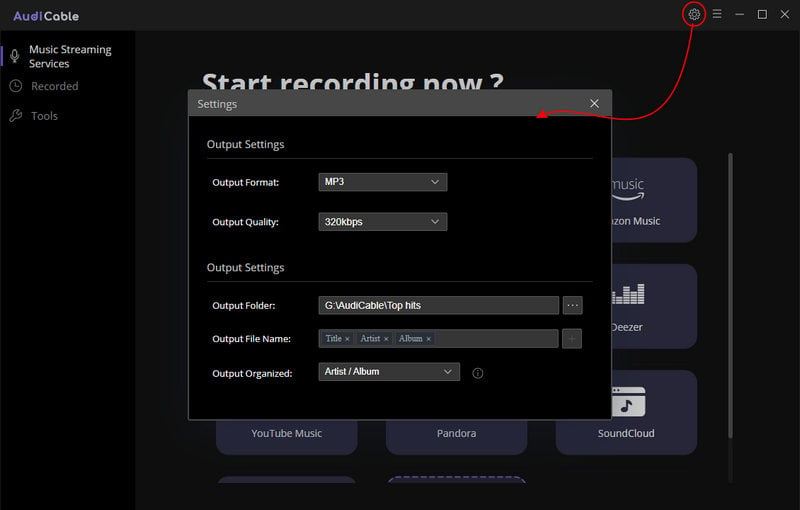 Step 3:

Log in with Spotify account (Either Spotify Free or Premium)

Now, click into the Spotify entrance in AudiCable homepage to get to Spotify Official Web Player accordingly. Surely, you need to log in to Spotify account to better access to Spotify library. Choose the way you want to log in with your Spotify account. Facebook, Apple or Google account are acceptable. If you have no one yet, just sign up a new account at no charge at all.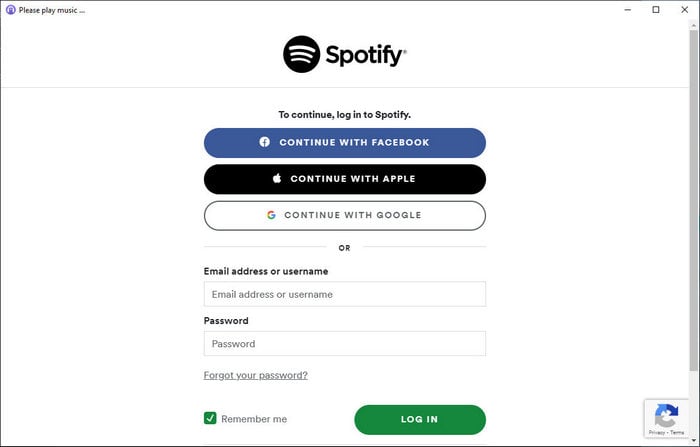 Step 4:

Start to Record Spotify Music, Automatically Convert to MP3 320 kbps

Following, choose any song or a playlist then click it to play. As long as there is a melody or a rhythm coming out, AudiCable Audio Recorder will start to record the tuning song. The other good thing about AudiCable is that you can turn off the sound when you are playing the music. Just go to the "sound" icon on the upper right and switch to mute, AudiCable is definitely recording the songs as you are desired.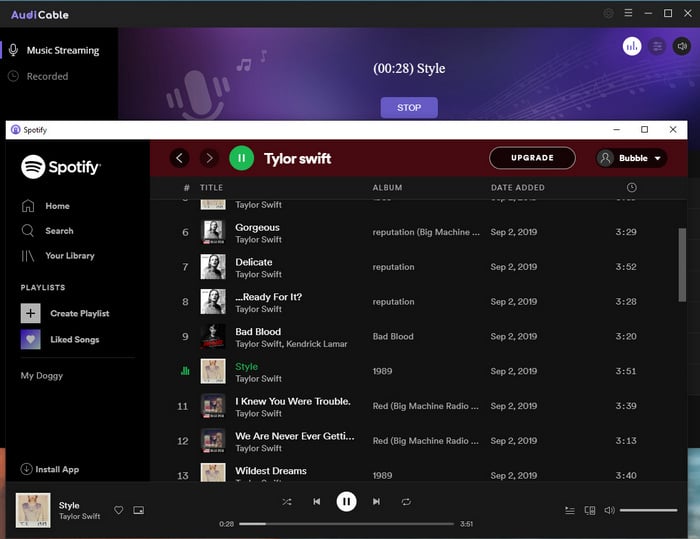 Step 5:

Check Out Recorded File in Personal Local Path

All finished songs are both saved in AudiCable program and your personal local path on the computer. Back to AudiCable main interface, and navigate to 'Recorded' part, you can view all the music you have worked out with. Further kick on the Folder icon, you will be guided to the local path and check out all the audio files.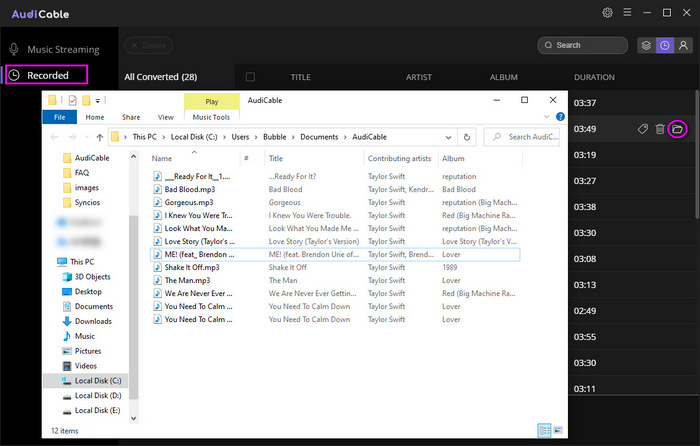 Conclusion
Logical steps above are applicable to your Tidal Music and Amazon Music downloading mission as well. You can selectively download your favorite songs. Also you can record an entire playlist with all kinds of genes. All recorded music are eventually served for an offline listening, 100% free of limitation. One point we want to add is that AudiCable Audio Recorder is now on a limited time free offer, so why not have a free try?
Download Music with AudiCable Audio Recorder
| | | | |
| --- | --- | --- | --- |
| Supported Sources | Spotify Music | Tidal Music | Amazon Music |
| Output Format | MP3/AAC/WAV/FLAC/AIFF/ALAC | MP3/AAC/WAV/FLAC/AIFF/ALAC | MP3/AAC/WAV/FLAC/AIFF/ALAC |
| Output Quality | 128/192/256/320kbps | 320kbps/Hi-Fi | 128/192/256/320kbps |
| ID3 Tags | Title/Artist/Album/... | Title/Artist/Album/... | Title/Artist/Album/... |
| Operating System | Win | Win | Win |
Related posts
Sidebar
What You'll Need
Hot Tutorials