Download Pandora Music to MP3 for Offline Listening
Pandora Music offers a subscription-based music streaming service. Originally, Pandora was designed as an internet radio service and it was a freemium service. Later in 2017, Pandora Premium has been published. This is an on-demand version of the service more in line with contemporary competitors. Now you can also get a freemium service on Pandora. However, the basic features are free with advertisements or limitations. If you want an improved streaming quality and offline listening, you need a paid subscription.
Through Pandora Premium, you can offline listen to songs, albums or stations within Pandora app. But you are not supported to transfer Pandora Music collection to any external music library. Because all downloaded songs are encrypted with special formats.
If you are thinking about changing a music source to download songs. You should know that you are not allowed to transfer downloaded songs to an external library with any streaming music app. Because this is how a subscription-based music app benefits.
Of course, everything in this world will have an answer. In this article, we will share a best solution to download Pandora Music tracks, albums, radios as MP3 for offline listening without limitations. For more details, follow us right now.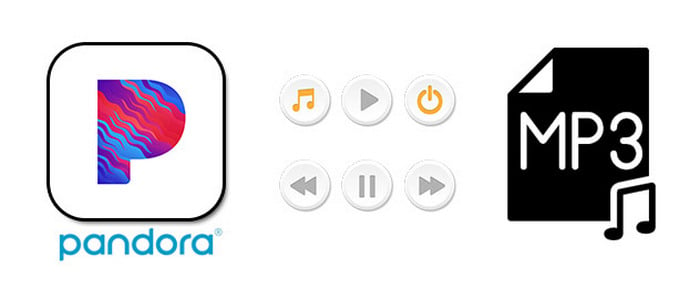 First of all, you have to know why you need to download music in MP3 format. We list several possible reasons below:
📌 For offline listening to Pandora Music
📌 Move Pandora Music to an Android or iOS device
📌 Move Pandora Music to a USB Flash Drive
📌 To listen Pandora Music when driving without internet
📌 Share a favorite album with a friend who does not have Premium account
📌 Add Pandora Music to a video as BGM
📌 Burn Pandora Music to a CD
📌 Want to collect all favorite playlists offline for real before ending the subscription on Pandora
In this case, it's necessary to export music from Pandora as MP3 format. You can choose to pay for Pandora Plus or Pandora Premium every month, or choose to download any music and playlist from Pandora with an alternative way. We can take advantage of some third-party music downloaders such as AudiCable Audio Recorder.
⭐ Download songs from Pandora Freemium, Pandora Plus, Pandora Premium.
⭐ Record music from Spotify, Apple Music, Tidal, Line Music, Deezer, YouTube Music, Pandora, SoundCloud, etc.
⭐ Save Pandora Music or music from other streaming apps as MP3, AAC, WAV, FLAC, AIFF, ALAC.
⭐ Convert tracks to MP3, M4A, M4B, WAV, FLAC, AIFF, M4R.
⭐ Export music with original quality and ID3 tags.
⭐ Support to download songs while listening to music online.
⭐ No need to install additional apps including the Pandora app
Like the other major streaming music sites, Pandora also offers different types of memberships for subscribers, including the free ad-support radio, ad-free Plus plan, and unlimited Premium plan. With free subscription, users can only listen to music from Pandora online. However, the Premium subscription allows users to download Pandora music for offline listening.
Alternatively, you can download music from Pandora by using AudiCable even you do not have the authority of downloading music. Music can be recorded if it can be played online. So you are allowed to download music from Pandora with a free subscription. Check the detailed steps below.
Download
Pandora Music to MP3

for Offline Listening

Step 1: Get AudiCable Audio Recorder Installed

Download AudiCable Audio Recorder to your computer and start the program. On the main interface, all popular music sources are displayed, such as Spotify, Apple Music, Tidal, Line Music, Deezer, YouTube Music, Pandora. Just click on Pandora to initiate its web player. Log in with a Pandora account. (Pandora is not available for all regions. If Pandora is not supported in your country, please try Spotify. With AudiCable, you can also download music from Spotify with a free account.)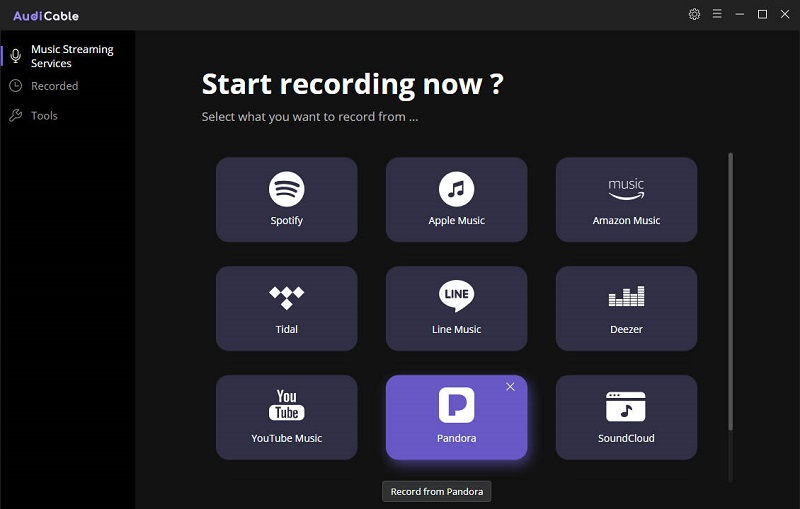 Step 2: Change Output Settings
On the top right of AudiCable, go to a "gear icon" to open the setting window. From where you can choose to save songs as MP3/AAC/FLAC/WAV/AIFF formats. And we can save songs as MP3 and AAC with up to 320kbps audio quality. It's the best quality for downloading MP3 files. If you need to save original quality, you can choose to save songs as FLAC/WAV formats. And if you need to play music on a Mac, choose AIFF format. For most of users, you'd better choose MP3 as the output format. Because MP3 file can be played via almost all of media player.
After setting the output format and output quality, we need to locate a proper saving path on the computer.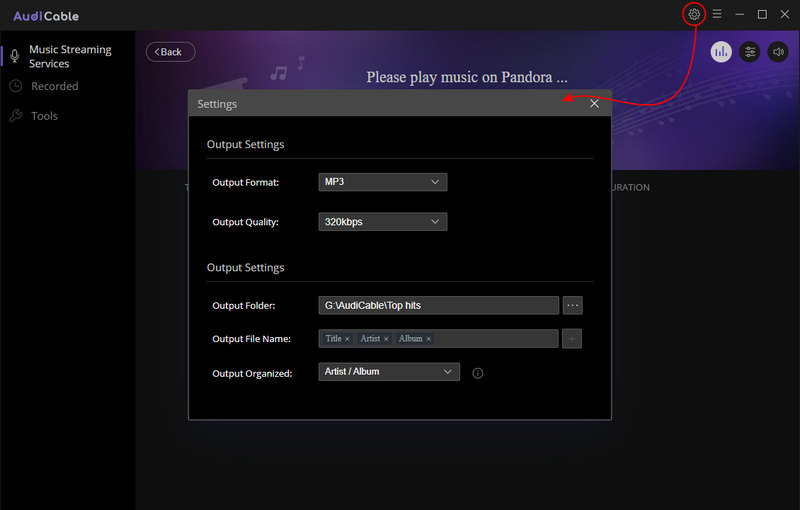 Step 3: Select a Preferred Album
Now we can download music from Pandora Music as MP3. Log in with Pandora account. Then on Pandora web player, choose an album you like, then start playing songs in order. AudiCable will start recording the playing song one by one simultaneously. The metadata will be recognized by AudiCable automatically. You will get a same playlist on your computer after all downloads.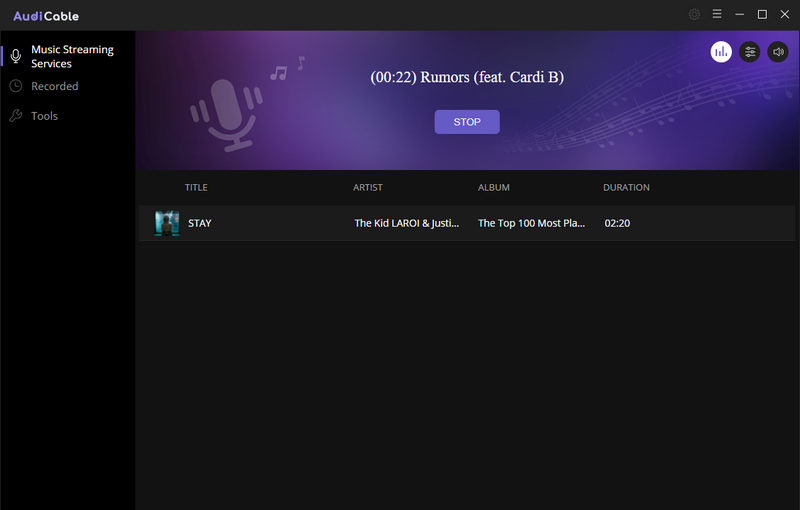 Step 4: Enjoy Offline Playback
Now, you own offline Pandora Music playlists on your computer. Since all songs from Pandora have been saved as MP3, you can move them to any device. Just connect the device to computer then copy the songs to it. What's more, you can share your favorite album with your friends without limitation right now.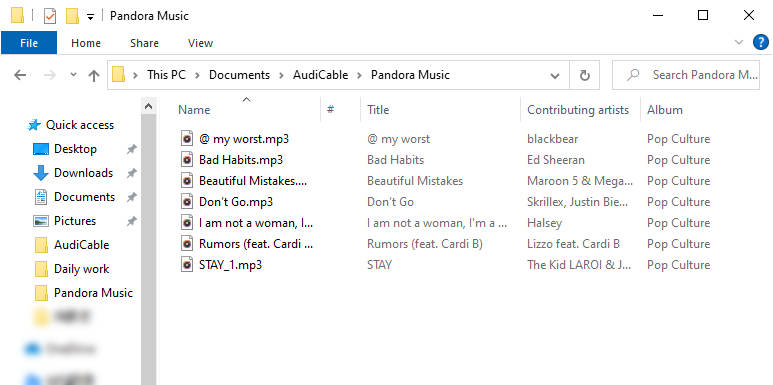 ---
Conclusion
Though you can stream music during the subscription to Pandora. But to have a better experience, you can download Pandora songs, albums, radios as MP3. Instead of streaming on Pandora Music, you can truly own songs from Pandora. AudiCable Audio Recorder is a professional audio recorder for Pandora or other streaming music users. With its help, you can freely download any songs from Pandora as MP3 or other common formats with ID3 tags and original audio kept. Have a free try right now. You will love it!
Related posts