Spotify vs Pandora - Which One is Right for You?
What's the difference between Spotify and Pandora, and which one should I use? Here's everything you can know about Spotify vs Pandora.
With a myriad of streaming music platforms available to music lovers, listening to your favorite songs is easy anytime and anywhere. Spotify has long been dominant in music streaming, with millions of songs in the library and a great feature set. It is the most widely available music streaming app that offers Free and paid plans to users. Pandora, meanwhile, is another popular digital music platform that combines online music recommendations and a worldwide live radio station.
If you're torn between Spotify and Pandora, we've got you covered with a thorough comparison of their pricing, music library, sound quality and availability. Check it out!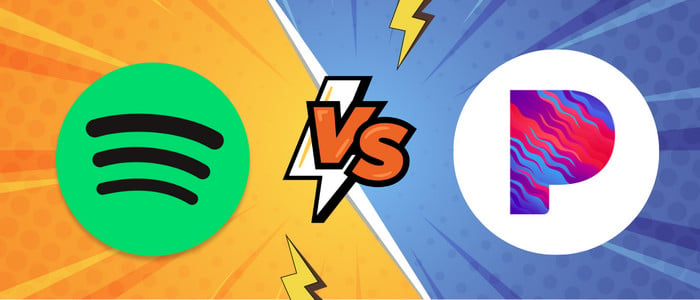 Part 1 📊 Comparison Table - At a Glance
Firstly, see the table below for a quick look on the major similarities and differences of Spotify and Pandora.
Spotify
Pandora
Minimum Monthly Fee
Spotify Premium Individual at 9.99$/Month
Pandora Plus at $4.99/Month
Free Plan
Yes, with ads
Yes, with ads
Free Trial Period
1-3 months
30 days (Plus), 60 days (Premium)
Music Content

Singles, Playlist, Albums, Podcast, Radio, Audiobooks, Music Video

Singles, Playlist, Albums, Podcast, Radio Station
Music Library Size
Over 100 million
Over 60 million songs
OS Support
Android/iOS/Windows/Mac
Android/iOS/Windows/Mac
Maximum Audio Quality

Free: 160kbps

Premium: Up to 320kbps


Free: 64kbps

Premium: Up to 192kbps

Offline Downloads and Playback
Yes, with paid subscription
Yes, with paid subscription
Region Availablity
Over 180 Countries
Available in USA only
Now we can move to more details and features of Pandora and Spotify.
Part 2 Spotify vs Pandora - Side-by-Side Comparison
Spotify vs Pandora: Pricing
Generally speaking, most streaming music services in the market will offer a free tier to entice users to upgrade to the subsequent subscription-based Premium service. Spotify and Pandora are also included. Typically Spotify new users start with a free trial of 1-3 months; after that, they opt to pay for various Premium plans. And likewise, Pandora offer new subscribers 30 days Premium trial for Pandora Plus, and 60 days for Pandora Plus. But at the end of the trial period, Pandora's paid plans for target users are slightly different than that of Spotify. Following is a rundown of the specific pricing plans for Spotify and Pandora.
💰 Spotify Premium Plans:
| | | |
| --- | --- | --- |
| Individual | One account per household | $9.99/mo |
| Student | One Premium account per student | $4.99/mo |
| Family | Six Premium accounts per household | $15.99/mo |
| Duo | Two Premium accounts per household | $12.99/mo |
💰 Pandora Paid Plans:
| | | |
| --- | --- | --- |
| Pandora Plus | One account per household. Most features in Premium are included | $4.99/mo |
| Pandora Premium | One account per household | $9.99/mo |
| Students | One Premium account per student | $4.99/mo |
| Military | One Premium account for active US veterans | $7.99/mo |
| Family | Six Premium accounts per household | $14.99/mo |
In short, whether you prefer Premium plans of Spotify or Pandora is completely up to preference. Please choose one of them by following your needs.
Spotify vs Pandora: Music Library & Discovery
Spotify claims to have a library of over 100 million songs, whereas Pandora claims to have over 60 million. It is evident that Spotify has overweighed Pandora in the content library size. But both services do a great job of curating recommended playlists and making it easy to find liked-related content.
Spotify house a large variety of genres, moods, and other categories under the Browse tab, and here you can listen to its well-curated playlists by editorials to discover new music. It will also recommend editorial playlists based on your daily listening activity and algorithmically create "Mix" playlists for songs, artists, and albums. Of course, Pandora also offers a music discovery service. But it mainly stands out the function of radio stations, which are customizable to your liking. Once a station is made, you can utilize the Discovery Mode to add music based on recent hits or your daily preference.
Ultimately, both of these services will help you discover new music and remember old favorites. Spotify has the edge in playlists recommendation, but Pandora is hot on its heels with its great radio stations.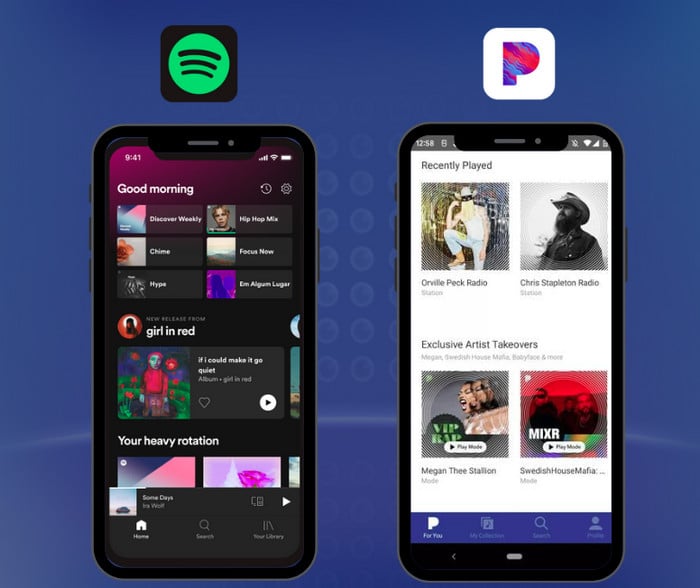 Spotify vs Pandora: Sound Quality
Now let's discuss the streaming audio quality, a crucial factor for comparing Spotify and Pandora. To be exact, the audio quality of Spotify is primarily based on the subscription level and music devices. The free tier is capped at a lower rate, with 24kbps - 160kbps. At the same time, paid subscriptions enable users to stream up to the maximum quality of 320kbps. Besides, podcast fidelity is approximately 96kbit/s on all devices, while 128kbit/s on the web player.
Regarding Pandora, the Premium plans offer three levels of audio quality. At its highest audio setting, Pandora Premium users are available to stream music at 192 kbps. In particular, The web player and desktop app get maximum audio quality of 128 kbps, while the mobile app goes up to 192 kbps.
Here's a quick result of both's app audio quality.
| | | |
| --- | --- | --- |
| | Spotify | Pandora |
| Automatic | Depends on connection | N/A |
| Low | 24kbps | 32kbps |
| Normal | 96kbps | 64kbps |
| High | 160kbps | 128kbps / 192kbps(depending on the platform) |
| Very High | 320kbps | N/A |
As such, Spotify is more suitable for audiophiles, with a higher sound quality than Pandora. While Pandora is ideal for those busy with daily commuting, with no special care for the nuance of audio quality.
Spotify vs Pandora: Availability
Lastly, we'll explore the availability of platforms and devices for Spotify and Pandora. Spotify content can be accessed with the mobile app, the desktop app, or the web player otherwise authorized by Spotify. Spotify's strength is that it's available on practically any device you could think of, regardless of whether they have a screen or a smart speaker like Nest Audio or Amazon Echo. But Spotify has harsher limitations, only allowing you to authorize up to five devices at a time.(Learn more on supported devices for Spotify.)
Similarly to Spotify, the Pandora app is available for use on multiple OS (iOS, Android, Mac, and PC), and the service's music library may be accessed through your web browser. Of course, you can also expand your Pandora Premium experience using Chromecast or Apple AirPlay or by accessing your collection on some in-car audio systems. (Learn more on supported devices for Pandora.)
But given that Pandora is only available in the United States, it is less globally used than Spotify. Moreover, Pandora didn't partner up with multiple devices like those of Spotify. So if you want to have more devices authorized and stream music outside the USA, Spotify is the winner.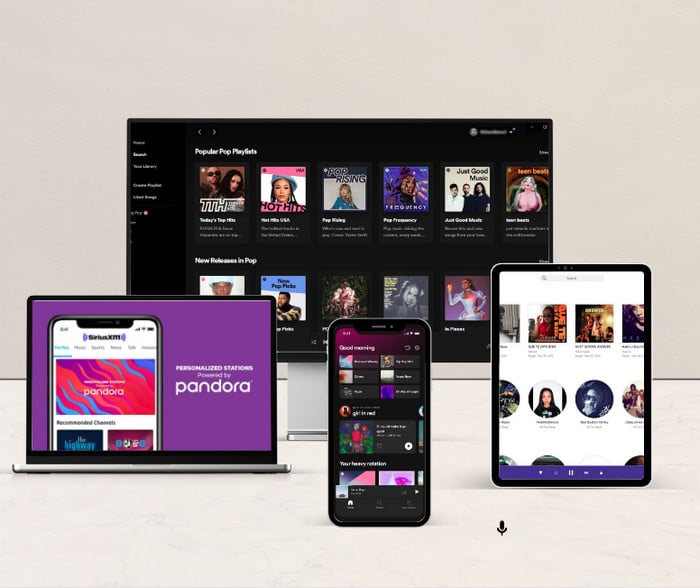 Final Verdict
Spotify has too much of a head start for Pandora to take the crown, but they're both excellent music streaming services. Spotify has the edge in three areas, high-resolution streaming, massive music storage, and excellent compatibility with the device.
While it's true that Pandora lags behind Spotify in the aforementioned three areas, the equation shifts when music radio recommendations are factored in. Pandora's Modes are driven by the Music Genome Project, an algorithm that utilizes user rating data to tailor listeners' music stations. This mode allows free and premium users of all tiers to explore music surrounding curated Pandora station selections.
Both music services play to each strength when considering the pricing plan. Both offer free versions with ads. Spotify's Premium subscription is more expensive than Pandora's premium subscription. But the Premium version of Spotify grants higher audio quality than Pandora. From this, users must compromise between cost and audio quality.
Anyway, no matter which streaming music platform you choose, here's a powerful comprehensive streaming tool - AudiCable Streaming Music Recorder designed to enable you to download songs from both music services simultaneously.
Extra Tips: Free Download Music from Spotify & Pandora
AudiCable Audio Recorder is an all-in-one streaming music downloader available for Spotify, Pandora, Amazon Music, Apple Music, and YouTube Music. It is functional to record Spotify & Pandora music, playlists, albums, and podcasts to MP3, AAC, WAV, FLAC, AIFF, and ALAC. Using advanced audio conversion technology, this program effortlessly rips streaming audio to the local drive while keeping 100% original streaming quality and ID3 tags.
After downloading the music you want, you can play the music offline on MP3 players or other portable devices with no limitations. Also, this program comes with a built-in web player, so you're not required to install any streaming music applications. Check out the detailed features below!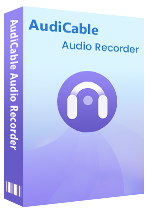 Best AudiCable Streaming Audio Recorder( Mac / Win )
Download music from Spotify, Pandora, Apple Music, Amazon Music, Tidal, Line Music, Deezer, YouTube Music, SoundCloud and other music sources.

Save music to MP3, AAC, WAV, FLAC, AIFF, ALAC.

Keep the original audio quality.

Download songs with ID3 tags.

Support streaming music Free and Premium accounts.

No extra need to install streaming music applications.

Handy tools: Format Converter, ID3 Editors, CD Burner.
💡Steps to Download Music from Spotify & Pandora for Free
AudiCable Audio Recorder is compatible with the latest operating systems of Windows and Mac. Here's how to download Spotify or Pandora music using AudiCable Audio Recorder for Windows. Please first download and install AudiCable Audio Recorder per your computer version.
Step 1

Download and Install AudiCable Audio Recorder

Run AudiCable Audio Recorder on your computer. Most popular music streaming platforms are displayed on the main interface, click the streaming music icon you want to record.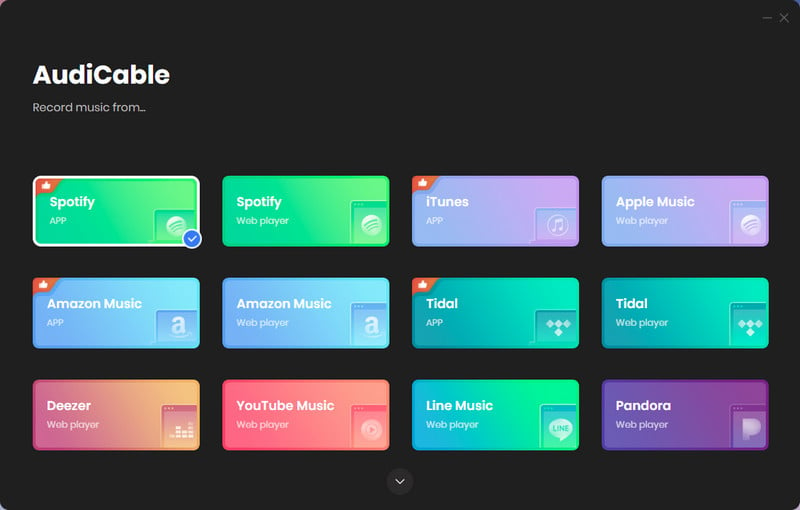 Note: Using the "Add other sources" button, you can also add any music services that you want. Just copy and paste the official website and music service's name, then finishing introducing a new music platform to AudiCable.
Step 2

Choose the Player and Sign in

Please choose the recording mode you want to open. After that, sign in with your streaming music accounts.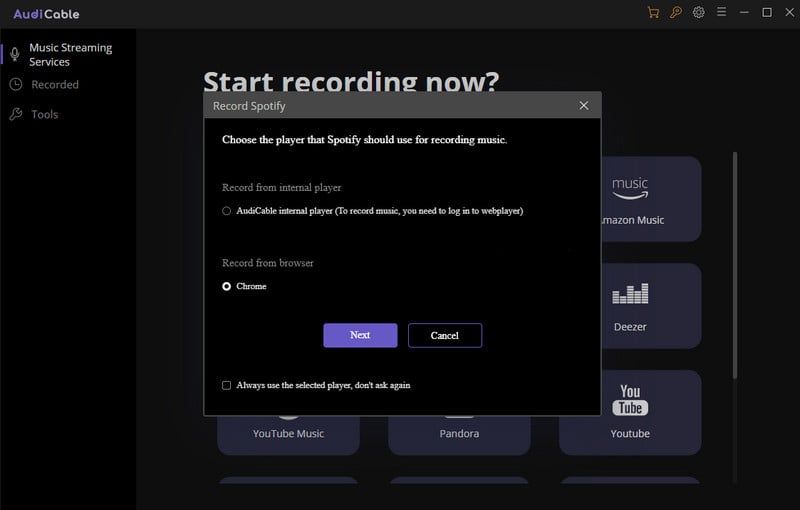 Note: The first option will bring up AudiCable's built-in web player window, and the second will pop up from your Chrome.
Step 3

Customize the Output Parameters

On the top-right corner of AudiCable, click on a "gear icon". From the pop-up setting window, you can freely freely customize the output format, output quality, output folder, output files name, output organized and output path as you like. Once they're set up, close the window to apply the changes.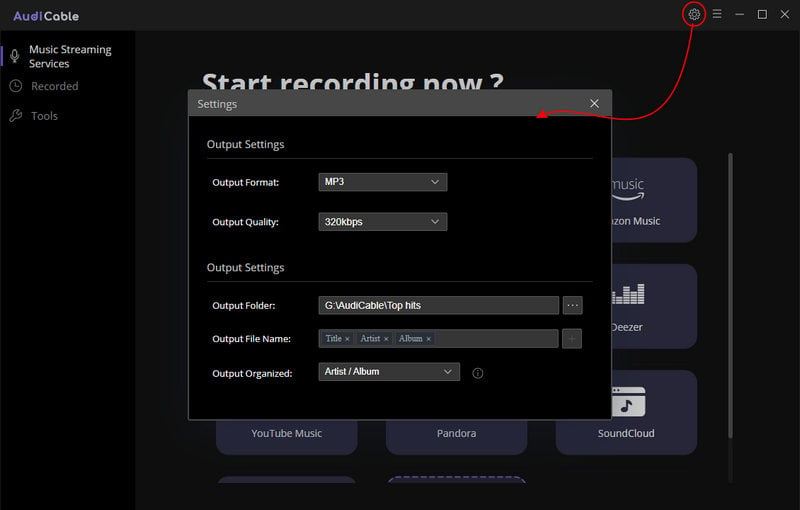 Step 4

Start Recording Streaming Music

Choose your preferred songs, playlist, or albums to play. As soon as you play the song, AudiCable will start recording simultaneously. All recorded songs are saved in the format you set before.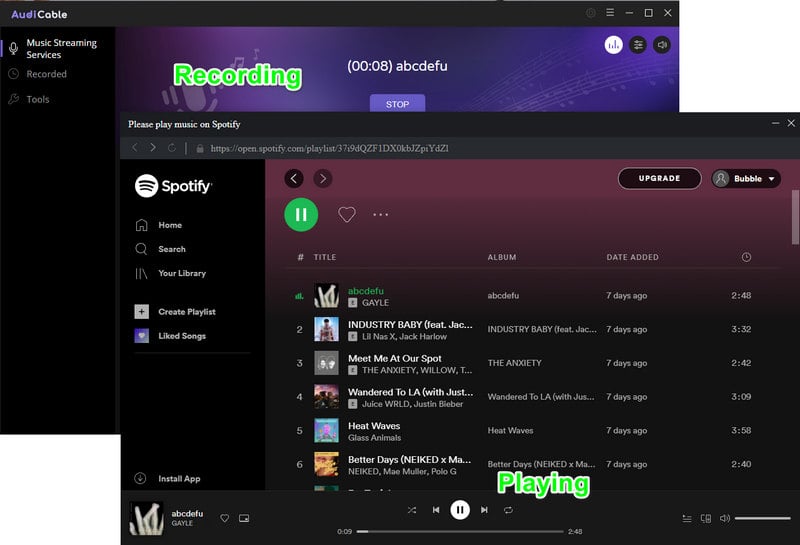 Note: If you want to mute the sound and just download music in the background, you can go to the upper right, and tap the "sound" icon to switch to mute.
Step 5

Get Downloaded Songs on the Local Folder

Click the "Recorded" tap, and the "folder icon" behind a song, then you can quickly locate downloaded audio files. Now you can transfer them to USB drive for playing on any device.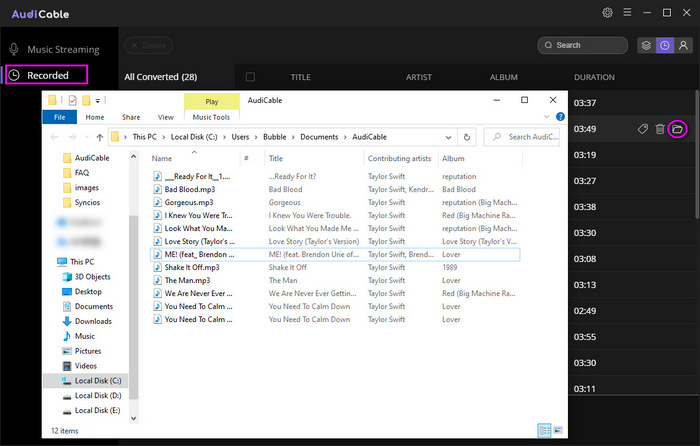 Disclaimer:
All these methods are for personal or educational use only.
You should not use this tool to distribute music or for business.
Conclusion
We've included a detailed analysis of Spotify and Pandora, so you'd be clear about which streaming music service is right for you. Whichever service you end up with, you won't go wrong with it. Of course, if you'd like to enjoy both in tandem, you could always go with AudiCable. It is such a simple task that you can benefit from a one-time download and listening of two music streaming apps at no additional expense.
Note: The free trial version of AudiCable enables you to record a maximum of 10 songs. To get the full conversion, please become a registered member by buying a license from AudiCable.
Related posts