9 Ways to Get Spotify Premium for Free - 100% Work
---
Still looking for a way to get Spotify Premium for free? Find everything you need right here! This post demonstrates nine practical methods for earning a free Spotify Premium membership.
Spotify's Premium tier allows subscribers to access millions of ad-free music content - whether you're listening on a desktop, mobile, or tablet. Like most streaming services, the Spotify Premium version typically starts with a one-month free trial, after which you need to pay for it. After all, the primary purpose of the free tier is to entice you to move over to the fully featured paid tiers. However, it's not the sole way to enjoy Spotify Premium.
Below we list 9 workable ways to get Spotify Premium for free. Pick the options that suit you the best. On top of that, you'll discover a bonus trick for keeping Spotify Premium songs forever after canceling a subscription. Dive in!
See also >>> How to Keep Spotify Music Playable after Unsubscribing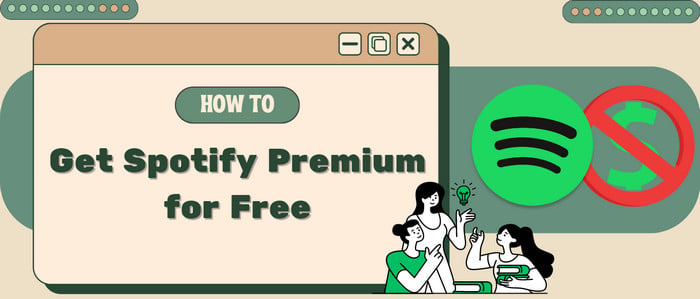 Method 1 Sign up with Free Accounts
All users can sign up for a new Spotify account with a new email address. The new registered Spotify account starts with a free trial of Spotify Premium, whose valid period ranges from 1 month to 3 months. Specific free trial days will be based on Spotify's promotional plans. The process for applying for a new Spotify account is easy, and please follow the steps below.
Step 1: Go to https://open.spotify.com/.
Step 2: Click "Premium" on the top right corner, then choose one of the Premium plans.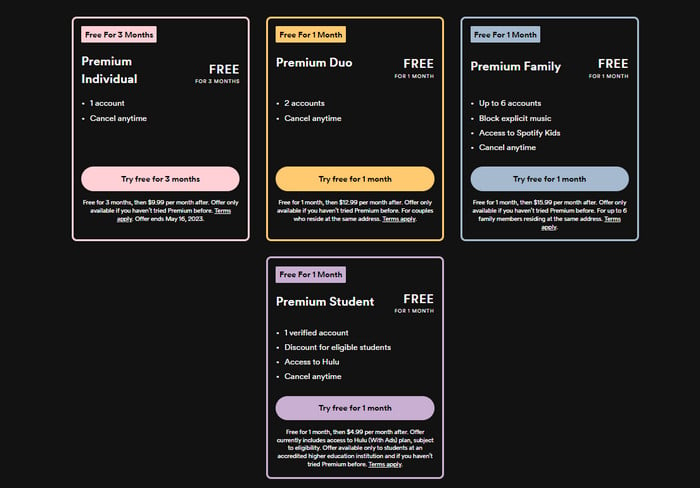 Step 3: You can click "Sign up for Spotify" at the bottom, then input the new email address and other information to finish the registration. After that, you can start to use Spotify Premium free!
Note: Since the free trial is time-limited, you need to repeat this process after the Premium trial expires. Also, remember to close the previous Spotify account and then use a new payment method if you want to redeem the free trial.
Method 2 Join the Family Plan
Spotify Family Plan is a discounted plan for up to 6 family members who live under one roof. This plan is available for 1 month free, $15.99/month after. If someone in the family has subscribed to this plan, the administrator can invite other family members to join for access to the same Premium features. This plan enables each member to enjoy Spotify Premium with separate accounts without paying for extra charges.
Step 1: The owner of the Spotify Family subscription will send you a link via email, text message, or others. You click the link.
Step 2: Tap "Accept invite" on the next page. Then log in to (or sign up for) your Spotify account.
Step 3: Confirm your home address by clicking or tapping "Confirm Location" or "Enter address manually." The address should be the same as the owner has set.
Step 4: Once your address has been found and verified, click or tap "Confirm."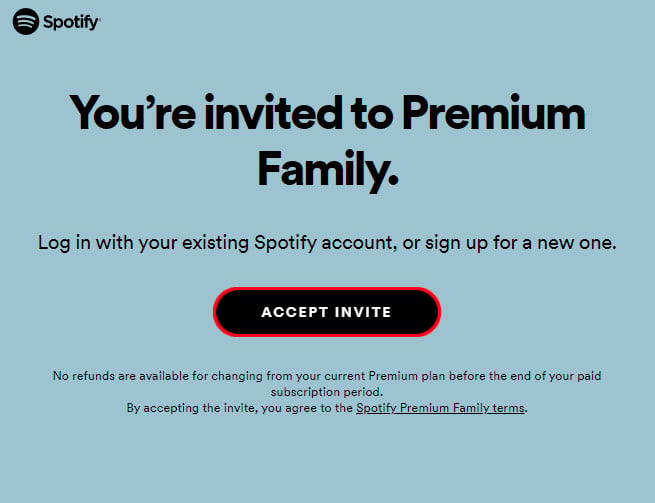 Note: This plan is valid until the manager discontinues the subscription. If you're using the same device, make sure the plan manager logs out before anyone opens an invite link.
Method 3 Activate a Gift Card
Spotify gift card is a thoughtful gift to get Spotify Premium free. Normally Spotify gift cards are available at Amazon, Target, Best Buy, Walmart, Tesco and more, which starts on your plan's next payment date. Be advised that the cards cannot work for Premium Family, Duo and Student.
If you've received a gift card, you can redeem it to activate the Spotify Premium subscription with a few clicks.
Step 1: Go to spotify.com/us/redeem/.
Step 2: Enter your Premium code and proceed.
Step 3: Click redeem. Once completed, your Spotify Premium subscription has been activated. Enjoy!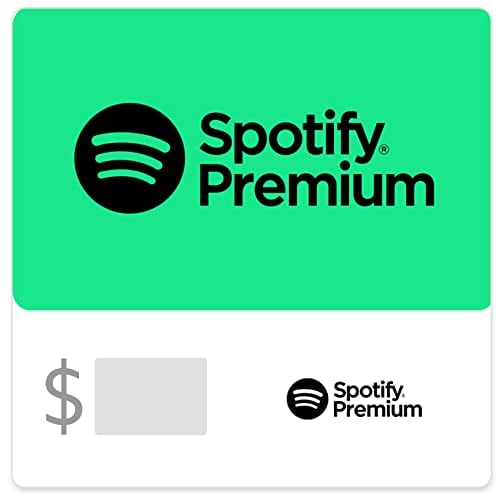 Note: You can stack up to 18 months of gift cards and the subscription time granted by each will be added to your account.
Method 4 Use Spotify Mod APK(Android Devices only)
Spotify Premium APK is a modded version of the Spotify Official Android App. With Spotify Spotify Mod APK installed, you'll have all the Premium features without paying any Premium subscriptions or fees. This free Spotify Premium APK currently run on Android phone only. You can easily install Spotify Premium APK files for Android from Spotifymod.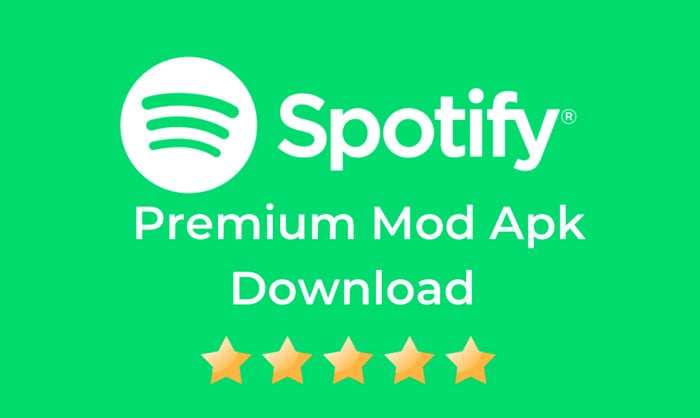 Note: Spotify's mod APK can be unstable and force close on occasion. You can turn to the other viable alternative - AudiCable Audio Recorder. It works to download Spotify music for offline playback on Android/iPhone/PC and more devices.
Method 5 Sign Up Spotify with PayPal
PayPal is the primary payment method for Spotify Premium. Noteworthy, you can get your first 3 months of Spotify Premium free when you sign up with PayPal. This is a free offer designed for new Spotify Premium subscribers, so if you already have a subscription there is not much you can do.
Step 1: Go to PayPal and visit the offer page.
Step 2: Click "Get Offer", then sign in or sign up for your PayPal account.
Step 3: After that, enable the Spotify subscription through PayPal.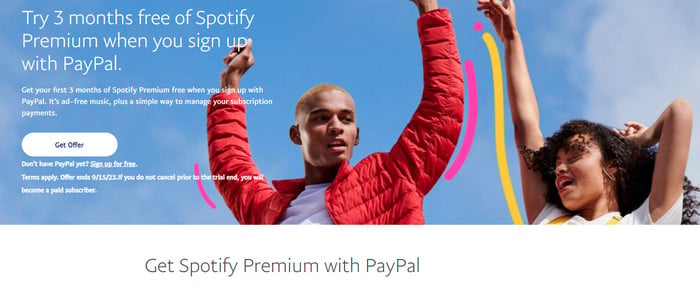 Note: This offer ends on September 15, 2023. Please remember to cancel it before the trial ends, or you will become a paid subscriber by default.
Method 6 Be Starbucks Partners
Starbucks has already made a partnership with Spotify since 2015. If you're rolled as one of the staff of Starbucks, you're eligible to activate your complimentary Spotify Premium membership. Here's how to start Starbucks' partnership membership on Spotify.
Step 1: Visit Spotify's Starbucks Partners page, scroll down to the bottom, and tap "Get Premium."
Step 2: Log in to your Spotify account, and click "AGREE."
Step 3: Enter your Starbucks partner number or Global User Name, then tick "Approve...". You'll get Spotify Premium service within 48 hours.

Note: This perk is valid for a long time. Please cancel your Premium subscription before the next billing cycle to avoid unnecessary subscription fees. Of course, your Spotify playlists and preferences will not be removed.
Method 7 Get Started with Microsoft Rewards
Microsoft has now teamed with Spotify to offer a free three-month Spotify Premium Individual subscription for Microsoft Rewards members. But this reward requires you to perform at least one Bing search for three consecutive days. Progress and points will be shown on your Microsoft Rewards page. After three days you can redeem your three months of Spotify through a code that will be sent to you via email.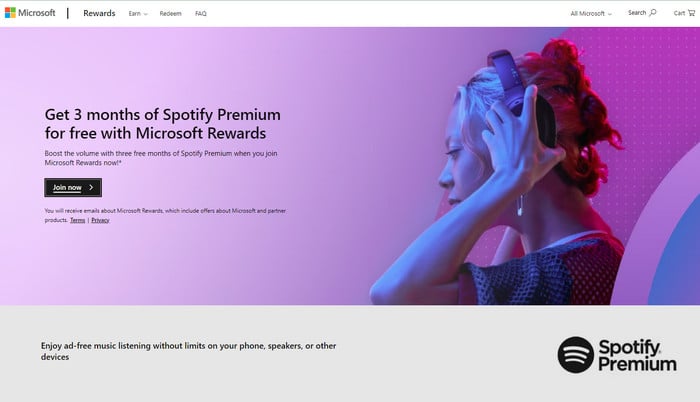 Note: This promotional offer is only open to users who haven't tried Spotify Premium before. The Premium is charged a customary $9.99/month after the trial.
Method 8 Bundle Spotify with One Plus
Some phone providers have already started bundling with Spotify Premium service. Samsung Galaxy Smartphone, for instance, has applied a 3-month Spotify Premium free trial as a purchase incentive. But this activity expired on May 30, 2023. Apart from Samsung, Spotify collaborated with OnePlus, providing a 6-month Spotify Paid service for OnePlus users in India. This deal only works for Premium Individuals.
Step 1: Connect your device to the Red Cable Club in the Setup Wizard.
Step 2: After connecting the device, access the Red Cable Club webpage in Settings and click "Claim now and listen to music ad-free."
Step 3: On the banner landing page, click "Claim Now" to acquire the offer code, then "Activate Free Trial" to access Spotify.
Step 4: Lastly, fill in the details as required and then start your 6-month free trial!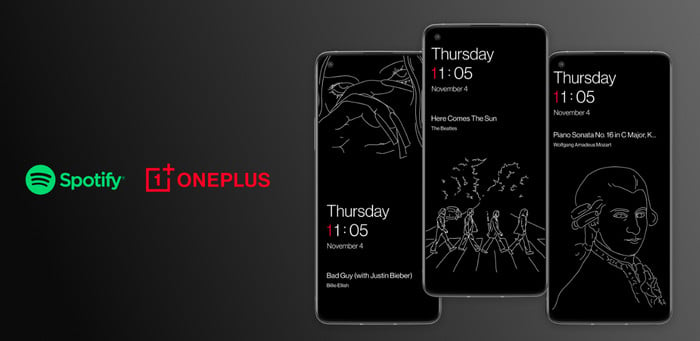 Note: Eligible users can redeem the offer till December 20, 2024. This offer is only available to users who have yet to try Spotify Premium.
Method 9 Join AT&T's Unlimited & More Premium Plan.
AT&T ran a Spotify bundle promotion in which Spotify Premium was integrated into AT&T's Unlimited & More Premium plan. If you have or join AT&T's Unlimited &More Premium wireless plan, you can select Spotify Premium as your Premium entertainment option at no extra charge. This AT&T offer brings a 6-month free trial of Spotify Premium for the subscribers.
Step 1: Go to your WatchTV account management page.
Step 2: Select Spotify Premium as your Unlimited & More Premium entertainment option.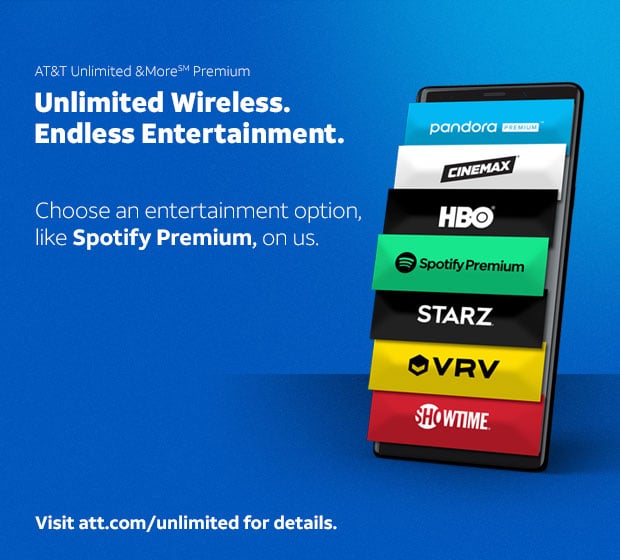 Note: If you already have Spotify Premium, that doesn't mean you can't enjoy it as your preferred music streaming service. Don't forget to stop the paid service and return to the trial version.
Extra Tricks: Keep Spotify Premium Songs Forever after Unsubscribing
Congrats! Follow the methods above, you're available to play and download ad-free Spotify songs with your newly-get Spotify Premium. It is really less costly to enjoy unlimited playback of Spotify music, but keep in mind that these ways to get Spotify Premium only work for a limited time. Besides, the Premium feature does not imply that you're able to keep or back up Spotify music forever. If you want to keep Spotify Premium songs forever after cancelling the free trial, it's recommended to download Spotify Premium songs to offline audio using a reliable Spotify music downloader - AudiCable Spotify Music Recorder.
AudiCable Audio Recorder is a Spotify Music Recorder and Spotify Music to MP3 Converter, available for both Spotify Premium and Spotify Free users. It is functional to download Spotify music, playlists, albums, podcasts, and audiobooks to MP3, AAC, WAV, FLAC, AIFF, and ALAC, with 100% original quality and ID3 tags kept. After downloading the music you want, you can play Spotify music offline without Premium forever.
Also, additional magic is that AudiCable Audio Recorder can record from multiple platforms, allowing you to get songs from services like Apple Music, Amazon Music, Tidal, Line Music, Deezer, YouTube Music, and more. Of course, this program comes with a built-in web player, so you're not required to install any streaming music applications. Check out the detailed features below!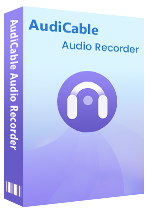 Best AudiCable Spotify Music Recorder( Mac / Win )
Download music from Spotify, Apple Music, Amazon Music, Tidal, Line Music, Deezer, YouTube Music, Pandora, SoundCloud and other music sources.

Save music to MP3, AAC, WAV, FLAC, AIFF, ALAC.

Keep the original audio quality.

Download songs with ID3 tags.

Handy tools: Audio Editor / Tag Editor.

Support Spotify Free and Premium accounts.
💡Tutorial on Keeping Spotify Premium Songs Forever
AudiCable Audio Recorder is compatible with the latest operating systems of Windows and Mac. Here's how to use AudiCable Audio Recorder on Windows to download and keep Spotify Premium songs permanently. Please first download and install AudiCable Audio Recorder per your computer version.
Step 1

Download and Install AudiCable Spotify Music Recorder

Download and start AudiCable Spotify Music Recorder for Windows or Mac. Most popular music streaming platforms are displayed on the main interface of AudiCable. Navigate to "Spotify" and click.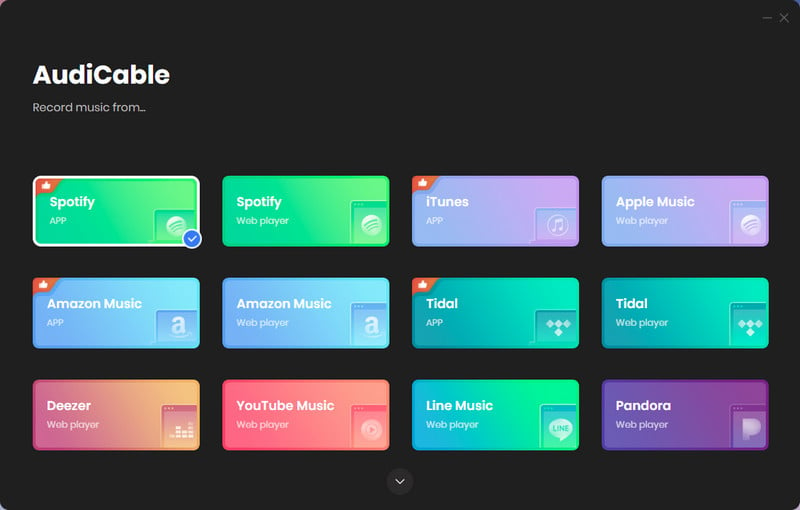 Note: Using the "Add other sources" button, you can also add other music services that you want. Just copy the official website, customize it with a new name, and then implement a new music platform.
Step 2

Choose the Player and Sign in

Please choose the way you want to download Spotify music. After that, sign in with your Spotify Free or Premium account.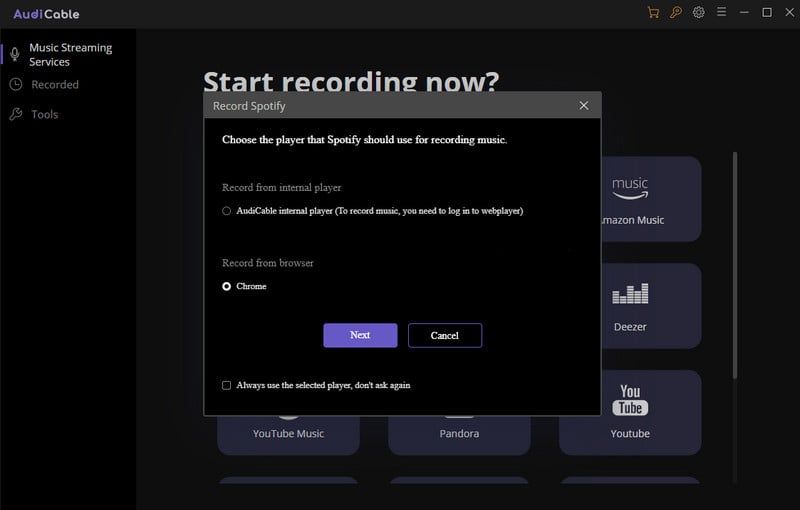 Note: The first option will bring up AudiCable's built-in web player window, and the second will pop up from your Chrome.
Step 3

Customize the Output Parameters for Your Spotify Music

On the top-right corner of AudiCable, click on a "gear icon". From the pop-up setting window, choose "MP3" as the output format. Then close it to apply the changes.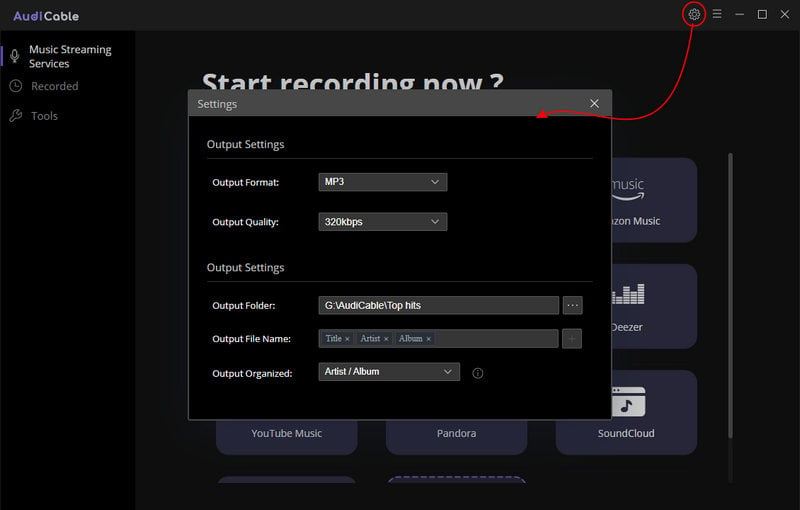 Note: Apart from the output format, you can also freely customize the output quality, output folder, output files name, output organized and output path as you like. Among them, the audio quality varies from 128kbps to 320kbps.
Step 4

Start Recording Spotify Music

Choose your preferred Spotify songs, playlist, or albums to play. As soon as you play the song, AudiCable will start recording simultaneously. All recorded Spotify songs are saved in the MP3 format you set before.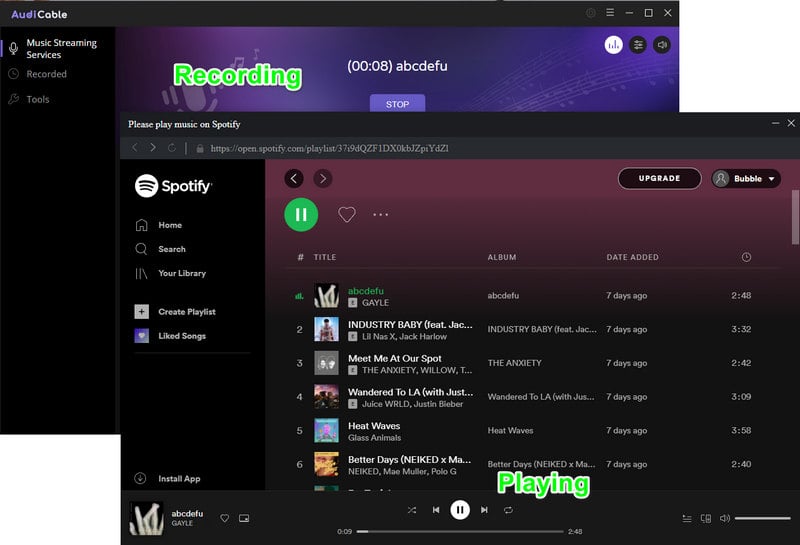 Note: If you want to mute the sound and just download Spotify music in the background, you can go to the upper right, and tap the "sound" icon to switch to mute.
Step 5

Get Downloaded Spotify Songs on the Local Folder

Click the "Recorded" tap, and the "folder icon" behind a song, then you can quickly locate downloaded Spotify MP3s.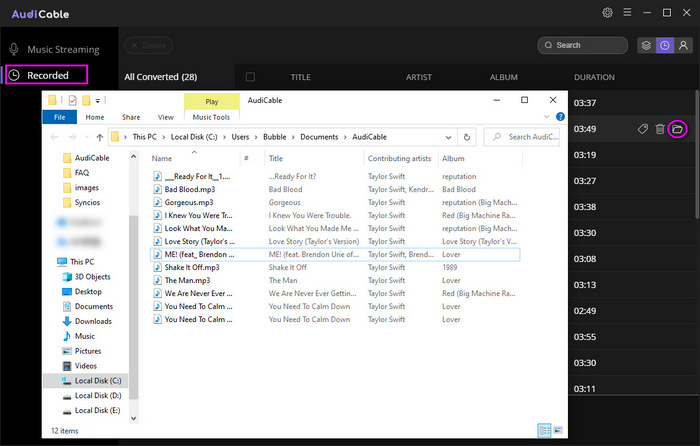 Disclaimer:
All these methods are for personal or educational use only.
You should not use this tool to distribute music or for business.
Wrapping It Up
At this point, with the help of these 9 useful workarounds, you'll not be in a great bustle for how to get Spotify Premium free. Some methods of getting accounts and discounts on Spotify Premium can even be stacked, so that you can prolong the membership period. To be successful, though, you must account for the constraints of time and circumstance.
Of course, the tricks for enjoying Spotify Premium services are far more than that. Combining your Spotify Premium with the suggested program, AudiCable Audio Recorder, will bring you a magic bonus. This easy-to-use AudiCable streaming tool helps you save songs from Spotify Premium to the desired format, thus you're free to keep the downloaded songs permanently.
Note: The free trial version of AudiCable enables you to record a maximum of 10 Spotify music. To get the full conversion, please become a registered member by buying a license from AudiCable.
Related posts
Sidebar
What You'll Need
Hot Tutorials