Burn Spotify Music to CD (2022)
If you'd like to listen to your favorite songs when driving a car or on a special occasion, burning music to an audio CD is useful. Recently, even though enjoying online music on various streaming music apps has been popular, it's romantic and meaningful to receive a recorded CD from your friend or family. For example. if you just made a playlist of your favorite Christmas tracks, you might want to burn these tracks to a CD and send them to a friend as a personalized gift.
With a personal music CD, you will find more fun in life. So where you could find your favorite songs and playlists? Obviously, Spotify could be the best platform to get your desired audio tracks. With the millions of music collections, Spotify is the leading platform in the streaming music industry. More importantly, free version is available on Spotify. In this article, we'll show you how to burn Spotify music to CD so that you can play Spotify music anywhere you like.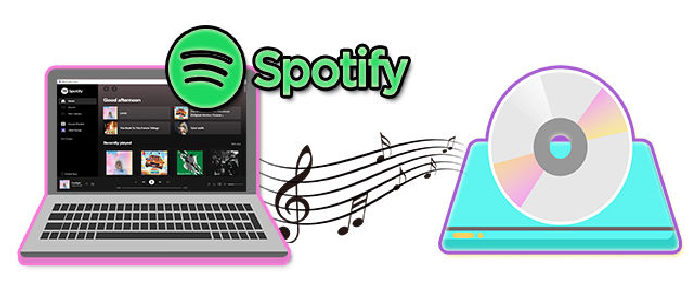 🌱 Three parts are included in this post:
🌱 To burn a CD, you need:
A CD/DVD burner: Check if your computer has the capability to burn CDs. Generally, most computers come with a built-in DVD burner. Otherwise, you need to buy an external DVD burner that connect with your computer via USB port.
Digital music files: If you are a Premium user of any streaming music app, you can download music offline and listen to them. But you can only listen to them with the app you downloaded music from. Because all digital music files are copyright restricted with digital rigths management. In order to burn music to CD, you have to save them as plain formats. This this problem will be solved later.
Disc-burning software: You can burn a CD of your digital music tracks by using readily available software such as iTunes or Windows Media Player.
A blank CD: With a CD-R or CD+R disc, you can only burn data to it for one time. However, with a CD-RW or CD+RW disc, you can burn data to it for multiple times. The write-once CD-R or CD+R provides maximum compatibility, but newer players accept CD-RW or CD+RWs, too.
🌵 Download Spotify Music to MP3 Files 🌵
As we said, in order to burn music to CD, you need download some music without copyrights management. Otherwise, you could not move downloaded songs to any other places. You may wonder why Spotify doesn't allow users to burn a CD. Actually, Spotify doesn't allow to burn a CD from a Spotify playlist is that this against the vital benefit of Spotify. There is no official solution. Only with a music recorder, you can convert digital songs to transferable formats. Thus this AudiCable Audio Recorder is necessary. Download and install this ad-free music recorder the go to the next step.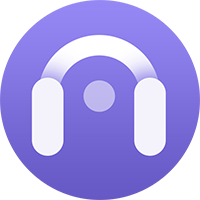 AudiCable Audio Recorder
Download music from Spotify, Apple Music, Amazon Music, Tidal, Line Music, Deezer, YouTube Music, Pandora, etc.

Record and save streaming music to MP3, AAC, WAV, FLAC, AIFF, ALAC.

Support to add more music websites manually.

Keep ID3 tags after recording.

Keep Premium audio quality after conversion.

Free updates & technical support.
Step 1: Start AudiCable Audio Recorder
Download and install this AudiCable Audio Recorder. And launch this program after the installation. Spotify music app is not needed to be installed.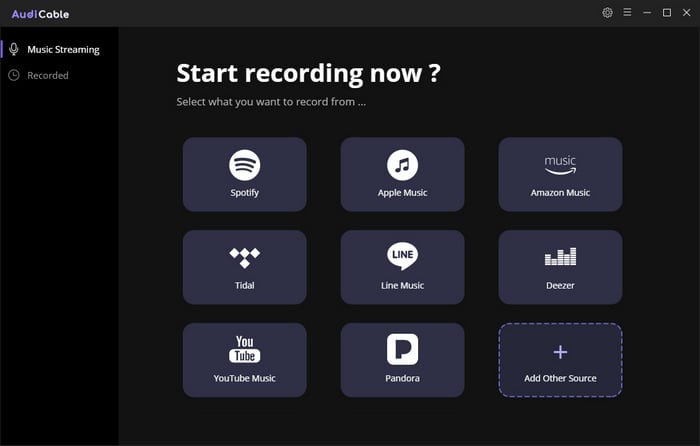 Step 2: Customize the output settings
Can you see a "gear icon"

on the top right? Tap it to pop up a setting window. Then check default output parameters. Change parameter if you need. Options are provided to set output format as MP3, AAC, FLAC, WAV, AIFF, set output quality as 128kbps, 192kbps, 256kbps, 320kbps and change output path. According to your idea, make some changes and close this window to apply the changes.
Tips: Recording music will make sure you get the same quality as the original music. You could record songs up to 320kbps. To record lossless original quality, you can also try recording songs to FLAC, WAV formats.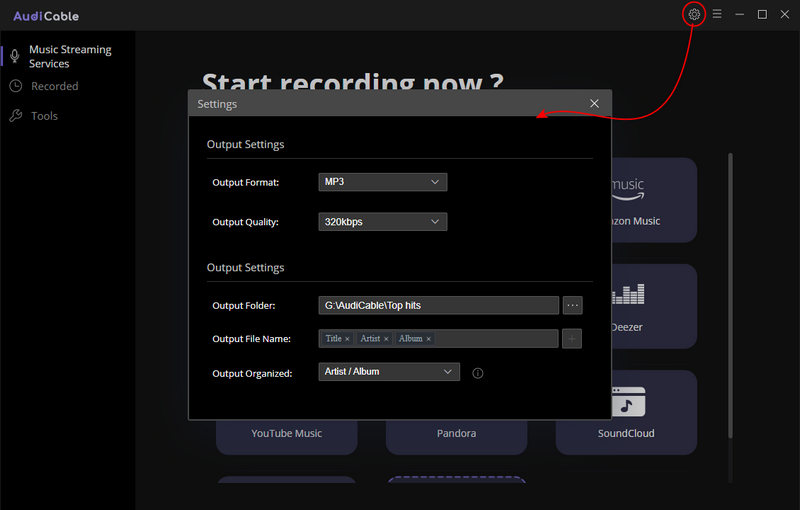 Step 3: Start Spotify web player
On the main interface of AudiCable, all popular streaming music sources are listed. If you want to add music sources manually, just input the website name and official website link to add. Spotify is added already, navigate to Spotify and open it. On the Spotify, click Log in to sign in with a free account or a Premium account.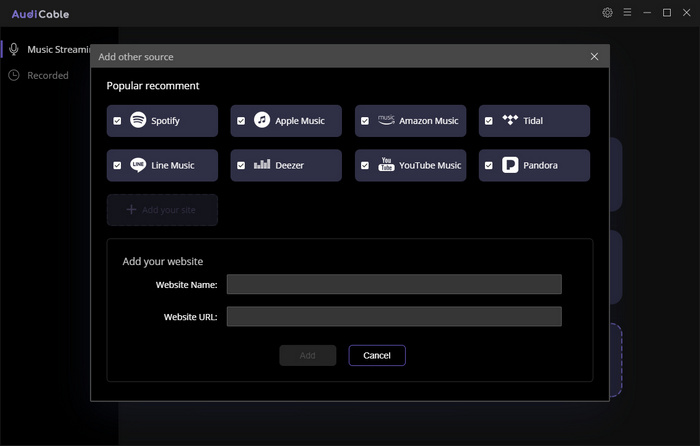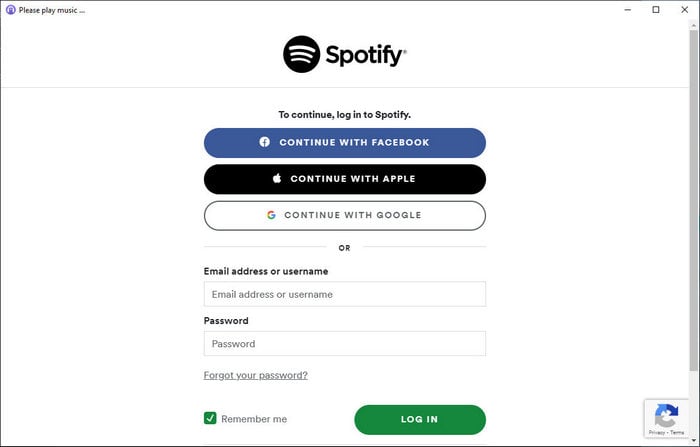 Step 4: Download Spotify music playlists
If you need to download songs from different playlists, you can add all songs to a created album, then start playing. Play the song or a playlist when AudiCable records music in the background simultaneously. Other sounds from system will not be recorded. Only songs playing in AudiCable will be recorded and downloaded. After a while, all songs are recorded to transferable files. Then we can move to the next part.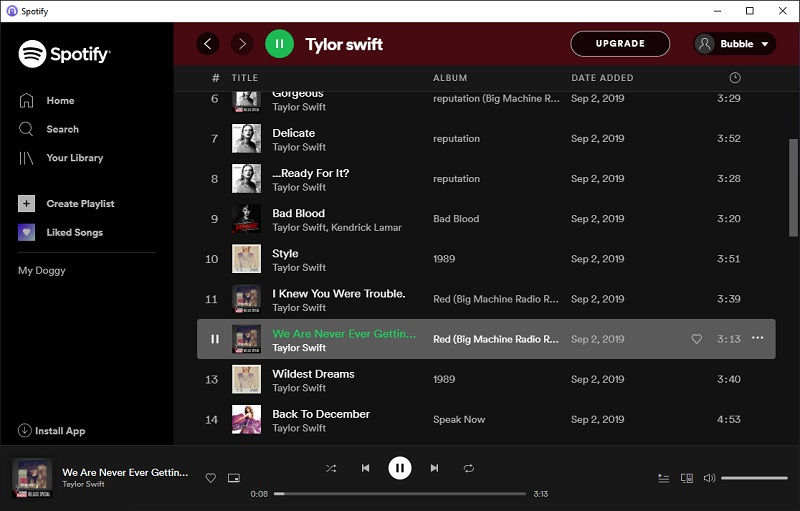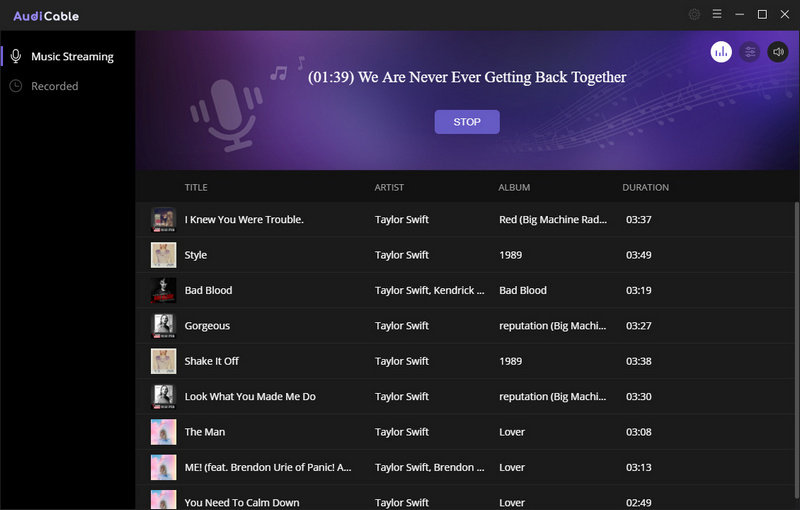 Step 5: Check downloaded Spotify music playlists
When it's completed, you can stop the recording and go to Recorded column on AudiCable where you can check all histories of downloaded music. Move to any song, you will see "tag icon"

behind the song. Tap it to edit its information. And click the "file icon"

to open the output folder. Now you can move all songs to anywhere you want to. Let's check parts below to write data to a CD.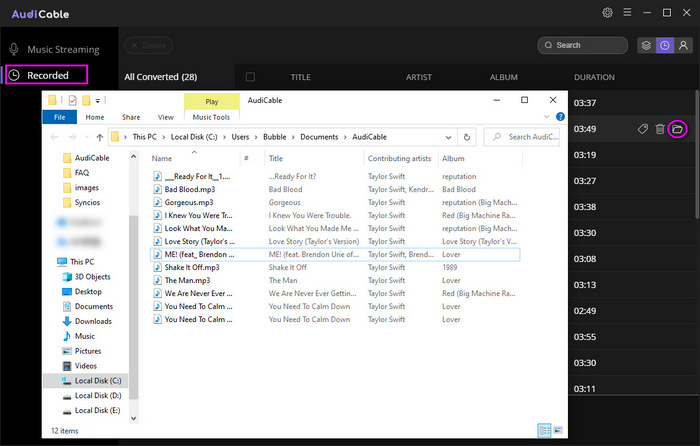 🌵 Burn a CD with Spotify Music 🌵
The most important part of downloading and converting Spotify music to MP3 has been completed, and what you need to do now is to burn the converted Spotify music to CD. There are two ways to help you burn music to CD, and you could follow steps below to copy from Spotify to CD.
🌼 1. How to Burn Spotify Music to CD Using iTunes 🌼
Step 1. Start iTunes on PC
Start iTunes on your computer, then you need to add downloaded Spotify songs to your iTunes Library. On the top left corner of iTunes, tap File and choose Add Folder to Library. Locate the output folder that you saved Spotify songs to. Import the folder to iTunes Library. Or you can add files to library one by one.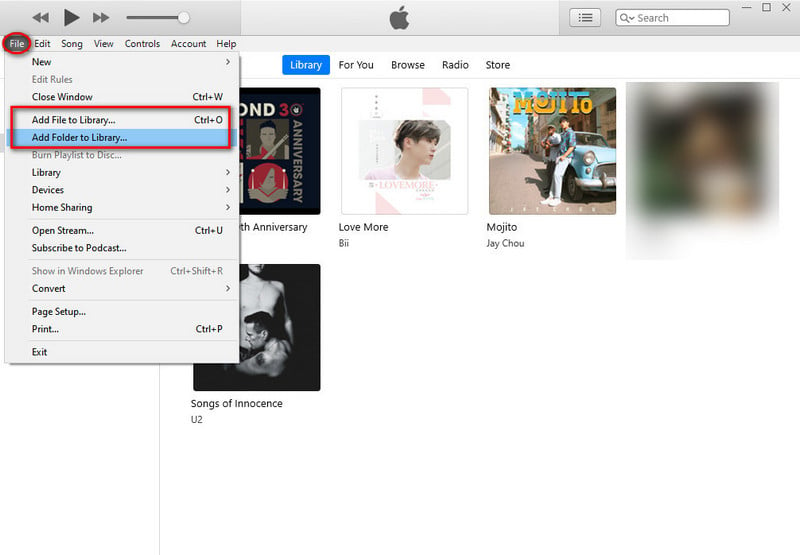 Step 2. Add songs to the created playlist
On the left side bar, head to Music playlists column and right click to create a new playlist. Here we create a playlist called Spotify. After that, go to Albums and choose songs you've just imported to add to the playlist "Spotify". You can open an album then click the "three dots" to add all songs from an album to Spotify at once.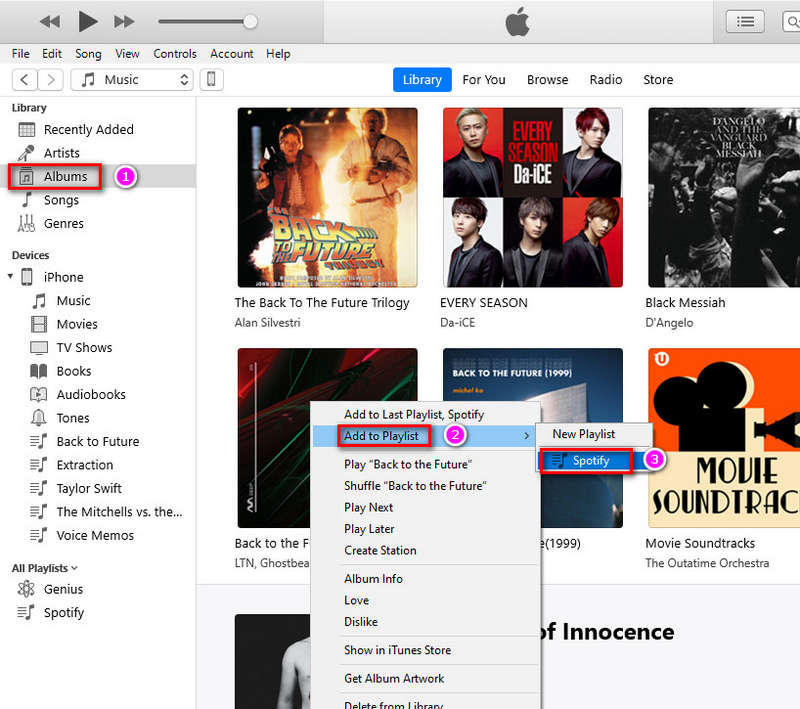 Step 3. Insert a blank CD
After that, insert a blank CD into the disc drive of your computer and open the File menu on the top left corner of iTunes and select the Burn Playlist to Disc option.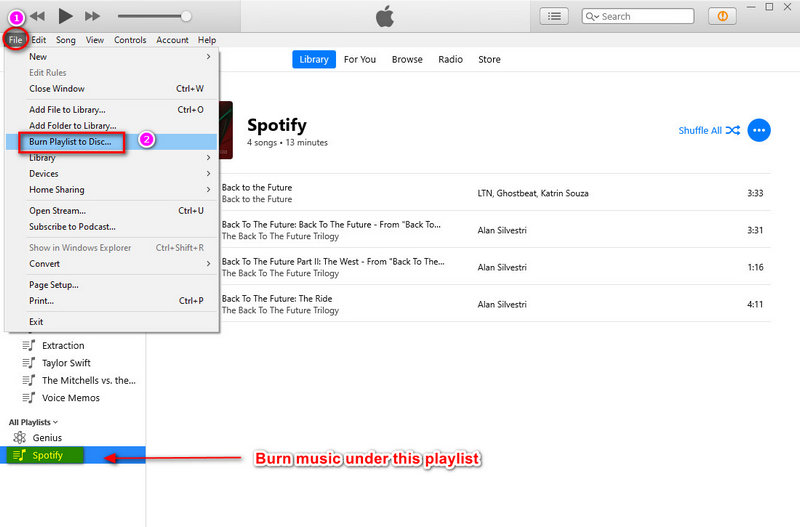 Step 4. Burn Spotify music to CD
When all steps above finished, you will see a pop-up window where you can adjust the burning settings. Now you are allowed to set your preferred speed and disc format. Finally, click the Burn button to start burning Spotify music tracks to the connected CD. Wait with patience, you will get a customized CD for your special person.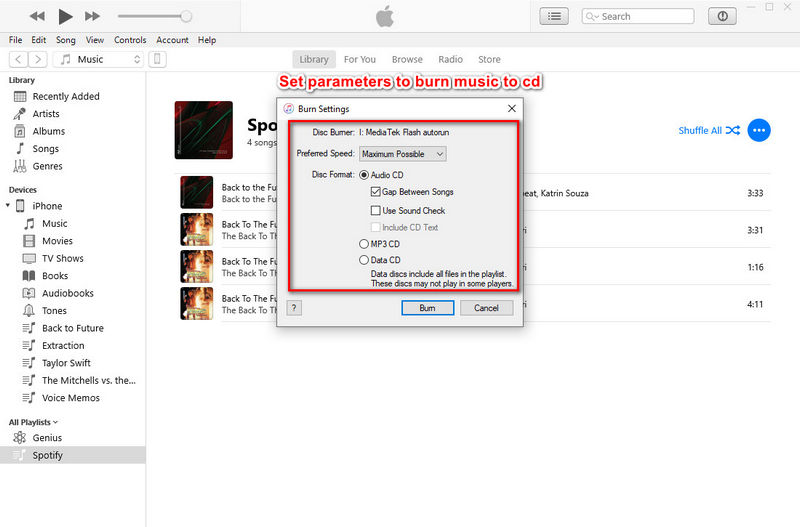 🌼 2. How to Add Spotify Music to CD with Windows Media Player 🌼
Step 1. Start Windows Media Player on PC
Most of users waste time in locating Windows Media Player. Here we guide to find it quickly. Go to search box next to Windows Start button

, then input media to get a quick searching result: Windows Media Player. Double click to open it.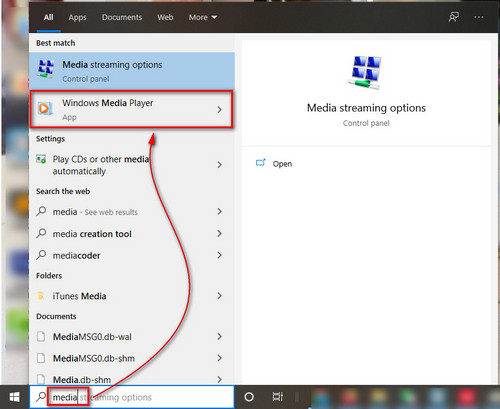 Step 2. Create a burn list for Spotify songs
Go to Playlist tab and click it. You will be prompted "There are no playlists in this library, click here to create a playlist." According to the prompt to add a new playlist. Here we created a playlist called "Spotify".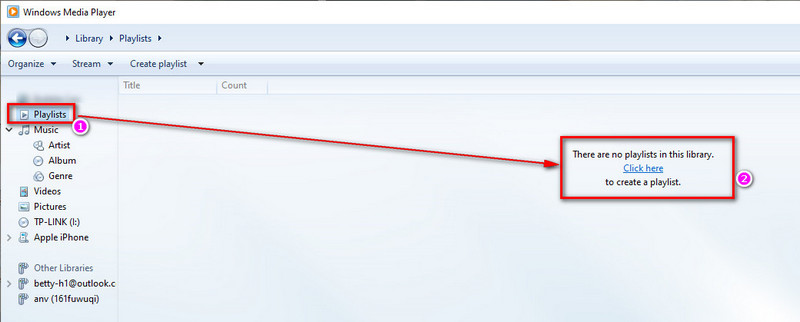 Step 3. Add songs to Windows Media Player
Then go to Album. We've downloaded Spotify music to computer with AudiCable before. open the output folder and add songs to the album via "Drag and drop". After that, insert a blank CD into the disc drive of your computer.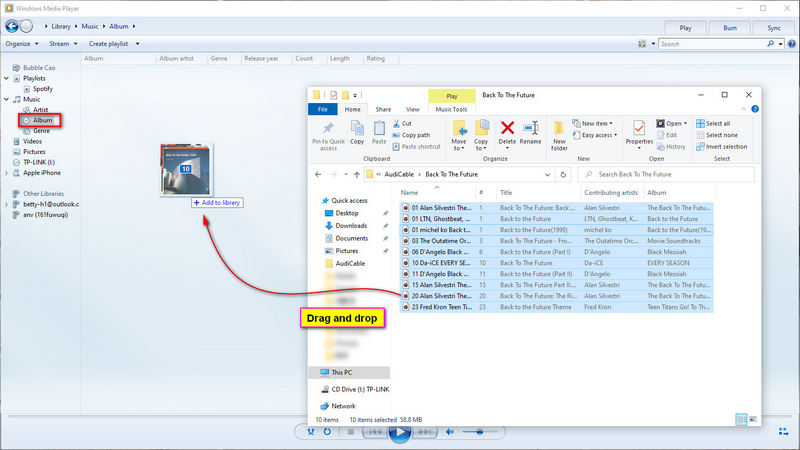 Step 4. Add songs to the created playlist
Now you can right click to get more options, click Add to > Spotify to add imported songs to the new created playlist, then go to the playlist. Remove songs you don't need from the list.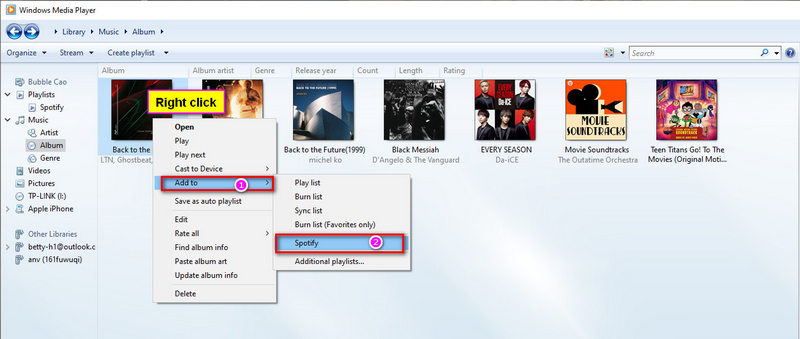 Step 5. Start burning Spotify songs to CD
Then select all songs, right click, choose Add to > Burn list. Continue to click the Burn button on the top right to start burning Spotify music to CD. The disc will eject automatically after completion.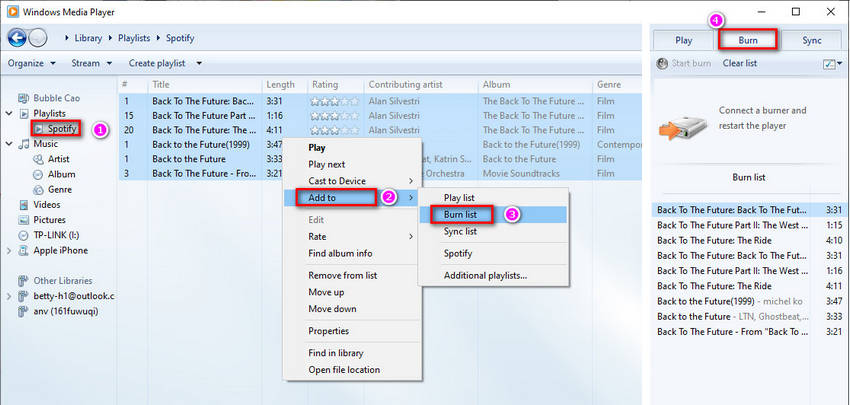 Disclaimer:
All these methods are for personal or educational use only.
You should not use this tool to private or distribute music.
---
🙋 Conclusion
We could not burn Spotify music to a CD directly, but with the help of AudiCable Audio Recorder, we can write data to a CD whenever we want to. After reading this post, you should master the detailed steps to burn songs to a CD from Spotify. Have a free try and enjoy Spotify music with a CD freely right now! Just do not hesitate and give it a shot!
Related posts
Sidebar
What You'll Need
Hot Tutorials