Download Amazon Music to Lossless FLAC Songs
With a 75-million music library, Amazon Music offers strong value in the face of its competition. But you need a stable internet connection to listen Amazon Music online. If you need to listen to Amazon Music offline, Amazon Music Unlimited subscription is needed. That plan costs $9.99 / £9.99 / AU$11.99 per month for an individual. However, if you own an online music downloader, you can save songs you need from Amazon Music for playback. In addition, without a music downloader, songs you downloaded via Amazon Music Unlimited subscription can only be played in the Amazon Music app. You can not play the downloaded songs in the native music app or export them to other devices. In this article, you can learn how to download songs from Amazon Music to lossless FLAC files for playback.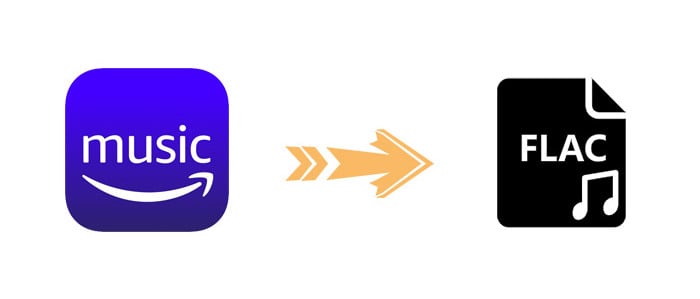 Download Amazon Music to Lossless FLAC Songs
To download Amazon Music, If it's only for personal use, you can record sounds legally with a music recorder. Among all music recorders, it's highly recommended to download Amazon music with AudiCable Audio Recorder. This program is compatible with all streaming music subscribers. With AudiCable Audio Recorder, you can download music, playlists, audiobooks, podcasts from various music sources, for instance, Amazon Music, Spotify, Tidal, YouTube music, Apple Music, Line Music, Deezer, Pandora, SoundCloud and etc. It doesn't record sounds from computer. It download songs from Amazon Music to lossless FLAC files with ID3 tags retained automatically. Only few steps to go to download Amazon Music to FLAC, let's check.
📝 Basic Info of AudiCable Audio Recorder:
Operating System: Win (Mac is coming)
Output Format: MP3/AAC/WAV/FLAC/AIFF/ALAC
Output Quality Lossless quality(WAV/FLAC/AIFF);320kbps+(MP3/AAC);
💬 Step by Step Guide to Download Amazon Music to FLAC:
Step 1. Download and install AudiCable via its downloading button below. Then start this program directly. Amazon Music is not needed to be installed. On the primary interface, you can find Amazon music web player, click it to start. Then log in with your Amazon account.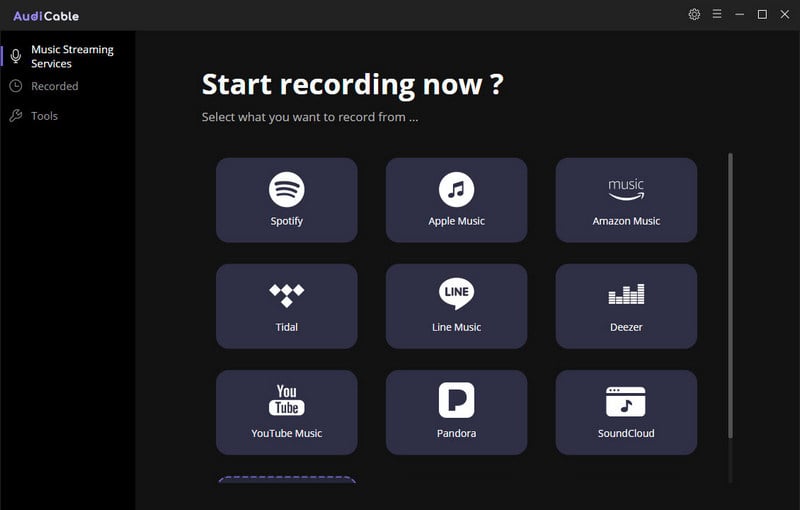 Step 2. On Amazon Music, navigate to a music playlist you need to download songs from. Then go to the setting option on the top right of AudiCable. Choose the output format as FLAC. If you choose to save songs to FLAC files, then you are not allowed to adjust the output quality. Because the FLAC files will keep the original quality of songs.
Note: The best output quality is limited diversely on web player for different streaming music platforms. AudiCable will keep the original quality but can not break through the limitation. And generally, we set the output folder according to the album. For instance, if we need to export an album called "21" from Adele, then we set the output folder as "Adele-21".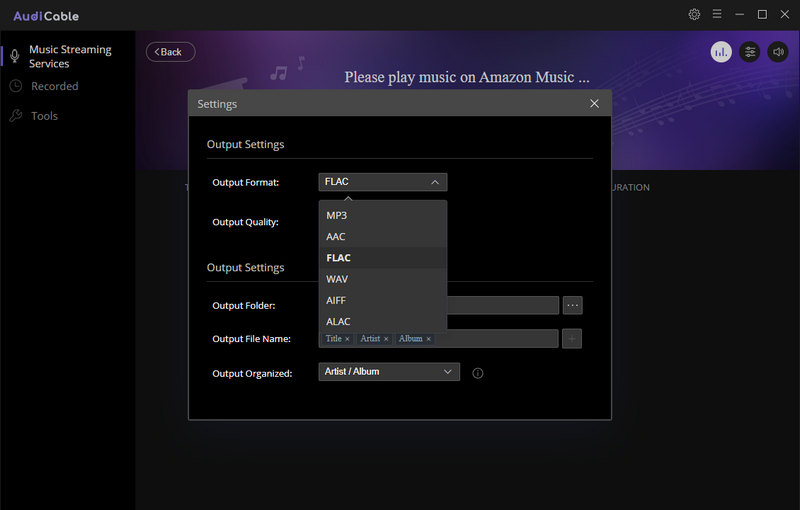 Step 3. Open this album to start playing the song orderly. At the same time, AudiCable will record the playing song. After a while, all songs from this album will saved as FLAC songs on your computer. And it's supported to move to any device without limitation. You can enjoy Amazon Music playback forever. If you download Amazon Music via its official way, you need to renew the subscription even you've the downloaded songs.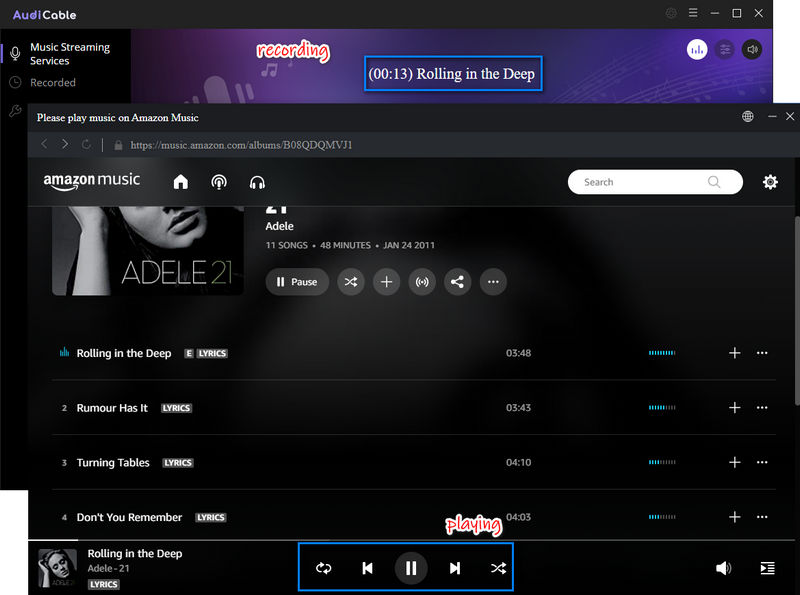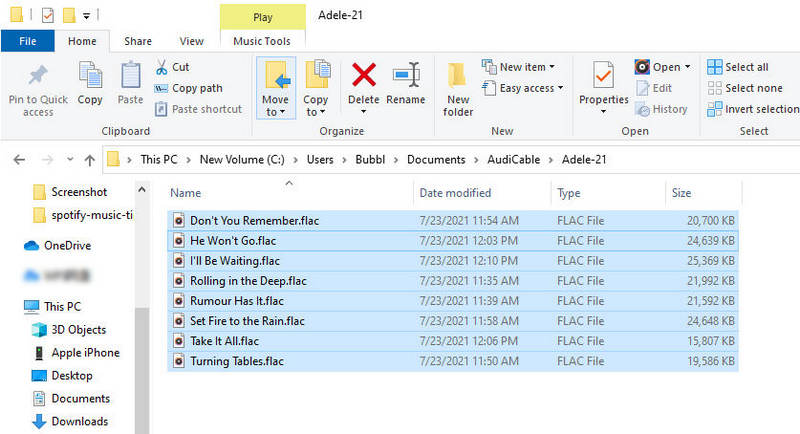 Tips: Save music playlists from Amazon Music to FLAC files can keep the best quality for Amazon music. But you need to know, songs played in the Web Player of Amazon Music will not be HD quality right now. But when Amazon Music officially supports to play HD songs with Amazon Music Web Player, AudiCable will also keep the original HD quality. For all I know, Tidal Music can support HD playing with Web Player. We believe that Amazon Music will soon be able to support playing HD sound quality music in Web Player.
📡 Check more details about what you can get from the all-in-one AudiCable Audio Recorder.
It can support all online music sources, including Spotify, Apple Music, Amazon Music, Tidal, Line, Deezer, YouTube, Pandora and etc.
It's allowed if you need to add other music sources manually.
You can record songs to lossless format files with the original audio quality.
It keeps ID3 tags automatically and you are allowed to edit ID3 tags after the recording.
When you need to customize songs to ringtones, you can find an audio editor to tailor the song directly.
It saves songs one by one and split automatically.
If you want to enjoy online music, you can cache songs while listening online.
You do not need to install Amazon Music app or other music apps on computer to record songs.
It takes only few steps and simple to operate.
Free updates and technical support are offered by AudiCable.Inc.
It supports 25+ languages.
---
Conclusion
Generally, saving music to MP3 or FLAC files is a wise choice for us. We can play MP3 or FLAC audio files with common media player. And FLAC is an audio coding format for lossless compression of digital audio. So if you prefer higher audio quality, you can download songs to FLAC formats. In this post, you can rip music from Amazon Music to lossless FLAC files with three simple steps. And unlike downloading music with official solutions, you can keep them forever and move them to any device you want. It is very worthwhile to have a powerful music recorder like AudiCable. If you find this article is helpful, please share people around you.
Related posts