Customize Amazon Music as Ringtones on Android Phone/iPhone
To personalize your phone, setting a special ringtone is one of the easiest way. Several years ago, there were few songs to be used as ringtones. Over the years, with the continuous development of streaming music, millions of songs can be downloaded as ringtones. But followed by the rapid development of streaming music, various subscription plans are launched by music apps. You need to pay for music listening and downloading. What's more, you can only listen to the downloaded music via the corresponding music app before the subscription is expired. Thus, people can only be able to use the default ringtone on their phones instead of tunes from music streaming services.
If you want to get rid of the default ringtone whenever someone calls you, you can set your favorite music from those streaming music providers like Amazon Music as a ringtone. After reading this post, you will know how to use Amazon Music as ringtone on your Android phone or iPhone.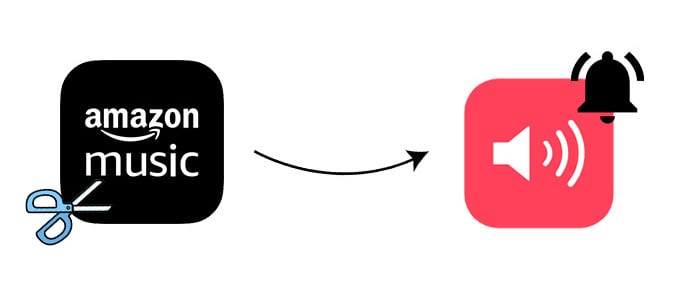 Part 1.

Save Amazon Music to MP3 and Edit Songs

All songs from streaming music are protected by its encryption technology. Amazon Music is included. Unless you saved songs from Amazon Music to unprotected MP3 files, you can not set Amazon Music as ringtone. With AudiCable Audio Recorder, songs from streaming music apps are able to be saved as MP3 files offline. Therefore you can edit the MP3 audio files easily and turn them into ringtones.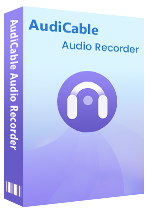 AudiCable Audio Recorder
Download music from Spotify, Apple Music, Amazon Music, Tidal, Line Music, Deezer, YouTube Music, Pandora, etc.

Record and save Prime and Unlimited Music to MP3, AAC, WAV, FLAC, AIFF, ALAC.

Keep the original audio quality.

Save songs with ID3 tags.

Handy tools: Audio Editor / Tag Editor.

Free updates & technical support.
Here is how to download Amazon Music to MP3 and how to customize ringtones with AudiCable Audio Recorder.
💬 Video Tutorial - How to Record and Download Your Amazon Music Songs Locally
Step 1. Set the output parameters for Amazon Music tunes
Firstly, download and install AudiCable Audio Recorder and open the program when the installation is completed. Now go to the "setting button" to set the output audio parameters. On the pop-up setting window, select the preferred options. Choose the output format as MP3. MP3 files is compatible with all devices. It is the best format when making ringtones.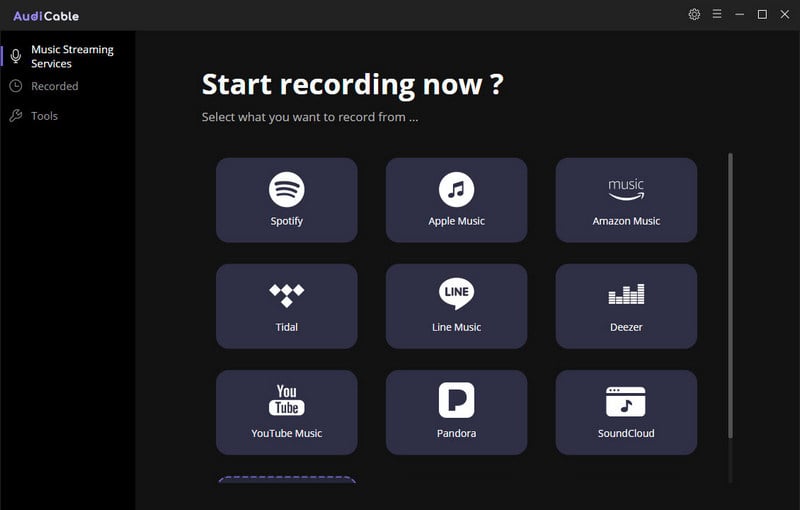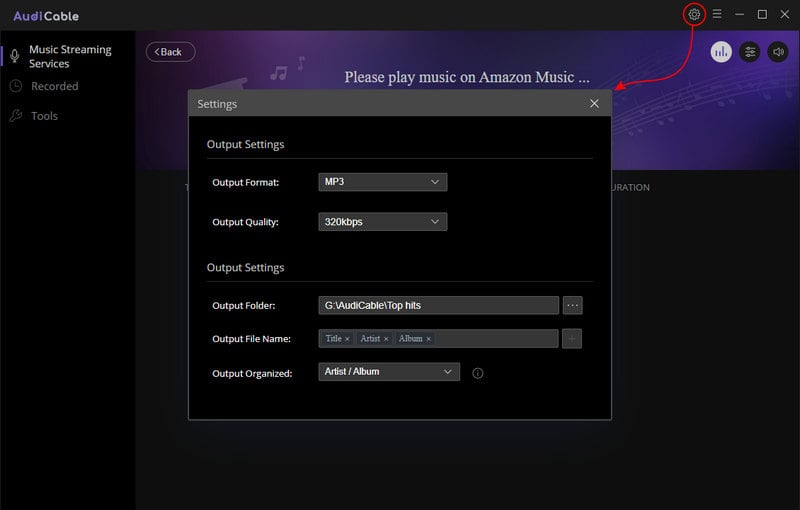 Step 2. Choose songs to download as MP3 files
On the main interface of AudiCable, open built-in Amazon Music web player. After logging in with Amazon Music account, you need to select songs or a playlist you want to download. Play the song or playlist you need, AudiCable will start recording immediately.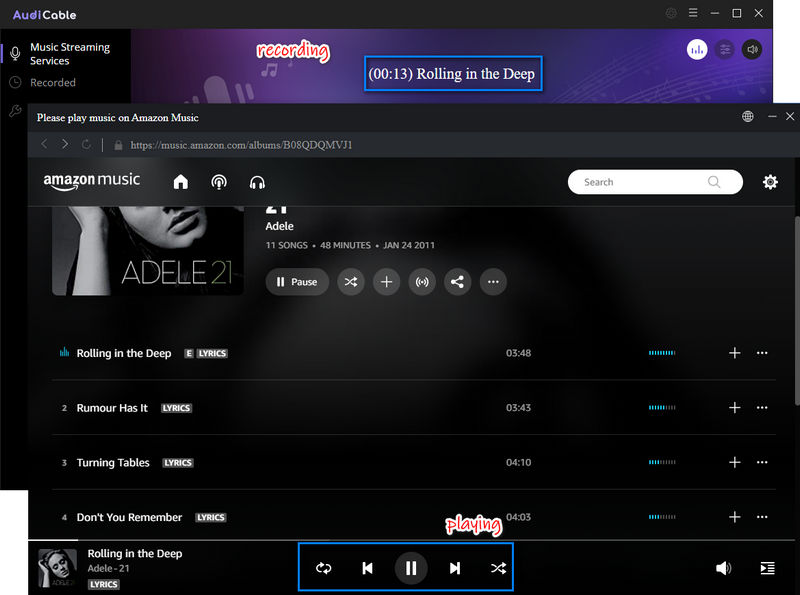 Step 3. Check downloaded Amazon Music
After all downloads, you can see all songs are saved with ID3 tags. Go to the "folder icon" behind any song, the output folder will pop up. You can locate the downloaded songs quickly via this method.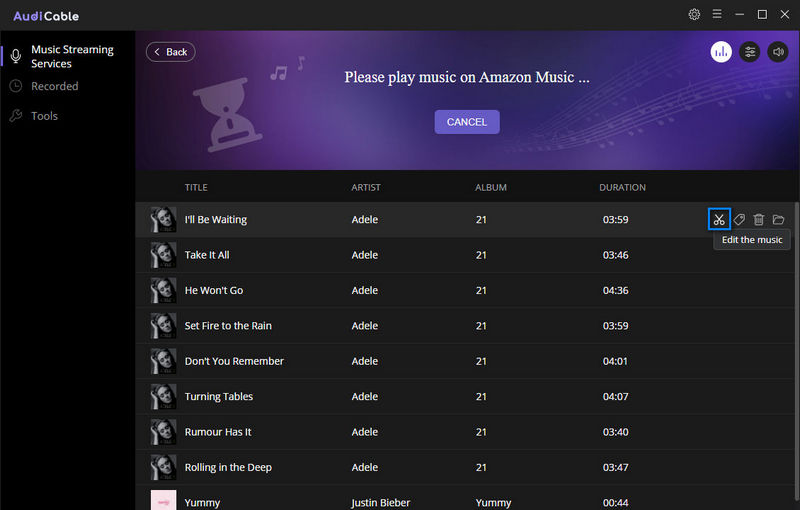 Step 4. Customize songs to ringtones
Behind every downloaded song, you will find a pair of "scissors"✂️, click it to edit the song. Set the start and end of the song, then save it to computer. If you need to customize a ringtone for iPhone, you need set the output format as M4R after editing. For Android device, MP3 is available. Now it would be easy to set Amazon Music song as a ringtone on your phone.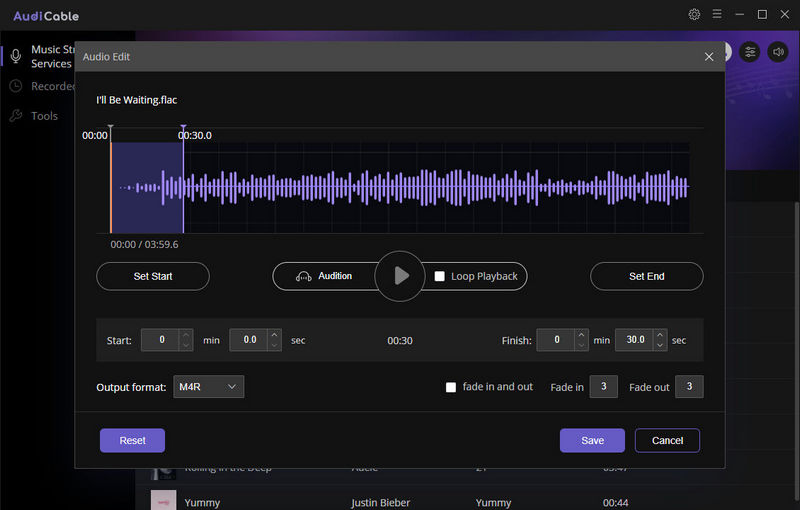 ---
Part 2.

Steps to Set Amazon Music as Ringtone on Android Phone

To set the downloaded Amazon Music as your ringtone on your Android phone, you need to transfer them to your device firstly. Actually, on Android phone, you can set any local audio file as your ringtone directly. Let's check the following steps.

Step 1. Unlock your Android phone, connect it to computer via USB connection. Scroll from the top on the Android screen and find "USB connection mode" option on the pull-down menu. You need to change the connection mode to "Transfer File" or "MTP". Otherwise, the driver of your connected phone will not be displayed.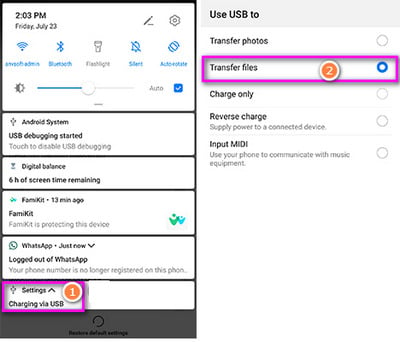 Step 2. Then Go to This PC to find the driver of the connected Android phone. Open its disk and create a new folder or open a music folder.
Step 3. Copy the downloaded Amazon Music tracks to Android disk. Then on your Android phone, you can open any music app to play the downloaded Amazon songs.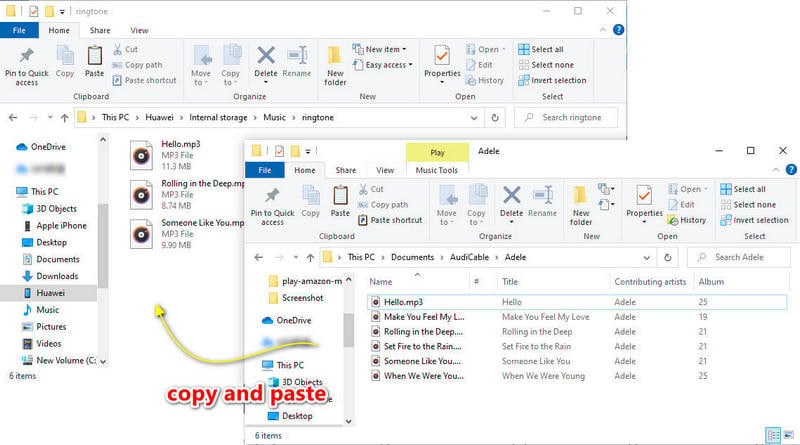 Step 4. Generally, for Android device, go to Settings, then tap Sounds. Choose Ringtone option. All songs on your device will be displayed on-screen. If not, you can add local music to the ringtone list. Then set the Amazon Music file as the ringtone.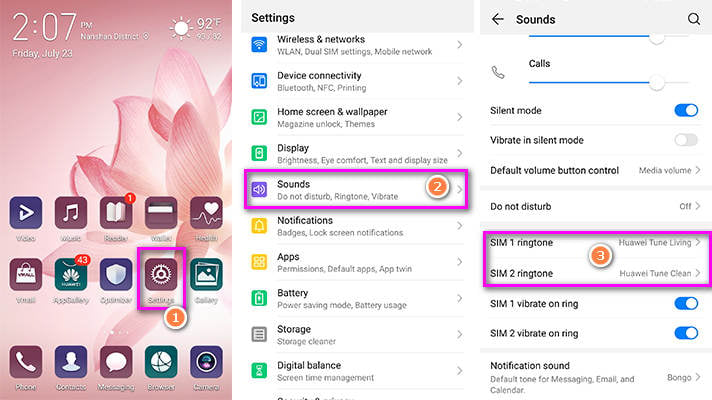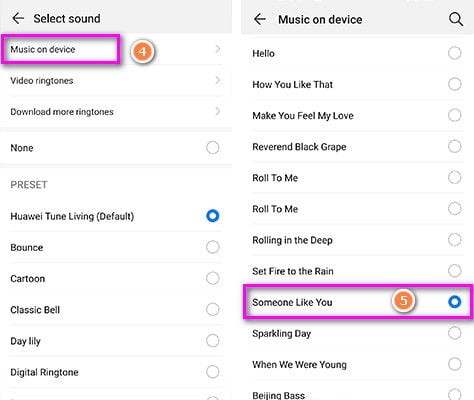 Step 5. And for some Android device, you can open any music app to load the local songs. Scan all songs in local space then your imported songs will be displayed in the music playlist. Tap the desired song and then set it as the ringtone directly. You can google the solution for your phone model to set the ringtone. And this solution is available for almost all of Android phones.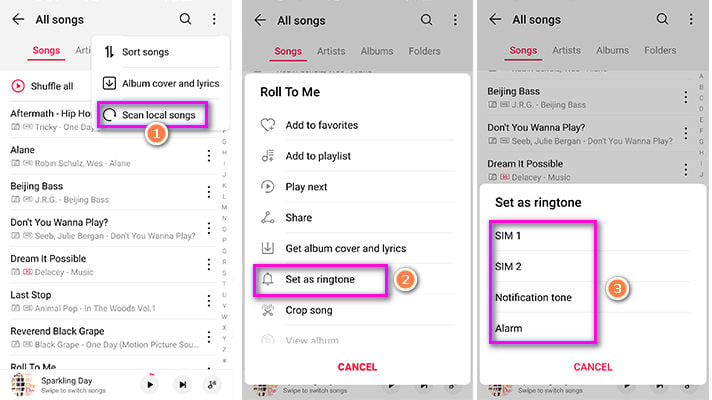 ---
Part 3.

Steps to Set Amazon Music as Ringtone on iPhone

For all iPhone, you can follow the same steps to set the ringtone. Generally, you need to upload the customized Amazon Music ringtones to iTunes or Apple Music firstly. But If you tried to upload ringtones via iTunes, you will know it's complicated and the existed playlists on your iPhone is probably overwritten. As a result, I will provide another much easier way to import the ringtones.

To export and import media files, Syncios Mobile Manager is the best tool I've ever used. More importantly, it provides a free version to export and import files between iOS or Android device and PC. Only four simple steps are needed to set Amazon Music as ringtones on iPhone with the help of Syncios.

Note: When importing customized ringtones to iPhone, please make sure you've closed iTunes on your computer. Otherwise iTunes will delete the customized ringtones from your connected iPhone on the sneak.

Step 1. After the installation of Syncios, start it on your computer. Open Mobile Manager program on the main interface. Do not run the wrong program since all Syncios tools are listed on the main interface.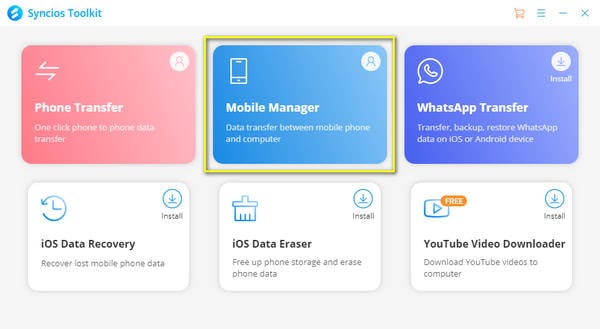 Step 2. Connect iPhone yo computer with a USB cable. After the phone is recognized, go to Music tab.
Step 3. All songs, ringtones, podcasts, audiobooks, voice memos and other audio files are loaded under "Music" column. Go to Ringtones. Click Add. Then locate the customized M4R Amazon Music tracks on your computer, then import them to your iPhone.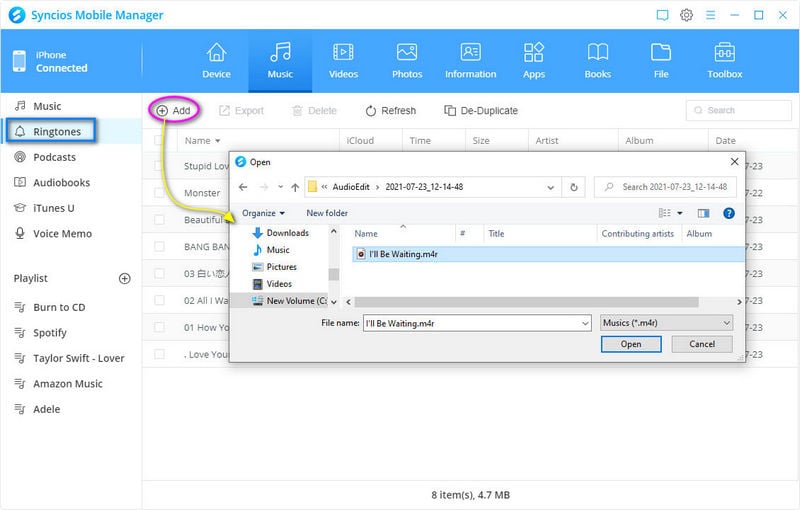 Step 4. Go to iPhone Settings. In the Settings page, scroll down then you will see a Sounds tab. Enter it and choose Ringtone option in the Sounds page. The custom ringtones and own-operating ringtones of iPhone are all listed in this "Ringtone" page. Select the ringtone you prefer from the top of the resulting ringtone list to apply the ringtone. You will hear your favorite melody whenever your phone rings. It's a unique stamp for your iPhone.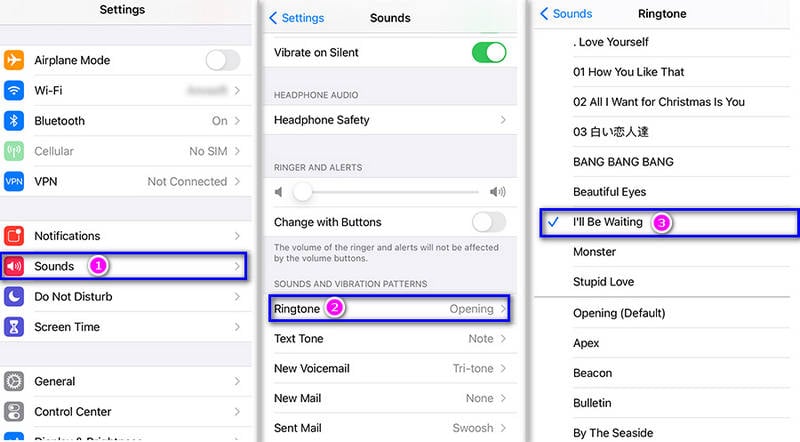 Conclusion
Not only for Amazon Music users, if you want to set the music from any streaming music apps as ringtone on iPhone or Android phone, this article is feasible. You can share this post with people around you if you get real support. To save Amazon Music offline forever, install this AudiCable Audio Recorder and try it now!
Related posts