How to Listen to Tidal Music on Google Home
---
Tidal is the first global music streaming service with high fidelity sound, high-definition video quality. Many music fans who pursue higher audio quality are thirsty for the ability to listen to Tidal music on Google Home. Google Home makes it easy to listen to your favorite songs from streaming music services such as Spotify and YouTube Music, Pandora, Deezer, and others. But sadly, Tidal is not included. Does this imply that there is no way for us to listen to Tidal music on Google Home? Never rush to the final judgment yet.
We previously taught you how to play Spotify music on Google Home, but today, we'll show you how to do it on Tidal with different ideas! This post will share two excellent methods to listen to Tidal music on Google Home. Go ahead and take a look!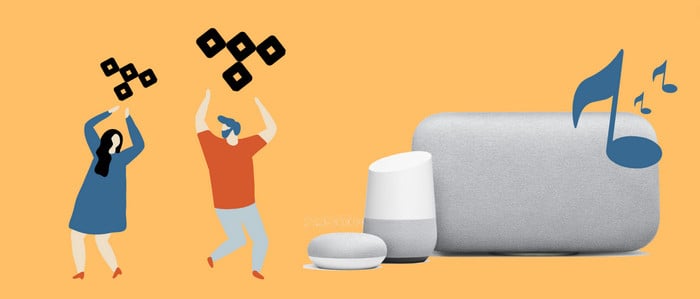 Method 1. Connect Tidal to Google Home by Google Cast
Generally speaking, Google Home doesn't support connecting Tidal music service directly. So if you want an easy way to listen to Tidal on Google Home, you can connect Tidal to Google Home by Google Cast. Google Cast provides an easy way to enjoy your audio and video from phones, tablets, TVs, and speakers. You can enjoy your favorite Tidal audio when paired with a Google Cast-compatible app such as Tidal. If you are Tidal Premium users or HiFi subscribers, you can apply for this function to link Tidal to Google Home. A few simple steps can be performed as follow:
Step 1: Open Tidal on your phone. Connect your phone with the same Wi-Fi that your Google Home connects.
Step 2: Choose a song to play. Click the bar that shows the name of the music and the artist. You will enter the Now Playing screen.
Step 3: Next, click the button at the bottom left, which looks like a "TV". The Google Cast sub-menu will pop up, which lists all the Google Cast devices under the same Wi-Fi as your phone.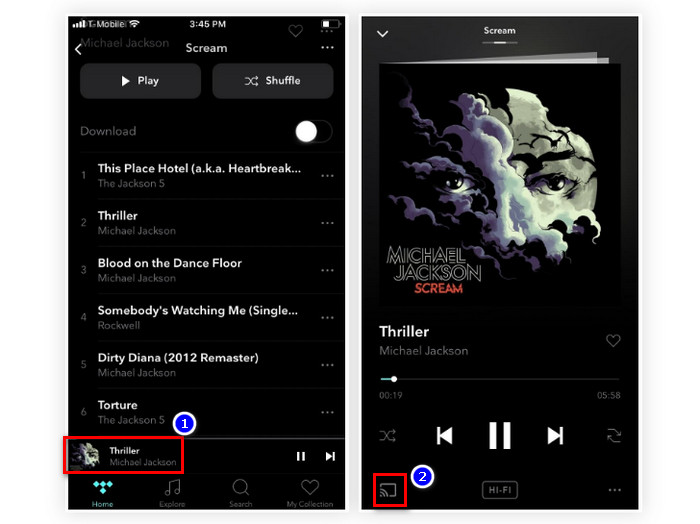 Step 4: Just choose the Google Home option to connect, and click your liked songs to play. You will find that your Google Home is playing the Tidal music you choose. And your phone becomes a remote which controls the music playing on Google Home.
Method 2. Listen to Tidal Music on Google Home via Bluetooth / YouTube Music
Google Cast is an easy way to connect Tidal to Google Home for playing, but it cannot cater to all Tidal user's needs. Tidal Free users cannot use the above method. Fret less, AudiCable Tidal Music Recorder comes to fix it out. AudiCable supports downloading songs from Tidal Free, Tidal HiFi, and Tidal HiFi Plus.
To listen to Tidal Free music on Google Home, you should take the first to download or convert Tidal music to generic MP3 format. AudiCable Audio Recorder is a powerful all-in-one Tidal Music Recorder and Tidal Music to MP3 Converter. With AudiCable, you can easily download and convert songs, albums, and playlists from Tidal to your local computer. Apart from MP3 format, the tool lets you download Tidal music to AAC, WAV, FLAC, AIFF, and ALAC formats while preserving the original audio quality.
AudiCable can do a lot more than this. It can do the same trick to convert and transfer recorded files from Spotify, Amazon Music, Apple Music, and so on to all devices without limitations. Meanwhile, AudiCable Tidal Music Recorder is an easy-to-use and 100% safe program. With no need to install any extra app, including the Tidal app, you can get Tidal songs with several simple steps.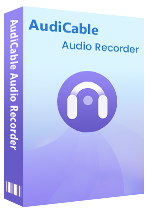 Download music, playlists from Tidal music to computer locally.

Support downloading any songs from Tidal Free, Tidal HiFi, Tidal HiFi Plus.

Save Tidal music to MP3/FLAC/AAC/WAV/AIFF/ALAC formats.

Keep original audio quality and ID3 tags after conversion.

Built in Tidal web player, no Tidal app needed.

Listen to Tidal music on MP3 player, iPod Nano, USB drive, etc.

Transfer Tidal songs to any music device and players for playback.
📂 Tutorial on Listening to Tidal on Google Home via Bluetooth / YouTube Music
Step 1

Download and Install AudiCable Tidal Music Recorder

Take first to download and run AudiCable for Windows or Mac. Most popular music streaming platforms are displayed on the main interface of AudiCable. Navigate to "Tidal" and click.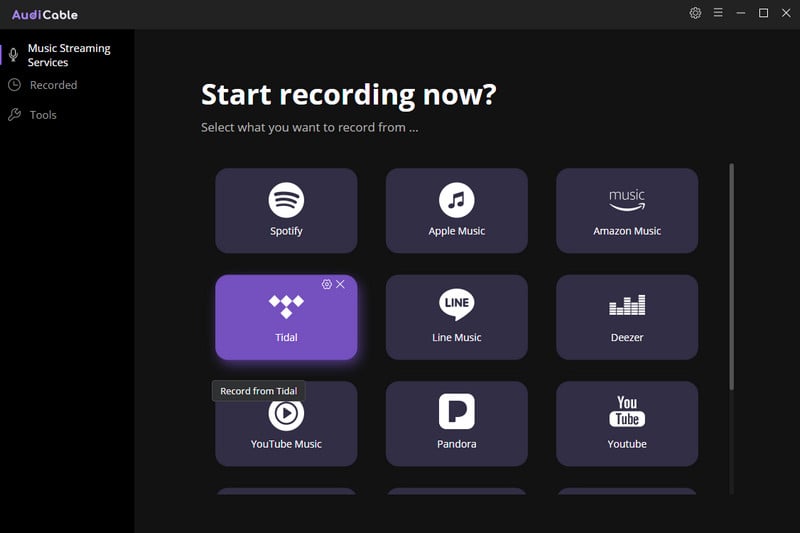 Note: Using the "Add other sources" button, you can also add other music services that you want. Just copy the official website, customize it with a new name, and then implement a new music platform.
Step 2

Choose the Player and Sign in

Please choose the way you want to download Tidal music. After that, sign in with your Tidal account. Tidal Free, Tidal Hi-Fi, Tidal Hi-Fi Plus accounts are feasible.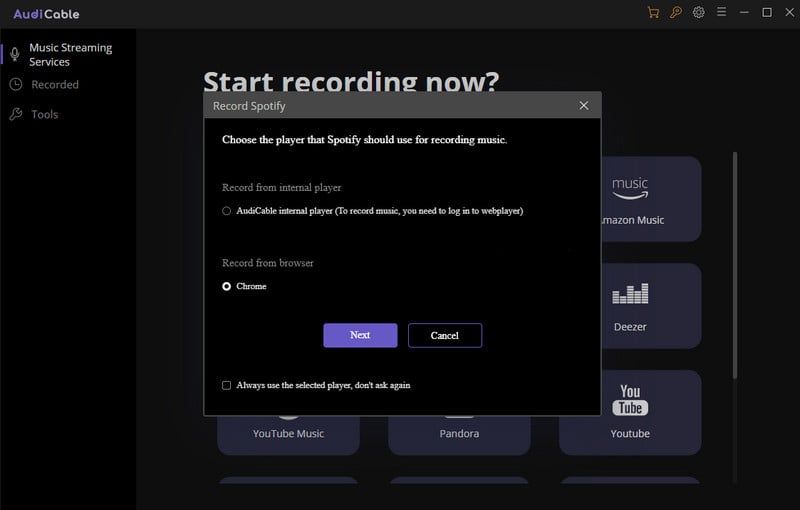 Note: The first option will bring up AudiCable's built-in web player window, and the second will pop up from your Chrome.
Step 3

Adjust the Output format as MP3 Format

On the top-right corner of AudiCable, click on a "gear icon". From the pop-up setting window, you need to choose "MP3" as the output format for your Tidal music. When done with the settings, you can directly close the window to apply all changes.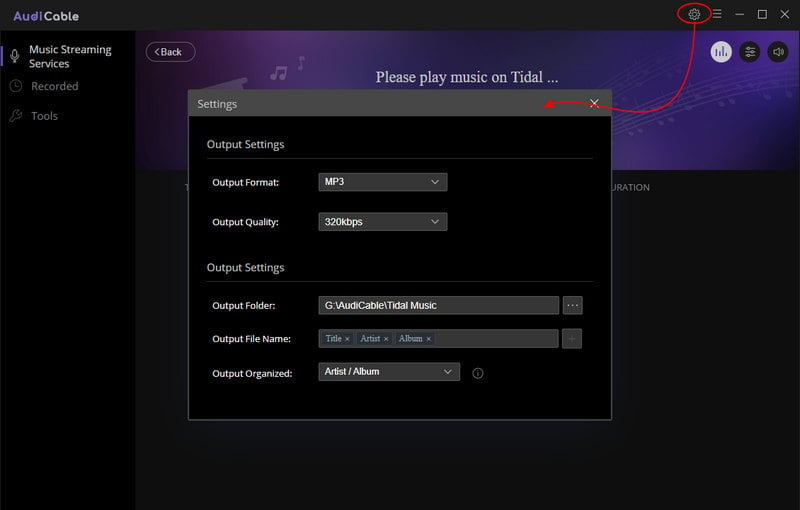 Note: Apart from the output format, you can also freely customize the output quality and output path as you like. The audio quality varies from 128kbps to 320kbps.
Step 4

Start Downloading Tidal Music to MP3 Format

Choose your preferred Tidal songs, playlist, or albums to play. As soon as you play the song, AudiCable will start recording simultaneously. All recorded Spotify songs are saved in the format you set before.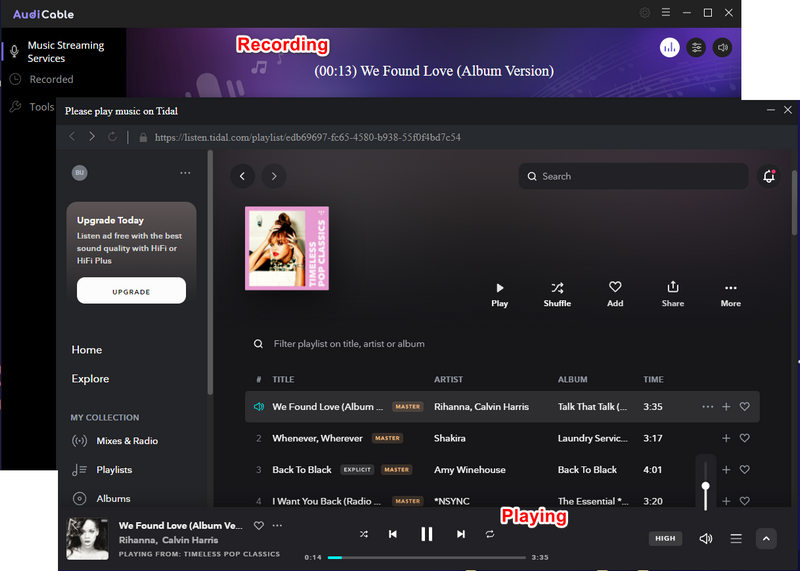 Note: Please make sure that your network is stable during recording. If you want to mute the sound and just download Tidal music in the background, you can go to the upper right, and tap the "sound" icon to switch to mute.
Step 5

Get Downloaded Tidal MP3 Audios on Your Computer Folder

Click the "Recorded" tap, and the "Folder icon" behind a song, then you can quickly locate Tidal downloads. Now you are not limited to playing these songs through the Tidal Music app.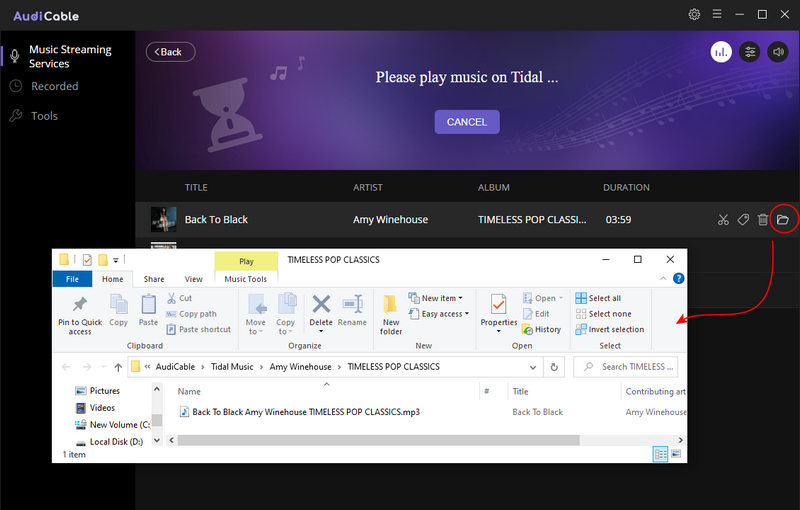 Step 6

Play Tidal Music on Google Home via Bluetooth / YouTube Music

Now that you've got the downloaded Tidal music files. Choose one of the solutions below to listen to Tidal music on Google Home.
Solution 1: Play Downloaded Tidal Music on Google Home via Bluetooth
To play the downloaded Tidal Music on Google Home, you can import all the downloaded Tidal music to your phone, then build up a Bluetooth connection to Google Home. As you play the songs on your mobile phone, the songs will also freely play on Google Home.
Solution 2: Play Downloaded Tidal Music on Google Home via YouTube Music
(1) Launch YouTube Music on your computer and enter your account information.
(2) Click the 'Upload music' option, and select the downloaded Tidal songs to upload.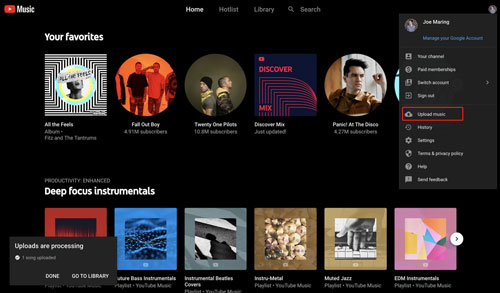 (3) Open the Google Home app on your device and hit the 'Settings' > 'Services' > 'Music' button to set YouTube Music as the default service.
(4) Now, you can freely listen to uploaded Tidal songs on Google Home via simple voice commands. For example, 'Play a specific song (song name)'.
Note: YouTube Music supports various files formats, including FLAC, M4A, MP3, OGG, and WMA.
Disclaimer:
All these methods are for personal or educational use only.
You should not use this tool to distribute music or for business.
Conclusion
Are you ready to immerse yourself in the Tidal song on Google Home? Whether you are using Tidal Free, Tidal HiFi, or Tidal HiFi Plus accounts, choose the second method, which is appropriate for everyone. Come on! Install AudiCable on your computer first.
Note: The free trial version of AudiCable enables you to record a maximum of 10 Tidal music. To get the full conversion, please become a registered member by buying a license from AudiCable.
Related posts
Sidebar
What You'll Need
Hot Tutorials