Download Tidal Music Offline with Tidal Free Plan
As one of the leading music download service brands, we always focus on real-time dynamics. We are eager to share this good news with our users when we first learned that Tidal has added Free Plan. For Tidal, this is a significant change. It perfectly replicates Spotify's service of listening to songs online for free. There is no doubt that the beneficiary of competition among the major streaming services is the users. Now we can listen to songs for free on more platforms, which saves us a lot of money.
However, there is always a rule that you get what you pay for. As a free user, you cannot enjoy some privileges, such as downloading songs, being ad-free, and enjoying HiFi sound quality. Definitely, you can't enjoy HiFi sound quality unless you become a paid subscriber. But if you want to download Tidal music offline with a Tidal Free Plan and get rid of ads, we have a great solution. Now without further ado, let's go through the detailed steps.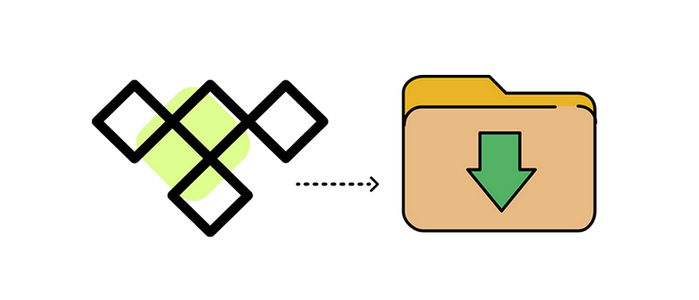 Detailed Steps:

Download Tidal Music Offline with Tidal Free Plan

If you have a Tidal Free Plan, what can you do? Firstly, you can get access to Tidal Music Library with over 100 million songs. Secondly, you can play music online without money. But with the help of AudiCable Audio Recorder, you can get more options.
✅ You can download Tidal music offline with the Tidal free account.
✅ You can save every Tidal song completely without ads.
✅ You can convert the Tidal Music tracks to MP3, AAC, FLAC, WAV, AIFF, ALAC formats.
✅ You can play the downloaded Tidal music via any media player without the Tidal Music app or Web Player.
✅ You can move the downloaded Tidal music to any device and share the downloaded Tidal music with your friends without limitations.
✅ You can download Tidal songs with the ID3 tags and the original audio quality.
✅ You don't need to install the Tidal Music app.
AudiCable Audio Recorder is a professional music downloader designed by a conscientious group. This program provides a perfect solution to eliminate the restrictions of Tidal Music. You can download Tidal music, albums, playlists, and other audio files in common formats and enjoy the playback forever. The downloaded Tidal songs can be moved to any device. In addition, This all-in-one AudiCable Music Recorder support extracting music from more music sources, including Spotify, Apple Music, Amazon Music, Line Music, Deezer, YouTube Music, Pandora, etc. Let's check the detailed steps to download Tidal music offline with a free plan.
Step 1: Install and Run AudiCable Audio Recorder
Navigate to the download button of the AudiCable Audio Recorder. Get this app installed on your computer clean and safe. To download Tidal Music, tap on Tidal Music.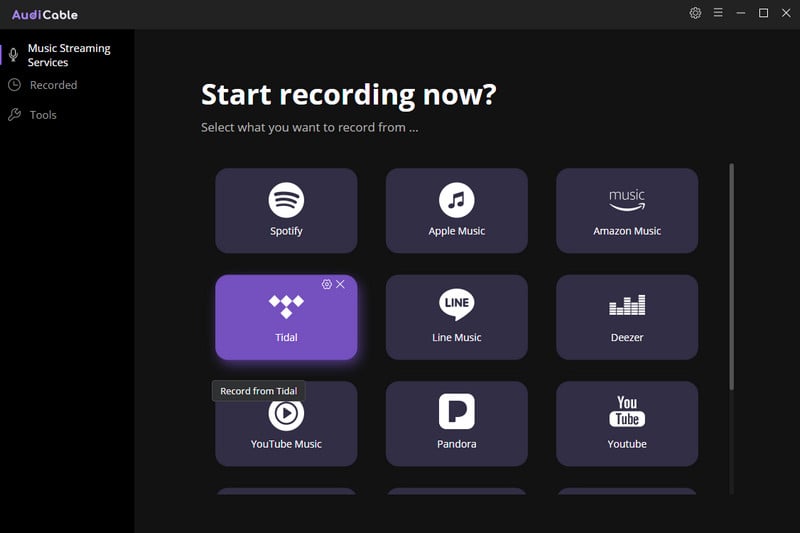 Step 2: Log in to Tidal with A Free Account
A built-in Tidal Music Web Player will be launched automatically in the meanwhile. When you are new to Tidal, you need to sign up for a new account then log in. If you have a Tidal account, you can log in to Tidal Music now. Tidal Free, Tidal Hi-Fi, Tidal Hi-Fi Plus accounts are feasible. If you need to download Tidal songs with better audio quality, you need a Hi-Fi account. But you are satisfied with the normal audio quality, the Tidal Free account works well.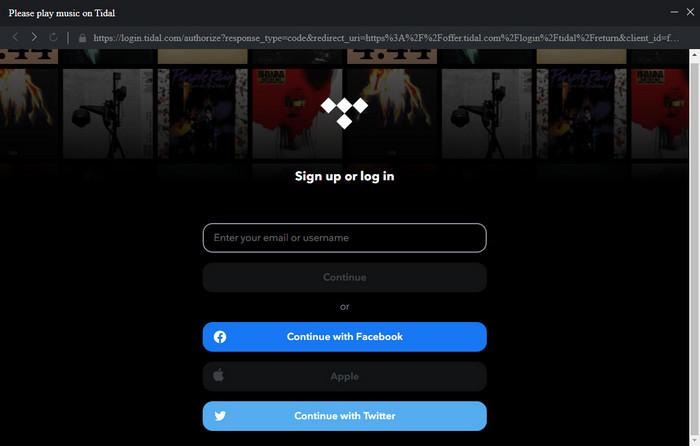 Step 3: Customize the Output Settings for Tidal Music Downloads
In the top-right corner, touch on the "setting icon". A pop-up setting window displays. Now, you can start to set the output format. Then adjust the output quality and define the output path. The Tidal music downloads will be saved to the output folder you set. When done with the settings, you can directly close the window to apply all changes.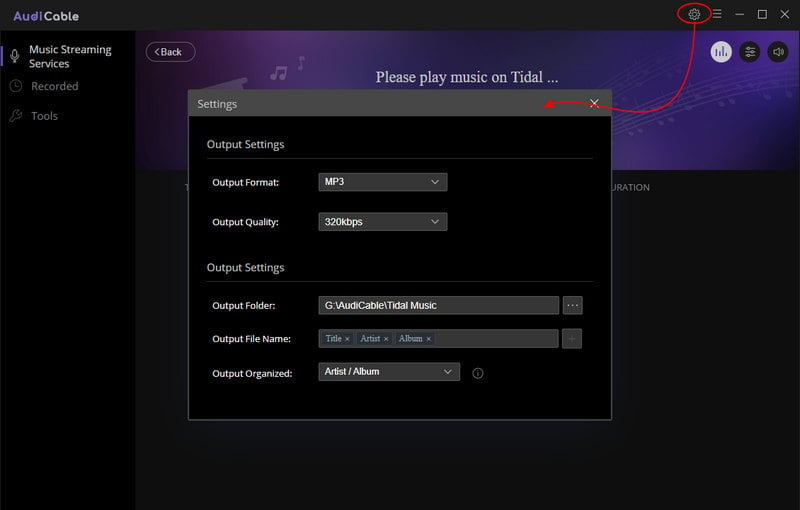 Step 4: Pick a Tidal Playlist to Download
On the main page of Tidal Music Web Player, search and find a Tidal Music playlist that you need to download. When you lock on a playlist, open it to enter the detailed page. Then you just need to play the songs in order. AudiCable will automatically record every song with meta information. And ads will be separated with songs. You don't need to worry about it.
When you need to record quietly, click the "sound icon"

to mute

the sound.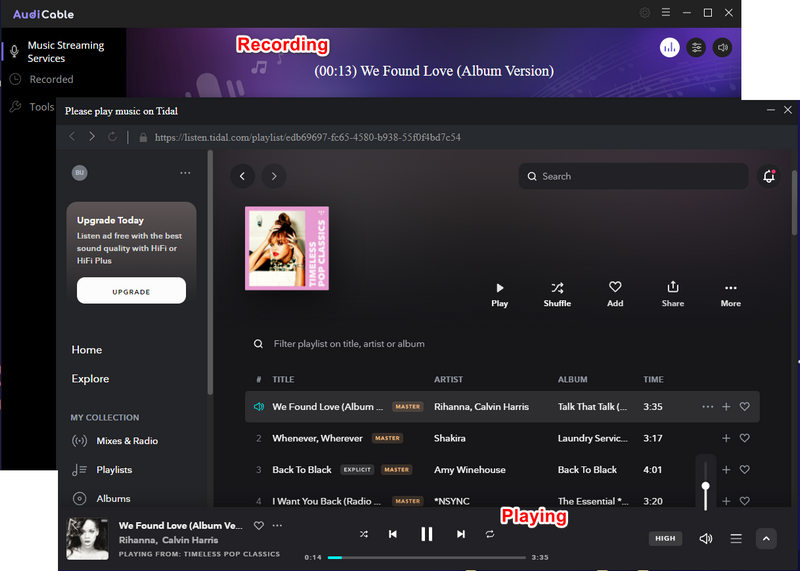 Step 5: Successfully Download Tidal Music
After all songs from the playlist are recorded, you can check the Tidal Music downloads on the target folder on your computer. Or you can open the output folder via the "folder icon" quickly. At this time, you can enjoy the offline playback of the Tidal songs anytime and anywhere. You are not limited to playing these songs through the Tidal Music app.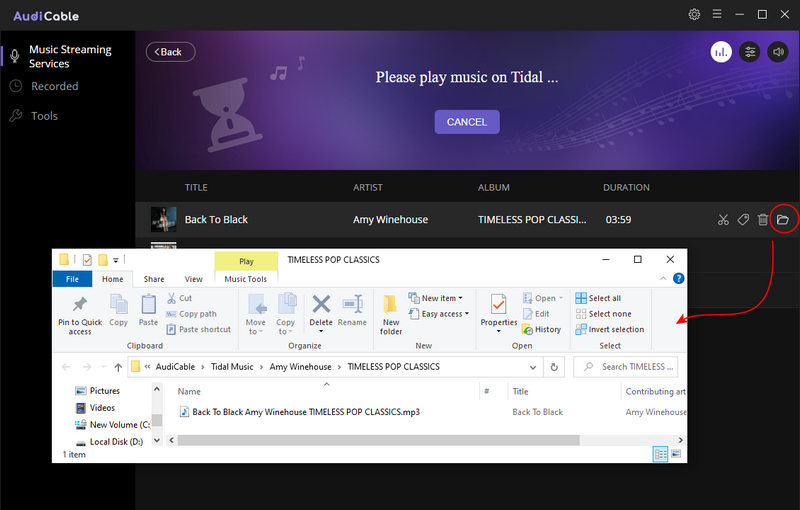 FAQs
🙋‍♀️ Can I download Tidal songs with Tidal Hi-Fi and Tidal Hi-Fi Plus?
AudiCable Audio Recorder rips the songs from Tidal with any accounts. Tidal Free, Tidal Hi-Fi, and Tidal Hi-Fi Plus are available.
🙋‍♀️ Can I download ad-free Tidal songs with Tidal Free?
AudiCable Audio Recorder adopts cutting-edge technology which recognizes ads and songs automatically. Every song will be saved to the computer completely with the artist, album name, cover, etc.
🙋‍♀️ Can I listen to the downloaded Tidal songs without Tidal Music?
To remove the restrictions from Tidal, AudiCable converts the songs from Tidal in common formats. Thus, without the encrypted formats, you can easily play the downloaded Tidal songs without the Tidal Music app or Web Player.
🙋‍♀️ Can I transfer the downloaded Tidal songs to a phone?
The downloaded songs can be moved to any device you want. You can get access to the downloaded songs anytime after moving the downloaded songs to your phone.
🙋‍♀️ Can I add the downloaded songs to a video or burn songs to CD?
Of course, before downloading the songs from Tidal with AudiCable, you need to preset the output format. It ensures the format you select can be compatible when you need to burn the downloaded songs to a CD or use it with a video editor.
🙋‍♀️ Why AudiCable Audio Recorder is necessary?
There is no official way to download music from Tidal or other streaming music platforms for real. You can only listen to online songs with Tidal Free. You can download songs with a paid account, but you are allowed to play the downloaded songs out of the Tidal Music app or Web Player. AudiCable Audio Recorder saves music from Tidal to your local disk and lets those songs truly belong to you.
Conclusion
We were all happy when we learned that Tidal had launched the Free Plan. But sometimes we need to enjoy the fun of music in more scenes, downloading songs offline is a very important function. AudiCable Audio Recorder offers a unique problem-solving idea, which is to convert music into a common format even. So that we can use Tidal music more widely even with a Tidal Music free plan. If you read this article and you are eager to try it, why not download this product for a free trial?
Related posts