Transfer Spotify Music/Playlists to USB Drive
---
Q: What should I do if I need to move Spotify music to a USB flash drive?
A: Sorry, there is no official way.
Q: If I become one of the premium user of Spotify, could I download Spotify music and move them to any portable device?
A: All Spotify music are protected Ogg Vorbis files. You could only enjoy Spotify music via Spotify app.
Q: Is there any solution to fix this issue?
A: Every problem comes with a possible answer. Anyway, you need to draw support from a music recorder or converter, which helps you download all songs from Spotify as MP3 songs. That means you own those songs for real. Afterwards, you can move them to any phones or devices.
Q: Can I get a music recorder for free?
A: AudiCable is an all-in-one music recorder. And all songs from kinds of streaming apps can be downloaded, including Spotify, Apple Music, Amazon Music, Tidal, Line, Deezer, YouTube, Pandora and etc. Just get this all-in-one AudiCable Audio Recorder for free right now, which means you can get access to Spotify music for free for a lifetime.

Why AudiCable is Most Helpful?
AudiCable Audio Recorder is a multiple source music downloader. If you are a music fan, it's a best tool you can get to enjoy streaming music online or offline for free. If you need to make a premium subscription on every streaming music app and renew subscription every month, instead, you may want to own a music recorder permanently. Check why this program is helpful:
Fully support for kinds of streaming music apps, including Spotify, Apple Music, Amazon Music, Tidal, Line, Deezer, YouTube, Pandora and etc.

Record and save premium music to MP3, AAC, WAV, FLAC, AIFF.

Keep ID3 tags and Hi-Fi audio quality after conversion.

Free updates & technical support.
Steps to Transfer Spotify Music/Playlists to USB Drive
As we mentioned above, you could download Spotify songs if you own its premium subscription. However, you are forbidden when you move Spotify songs to other places owning to its format protection. Therefore, AudiCable allows you to save Spotify songs as MP3 formats, then you can move them to a USB flash drive or any other devices easily. Within a few steps, you can enjoy Spotify songs anywhere without restriction. Now, we are going to learn how to save Spotify music as Hi-Fi MP3, AAC, WAV, FLAC, AIFF songs with retained ID3 tags.
Step 1:

Launch AudiCable Audio Recorder

On your computer, download and install this AudiCable Audio Recorder. And launch this program after the installation. We need your USB drive later, now we start downloading Spotify music as a plain format.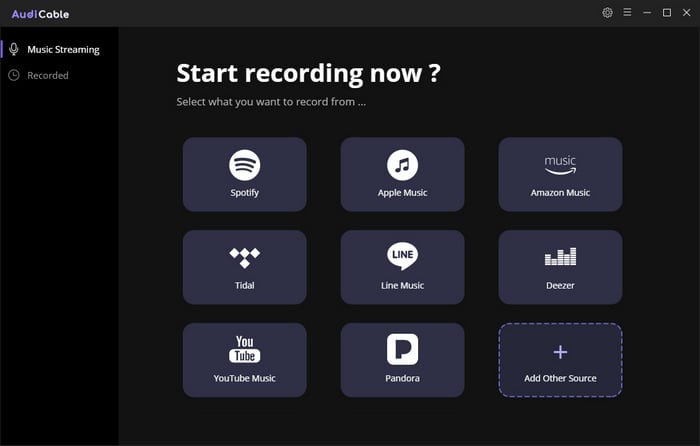 Step 2:

Customize the output settings of Spotify songs

In advance, we need to tailor the output settings. On the top right, you will find a "setting icon"

, click it to open a setting window. Make a selection to output format ( MP3, AAC, FLAC, WAV, AIFF), output quality (128kbps, 192kbps, 256kbps, 320kbps) and output path. Then move on.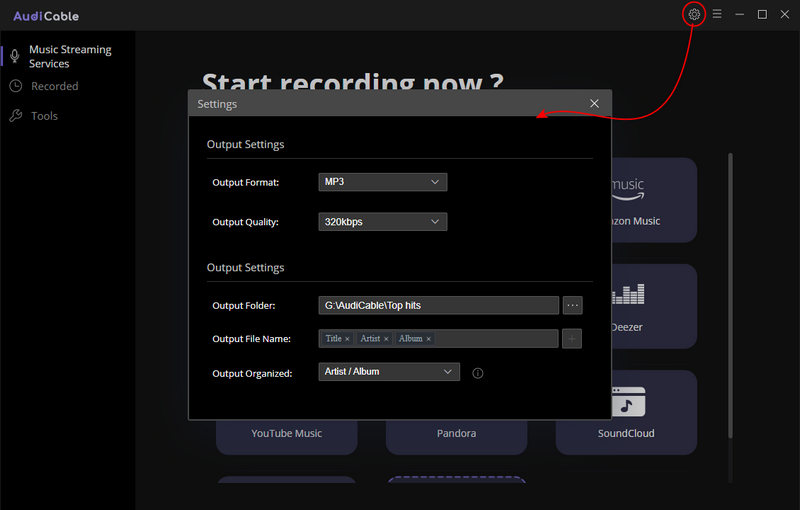 Step 3:

Start Spotify and log in with a free account

If you are a Spotify user, then among all kinds of music apps on the primary interface of AudiCable, you need to start Spotify. Then a built-in Spotify app will be initiated. On this Spotify app, go to the top right and log in with your account. If you have no account, then as a Spotify user, you know you can sign up for a free own right now.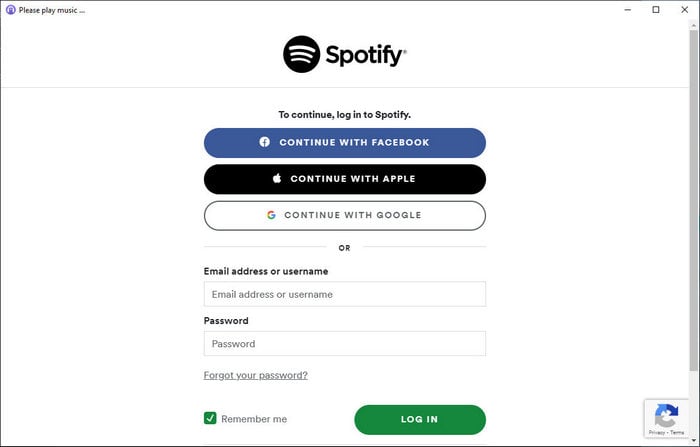 Step 4:

Download Spotify songs to local space

Now, on the built-in Spotify music app, browse a song or a playlist, then start playing. Immediately, AudiCable will start recording this song. If you play a song in a playlist, then AudiCable will record all songs orderly until you call a pause.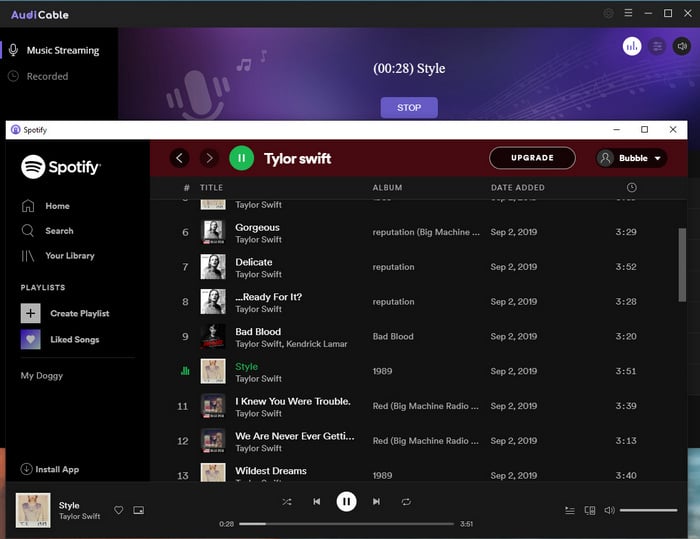 Tips:
Are you a new user of AudiCable? If you are, then do not skip this step. Click "Stop" then locate "record setting" icon on the upper right. Tap it you can choose to Automatically split when the silence is more than (number) milliseconds. Or just choose Do not split to if you want to keep every second. It's recommended to choose the later option.
Some users only want to download songs from Spotify instead of listening to music online. Then you can choose to record songs in background quietly, under "Music Streaming" tab on AudiCable, go to the upper right corner, tap the "sound" icon to to switch to mute .
But for some users who need to enjoy online music anytime, you can play songs via AudiCable and remove all saved songs later. Or just choose a song in a playlist and play, then click Stop button on AudiCable to abort recording music. Then you can finish an online listening to this music album.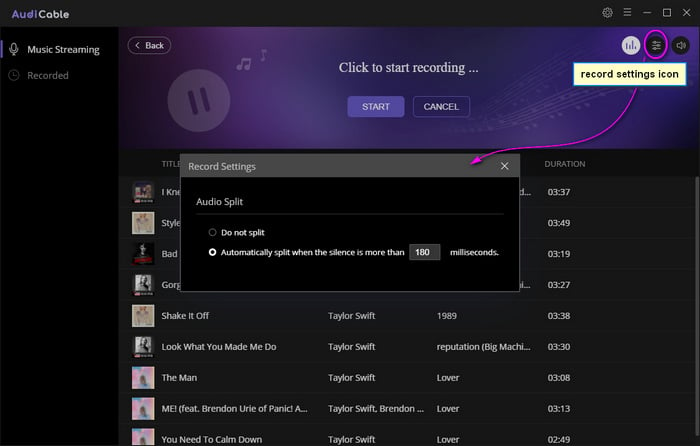 Step 5:

Move downloaded songs to a USB flash drive

Under Recorded column, you can check all histories of downloaded music. Move to any song, you will see "tag icon"

behind the song. Tap it to edit its information. And click the "file icon"

to open the output folder. Then plug in your USB flash drive. And copy those songs to your USB flash drive.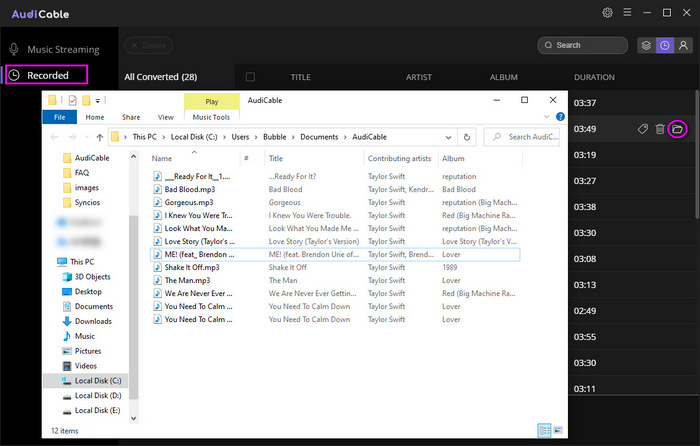 Disclaimer:
All these methods are for personal or educational use only.
You should not use this tool to private or distribute music.
Conclusion
AudiCable is always reliable for downloading music from almost all music sources. You own everything once you get this all-in-one music recorder. Have a free try and enjoy Hi-Fi Spotify music freely right now! Just do not hesitate and give it a shot!
Sidebar
What You'll Need
Hot Tutorials