Play Amazon Music after Canceling Subscription
Amazon Music varies in subscription plans. There is a industry-standard $9.99 per month Premium plan for its ad-free Individual tier. And it also offers Amazon Prime that drops the fee to $7.99 per month (or $79 per year) — on top of their $129 per year. It's a pleasurable music platform owing to its large music library, cool scrolling lyrics. And before committing to it, you will get a 90-day free trial period.
When the subscription is valid, you are freely enjoy music on Amazon within Amazon Music app or web player. However, you can not get access to songs, albums, playlists on Amazon Music when you end the subscription. Follow this article to save Amazon Music to a unrestricted format, you can play Amazon Music after canceling subscription on PC, iPhone, Android, etc.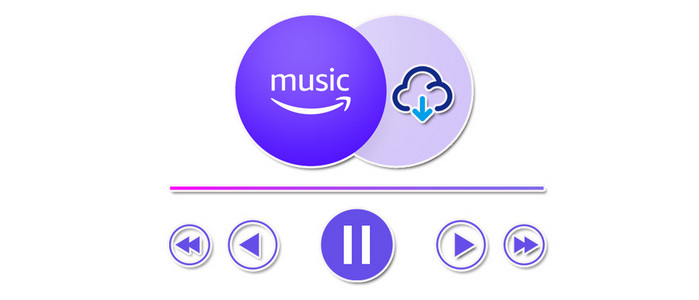 Play Amazon Music after Canceling Subscription
We'd often grow frustrated with Amazon Music's inability to real download songs to the local disk. Now, we find a comprehensive music downloader, AudiCable Audio Recorder, to fire up the dissatisfied Amazon Music users. With AudiCable, you can effortlessly rip songs, albums, playlists, podcasts from Amazon Music as MP3, AAC, WAV, FLAC, AIFF, ALAC formats. Only then will you have the opportunity to enjoy Amazon Music without restrictions. With AudiCable Audio Recorder, you can:
♥️ Extract music from Amazon Music, Spotify Music, Apple Music, Tidal Music, Line Music, Deezer Music, YouTube Music, Pandora Music, SoundCloud Music and other music sources.
♥️ Preserve ID3 tags and original quality of Amazon Music.
♥️ Convert Amazon Music to MP3, AAC, WAV, FLAC, AIFF, ALAC.
♥️ Enjoy Amazon Music Playback without Amazon Music app.
♥️ Play Amazon Music without internet and subscription anytime.
♥️ Move downloaded Amazon Music tracks to any portable device and play songs offline.
♥️ Share your favorite Amazon Music playlists with people around you.
Download and install this helpful music tool on your computer then follow the detailed guide below.
💬 Video Tutorial - How to Record and Download Your Amazon Music Songs Locally
Step 1: Open AudiCable Audio Recorder on your computer. The installation to Amazon Music app is needless. On the primary window of AudiCable, you will find an entrance to Amazon Music. Click "Amazon Music App" and log into with your account.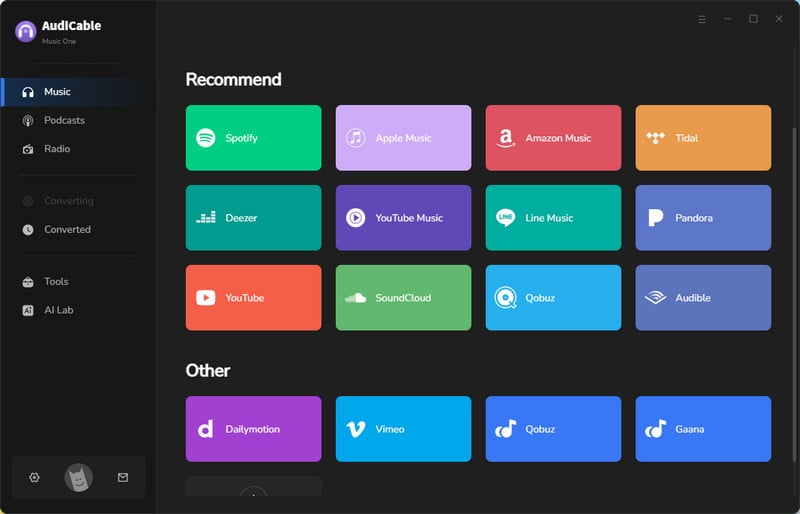 Step 2: Click "Settings" in the bottom left, then select "MP3" as output format. You can also choose Output Quality, Convert Speed and others. To organizing your music library, you can create a new local folder to save the output audio files.
Notes:
If you choose to save songs as AAC and MP3 formats, the output quality can be up to 320kbps. This is the best choice for most people. In the case of compressing files to a great extent, good sound quality can be guaranteed.
If you choose to save songs as FLAC, WAV, AIFF formats, you are not allowed to change the output quality setting. Because songs will be save as original quality by default.
If you can't save music as the ideal sound quality, please check the highest sound quality that Amazon Music Web player can play songs. Our software only preserves the most original sound quality.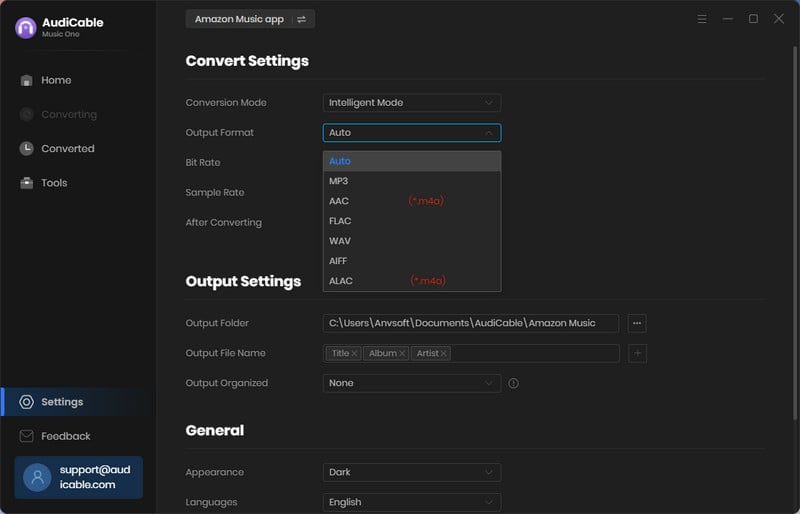 Step 3: Directly drag & drop the playlists from the Amazon Music app to AudiCable. Or copy & paste the Amazon Music playlist link to the URL parsing box of the AudiCable. Then tick the songs you want to convert in the queue, click "Add".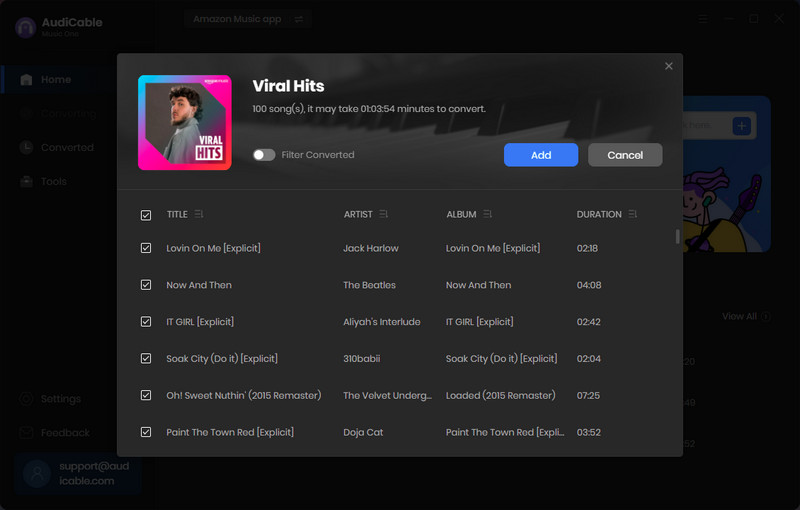 Step 4: Once all songs you need are downloaded, go to the Converted column check the downloaded Amazon songs. Then you can choose to listen to them on the computer with a normal media player or move them to any other places.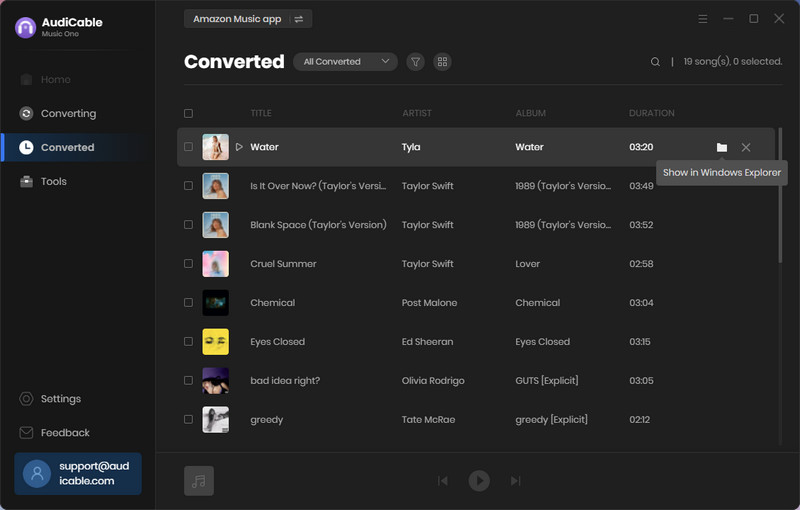 Play Amazon Music on Computer after Canceling Subscription - Click a song and open it with windows media player or other media player. What's more, you are allowed to add songs from the local disk to your preferred media player then listen to them freely.
Play Amazon Music via a USB Flash Disk after Canceling Subscription - Simple get a USB Flash Drive connected with computer. Open the USB disk on the computer and then copy the downloaded songs to it. After that, you can freely enjoy Amazon Music via that USB Flash Disk.
Play Amazon Music on iPhone after Canceling Subscription - It takes a few steps to import songs to an iOS device owing to the limitation on Apple part. Follow detailed solutions to import the downloaded songs to iPhone. Then unlock iPhone, open Music app, you can find the newly imported playlist and enjoy the Amazon Music playback forever.
lay Amazon Music on Android after Canceling Subscription - Get an Android device connected with computer via a USB cable. To get access to Android's internal storage, go to the connected Android device, scroll down from the notification center, change the connection mode as Transfer File / MTP. Then on the computer, open This PC. Navigate to your Android device drive. Browse for a Music folder under Android phone's storage. Copy the Amazon Music tracks to this Music folder. Later, on Android phone, open a music app, scan songs from local disk to refresh music playlist. You will find all newly imported songs. Since then, enjoy free Amazon Music forever and ever.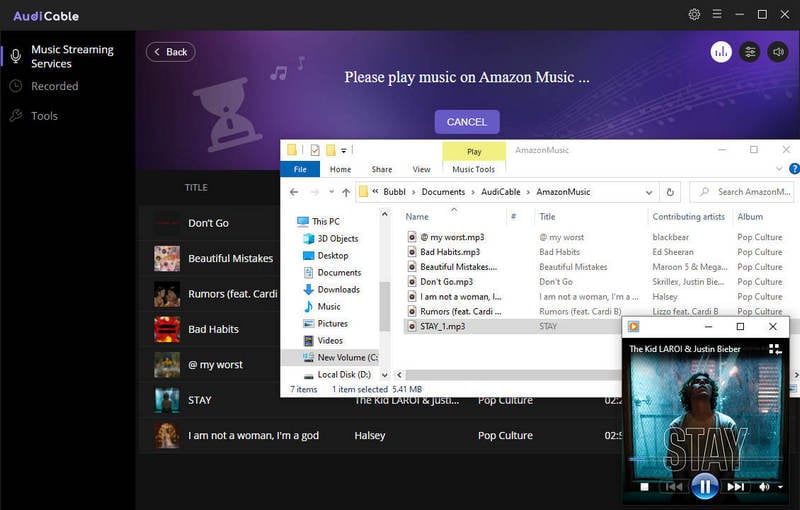 ---
FAQ: How to Cancel Amazon Music Subscription
After downloading amazon music, if you consider how to cancel Amazon's renewal through Amazon Music service, iTunes, or third-party provider, the following methods can also help you.
★ Cancel Amazon Music Unlimited Subscription on Android
Start Amazon Music app and find a "gear icon" on the main interface.
Tap "Amazon Music Unlimited".
In your plan information screen, navigate to the Subscription Renewal section, and hit "Cancel subscription".
Confirm cancellation.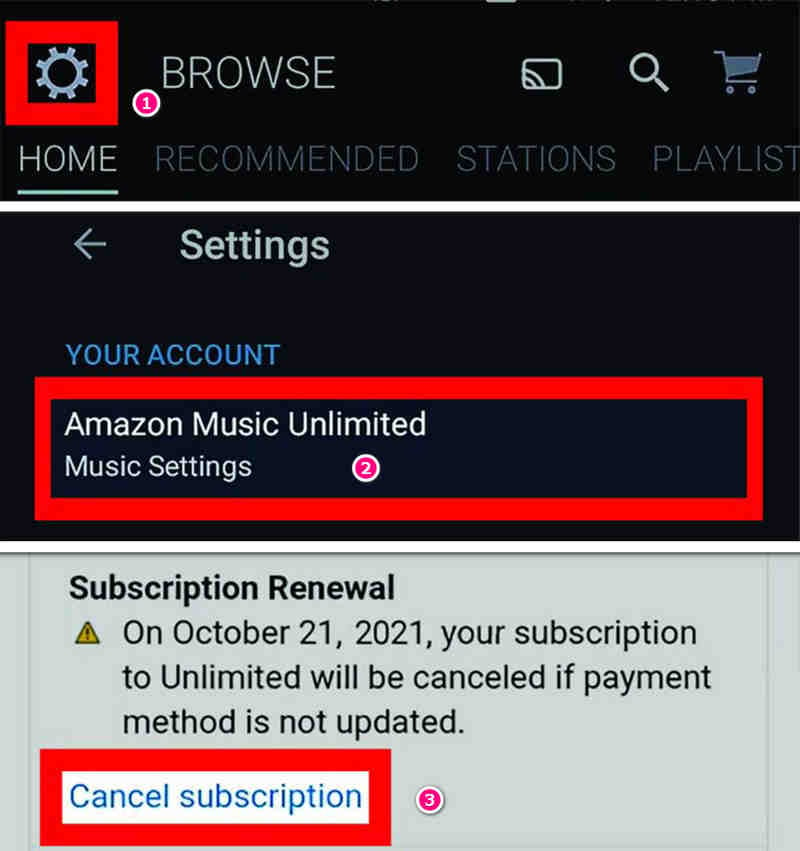 ★ Cancel Amazon Music Unlimited Subscription on iOS / Website
Open a website browser and go to Amazon Music website homepage.
Navigate to the top left corner to sign in.
Once signed in, tap the three stacked lines again and select "Account" in the menu.
Go to "Account settings" then choose "Your Memberships & Subscriptions".
Your memberships past and present will be listed. Scroll to "Amazon Music Unlimited" and tap it.
Then you will find the "Amazon Music Unlimited Settings" button beneath "Advanced controls". Tap it.
Go to "Cancel subscription" option and then you will be asked why you want to unsubscribe. Pick a reason then click "Confirm cancellation".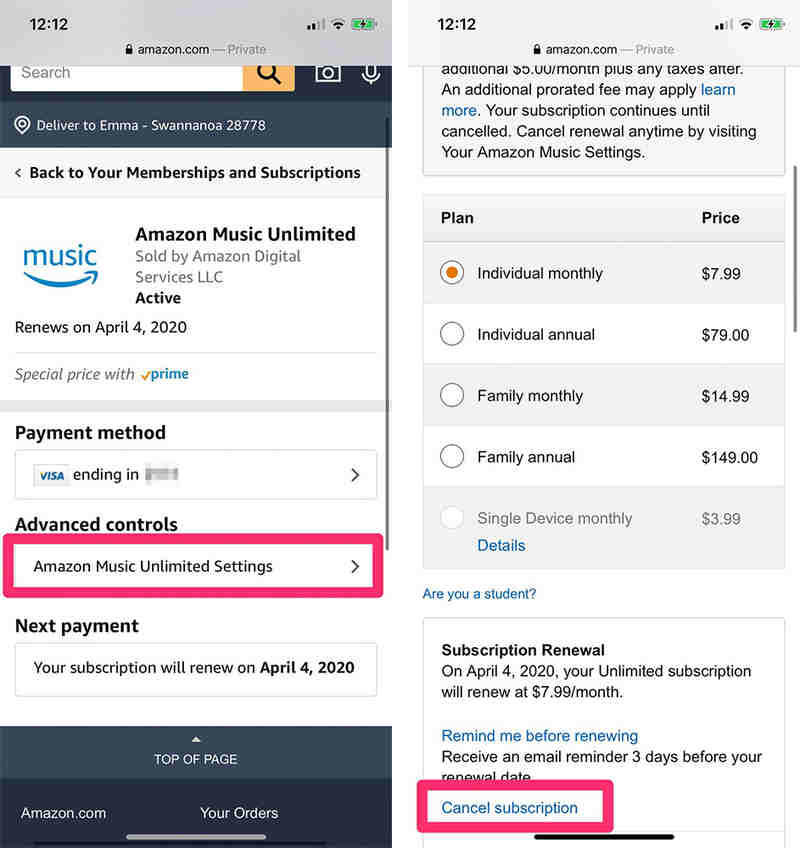 ★ Cancel Amazon Music Unlimited Subscription through a third-party subscription
If you subscribed through a third-party, such as a mobile service provider, you need to contact them for further assistance.
★ Cancel Amazon Music Unlimited Subscription through iTunes
If you subscribed to Amazon Music through iTunes, you can refer to the guide on Apple website to cancel the subscription.
★ Cancel Amazon Music HD Subscription
Open a website browser and go to the Amazon Music settings page.
Select Remove HD from my subscription.
Confirm cancellation.
💬 Video Tutorial - How to Record and Download Your Amazon Music Songs Locally
Conclusion
You can give AudiCable Audio Recorder a test run before committing to it. Install this useful music recorder to save your preferred playlists from Amazon Music easily. After canceling subscription, you won't lose the chance to hear your favorite Amazon Music.
Related posts