2 Ways to Download SoundCloud Music to MP3 for Offline Listening
Compared with other popular streaming music platforms, SoundCloud is a special music source where users can record, upload and promote their sound tracks. And surprisingly, you are allowed to listen to as many tracks you want online with a free account. But if you want to download music offline and enjoy ad-free listening on SoundCloud, you need to pay for its subscription.
Without paid subscriptions, you can listen to music on SoundCloud for free, but you can not play music without internet. With paid subscriptions, you can download music. However, you can only listen to the downloaded songs within SoundCloud app or SoundCloud Web Player. When you need to stop the subscription, you will lose all downloaded songs. With or without paid subscriptions, to have a better experience, you need to download tracks from SoundCloud Music as MP3 and truly own these songs. In this article, you will learn how to download music from SoundCloud as MP3 for free users and Premium users on SoundCloud. After that, you can enjoy the playback of SoundCloud Music on your computer, Android or iOS device forever.

Way 1.

Download SoundCloud Music as MP3 on PC

AudiCable Audio Recorder is a comprehensive music downloader to save SoundCloud tracks, songs, music in MP3 and other plain formats. Use this SoundCloud downloader, you can download music as MP3 with up to 320kbp audio quality. For music lovers around the world, you can freely enjoy music without internet with this magical tool.

🌱 Main Features of AudiCable Audio Recorder:
Fully support for various kinds of streaming music apps: Spotify, Apple Music, Tidal, SoundCloud, Line Music, Deezer, YouTube Music, Pandora, etc.

Suport to add other customized music source manually.

Download music with SoundCloud free account or paid subscription.

Multiple output formats: MP3, AAC, WAV, FLAC, AIFF, ALAC.

Automatically retain ID3 tags of every song after conversion.

Support to download music with original audio quality.

Free updates & technical support.
🌱 Steps to Download SoundCloud Music as MP3:
Simply follow steps below to see how to download SoundCloud to MP3 on your Android, iOS and PC.
Step 1: Start your computer, and click the downloading button below to download and install this AudiCable Audio Recorder. When the installation is completed, start this program. It's ad-free and safe without any other installations. On the start-up page on AudiCable, you will see many popular music platforms, such as Spotify, Apple Music, Amazon Music and so on.
Generally, SoundCloud is not listed on the main interface. If you can not find SoundCloud, just scroll down and click Add Other Source module.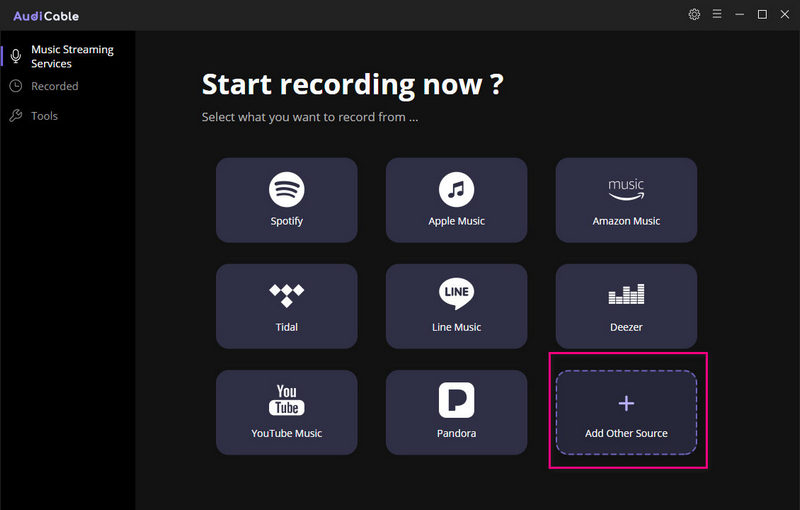 Step 2: Now, we can add SoundCloud manually. Click the "Add your site". Input SoundCloud as the website name. Input https://soundcloud.com/ or https://soundcloud.com/discover as the Website URL. Then click Add. And do not forget to tick off the check box in front of the newly added SoundCloud Music. After that, close the dialog and go back to the main interface. You will find SoundCloud. You don't need to add this source the next time. Just click SoundCloud to open it.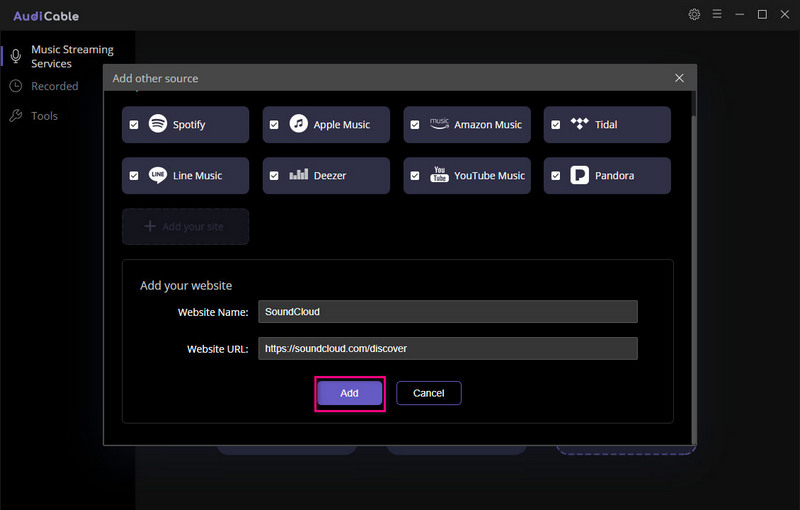 Step 3: A built-in web player of SoundCloud Music will pop up. The first thing is to log in with a SoundCloud account. Create a new one if you do not have one. And for every user, you have one chance to try Premium account for 30 days without payment. Gratifyingly, we can download as many song as we need in 30 days from SoundCloud.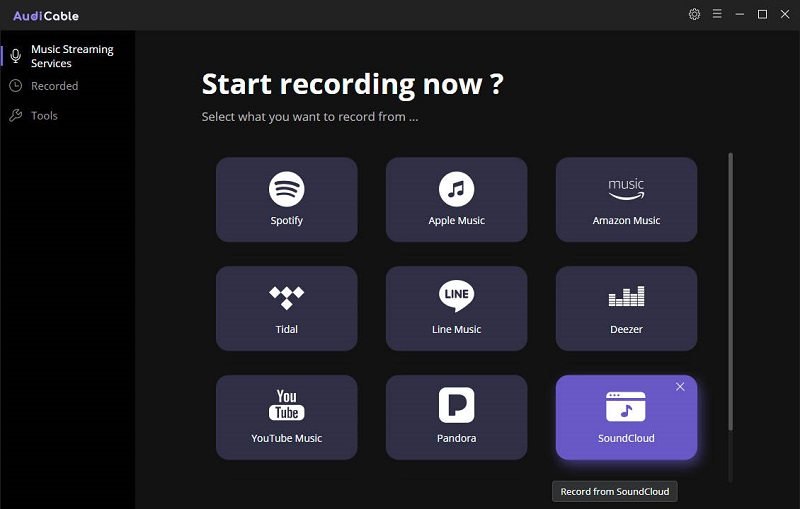 Step 4: You need to check the default output settings. Go to the upper right, click the "gear icon". A setting window pops up. We set the output format as MP3. And you can choose to save MP3 files up to 320kbps. Do not forget to set a proper saving path.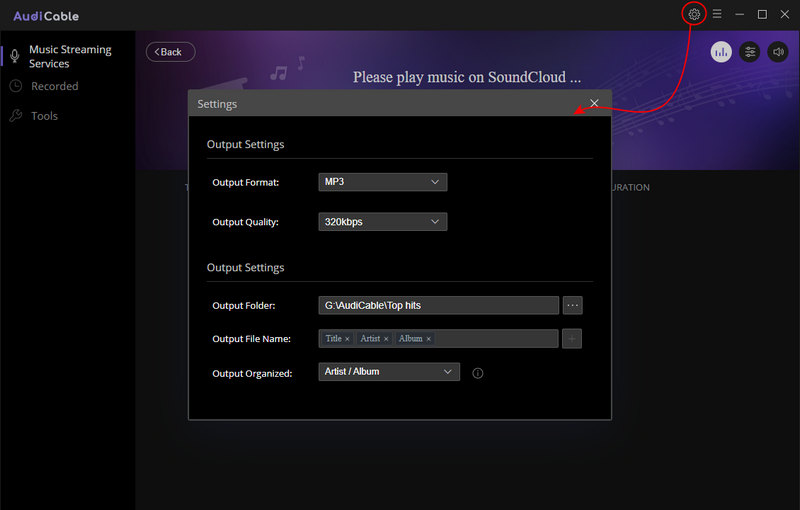 Step 5: On SoundCloud, select a preferred music album or playlist, start playing the song. Automatically, AudiCable will start recording the playing song with ID3 tags. All songs from the playlist will be saved as MP3 files soon after.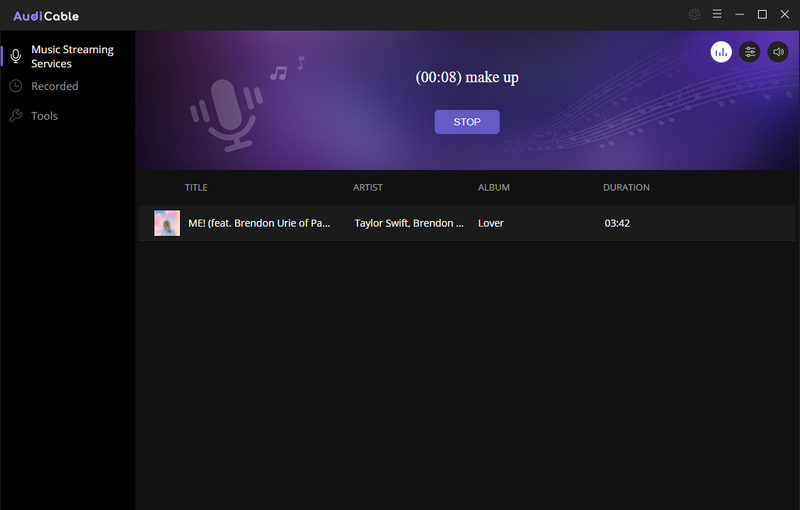 Step 6: Click the folder icon behind any downloaded song, you will find its location on your computer quickly. In the output folder, all songs from SoundCloud are saved as MP3 files. You can move them to any device now.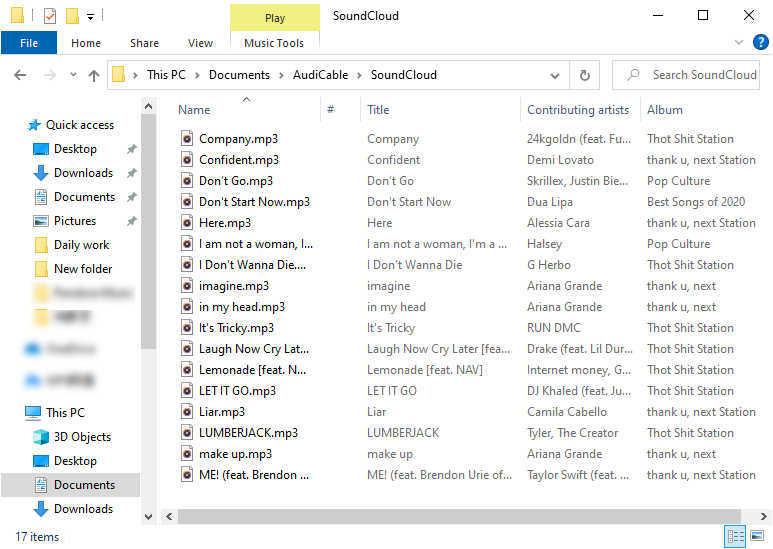 Move SoundCloud Music to a USB Flash Drive: Connect a USB Flash Drive with computer, then copy the downloaded songs to it.
Offline Listening SoundCloud Music on Android: Connect an Android phone to computer via USB connection. Unlock Android phone, pull down from the top, change the connection mode as Transfer File / MTP. Go to This PC on the computer then open the phone disk. Copy the downloaded songs to its Music folder. Then open a music app on your phone, scan songs from local disk. After a while, all newly imported songs are loaded in the music playlist. You can freely enjoy the playback of those SoundCloud Music tracks on your Android phone.
Offline Listening SoundCloud Music on iPhone: Songs can not be moved to an iOS device owing to the limitation on Apple part. But we will share two solution. You can refer to the detailed steps here.
---
Way 2.

Record SoundCloud Music as MP3

If you want to take advantage of a free music converter, Audacity Audio Recorder is your best choice. This tool was developed by a group of volunteers. Hence, it's a free, open-source program for music lovers who need to record audio from system sound, headphones or speakers. It's actually a sound recorder, but not a music downloader. But it supports to save audios as different formats, which is helpful for users who do not want to afford a subscription to a music converter.

🌱 Main Features of Audacity Audio Recorder:
Record audios from system sound, headphones or speakers.

Record music to WAV, AIFF, MP3, AU, FLAC, Ogg Vorbis files, etc.

Embedded audio editor included.

Available for Windows, macOS, Linux and other operating systems.

The output quality is only up to 128kbps.

Free & open-source.
🌱 Steps to Download SoundCloud Music as MP3:
Step 1: Just Google Audacity Audio Recorder, then navigate to its official website. Download and install Audacity on your computer. After the installation, you can use this app to record without any registration.
Step 2: But SoundCloud Music app should be installed on your computer as well. And open SoundCloud then log in with its account.
Step 3: On Audacity, you will find a "red record icon" on the menu bar. Start playing a song on your computer, then click the "red record icon" to start recording. You need to record songs manually.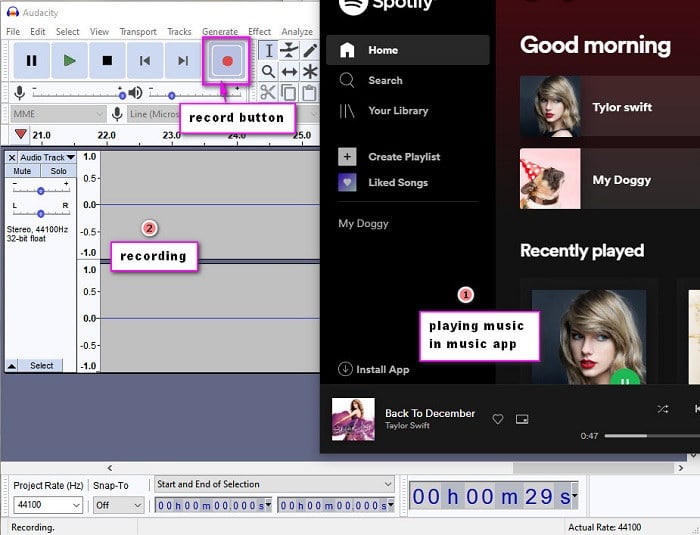 Step 4: When a song is end, you need to stop recording manually. Just tap "stop icon". Then you can go to File > Export > Export Multiple. Choose to output quality and format, and rename it. Choose a proper saving path to export it. You can not record music in batch. And it can't recognize the ID3 tags of songs.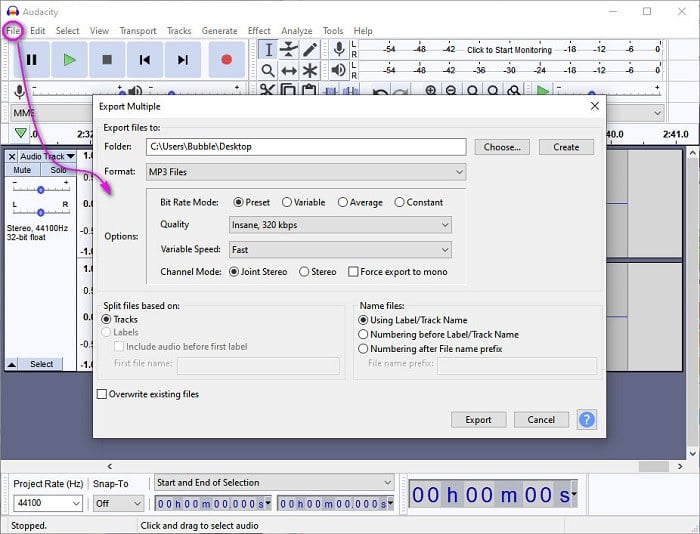 Conclusion
Downloading music from SoundCloud as MP3 is a best choice to make sure that every penny counts. Follow methods in this article to learn how to save all favorite songs from SoundCloud as MP3 for offline listening forever.
Since there is no official solution, the help from a specific music converter is necessary. Download AudiCable Audio Recorder and have it installed to make your job easier right now!
Related posts