How to Stream Apple Music on PS5/PS4
💬 Summary
Are you worried about how to play Apple Music on PS5 or PS4? If you want to play Apple Music with an official way on a PS5 or PS4, then you will get a negative answer. But if you follow this article to stream music on PS5 or PS4, then the answer will be positive. In 2020, Sony Interactive Entertainment has released PS5. Compared with PS4, PS5 has added a series of media applications including Amazon Prime Video, Netflix, Spotify, Apple TV and more. But whether it's PS5 or PS4, it's hard for you to stream Apple Music on it without any help. Because Apple Music songs are protected M4P files that you can only listen to them within Apple Music or iTunes app. However, as we said, you will find a positive answer in this article. Let's check solutions in this post to play Apple Music on PS5, PS4 or even PS3 easily right now.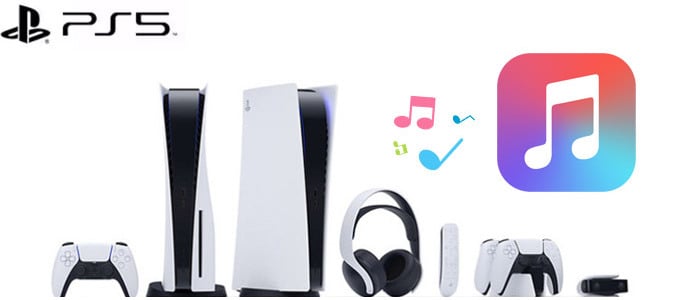 ✅ Question before Start:

Why Can't We Stream Apple Music on PS5/PS4?

Though there are a lot of newly added media applications on PS5, but Apple Music is not included. It generally knows that Apple Music is produced by Apple Inc. And it's not designed for all users. You can use Apple Music on authorized iPhone, iPad, iPod Touch, Apple Watch, Apple TV, Mac, PC, Apple HomePod, Apple CarPlay, Sonos and Amazon Echo device. So far, game consoles are not included. In addition, if you want to transfer downloaded Apple Music to PS5 or PS4, it's impossible to do it directly. Apple Music tracks are downloaded with format-protected.

If you want to play Apple Music on PS5 or PS4, you need to:
Own an Apple Music account.
Convert the downloaded Apple Music as plain format files.
Transfer the downloaded Apple Music to PS5/PS4.
After learning what we need to do, we can find the corresponding plan. In this article we provide two methods to listen to Apple Music on PS5 and PS4. You can choose to listen to Apple Music on PS5/PS4 with or without internet. But listening to Apple Music songs offline is more practical for all users, therefore we start with streaming Apple Music on PS5/PS4 via a USB Drive offline.
✅ Solution 1:

Stream Apple Music on PS5/PS4 via a USB Drive Offline

As we mentioned above, to transfer Apple Music to PS5 or PS4, firstly we need to download Apple Music albums as MP3 files. Otherwise, it's impossible to listen to Apple Music offline with any game consoles. AudiCable Audio Recorder is highly recommended if you need to download music from streaming music sources as MP3 files. It supports to download music from kinds of streaming music platforms, such as Deezer, Spotify, Amazon Music, Apple Music, Tidal, Line Music, Pandora, YouTube Music and other music sources. It takes just several steps to record all songs from a playlist of Apple Music with metadata retained. After saving all music as MP3 files, you can transfer the downloaded songs to any device. Importing downloaded music to PS5/PS4 is even more trivial. Check main features below then get it installed. Then we start a step-by-step guide to move Apple Music tracks, albums to PS5 or PS4 via a USB Drive for offline listening forever.
AudiCable Audio Recorder
Download music from Apple Music, Spotify, Amazon Music, Tidal, Line Music, Deezer Music, YouTube Music, Pandora, SoundCloud, etc.

Record and save streaming music to MP3, AAC, WAV, FLAC, AIFF, ALAC.

Support to add more music websites manually.

Keep ID3 tags after recording.

Keep Premium audio quality after conversion.

Download songs from a playlist in order automatically.

Can record songs in quiet mode in the background.

Free updates & technical support.
Step 1: Open Apple Music on AudiCable
Download and install this safe and clean AudiCable Audio Recorder on your computer. Open this program after its installation. Then on the start-up interface, take a look, you will find the entrance to Apple Music. Click it to open Apple Music web player. On Apple Music, you need to log in with your Apple Music account.
😎 Tips: You need to know no one can get access to songs on Apple Music without an account. It's restricted to all tools. But you can apply for a trial Apple Music account on its official website. It is free for the first three months. Within three months, we can download a large number of songs with AudiCable. By that time, we can cancel the subscription to Apple Music.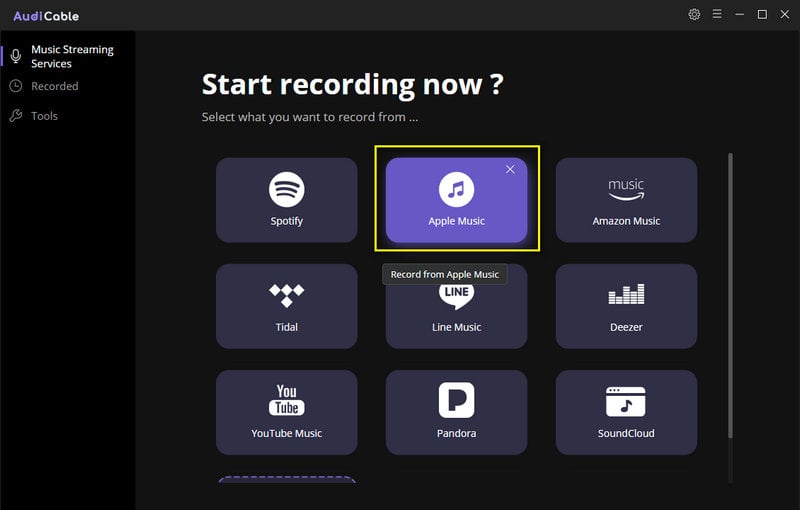 Step 2: Change the Output Format, Quality and Saving Path
Now we need to check the output setting. On the top right of AudiCable, find a "gear icon", click it. A setting window will pop up. Choose the output format as MP3 and set the output quality and output folder, then close the dialogue.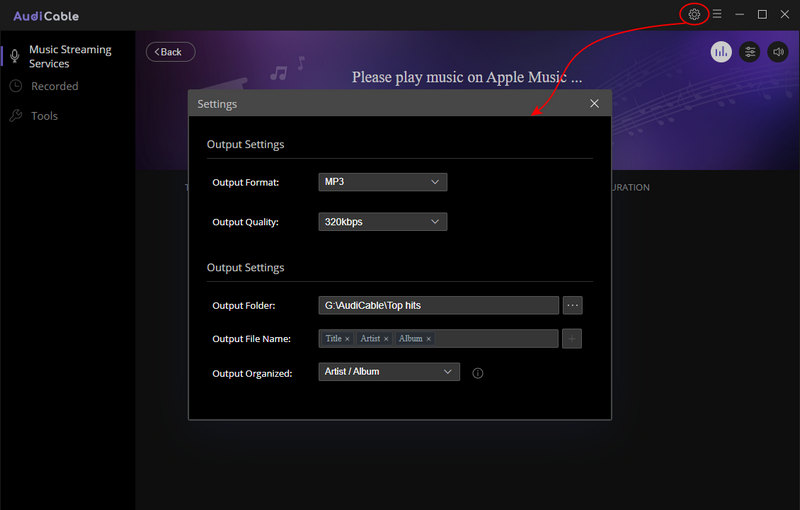 Step 3: Start Downloading Apple Music to MP3
To record music, just open a playlist on Apple Music, then start playing songs. AudiCable will recognize the song and record one by one. After a while, all songs from a playlist will be saved as MP3 files.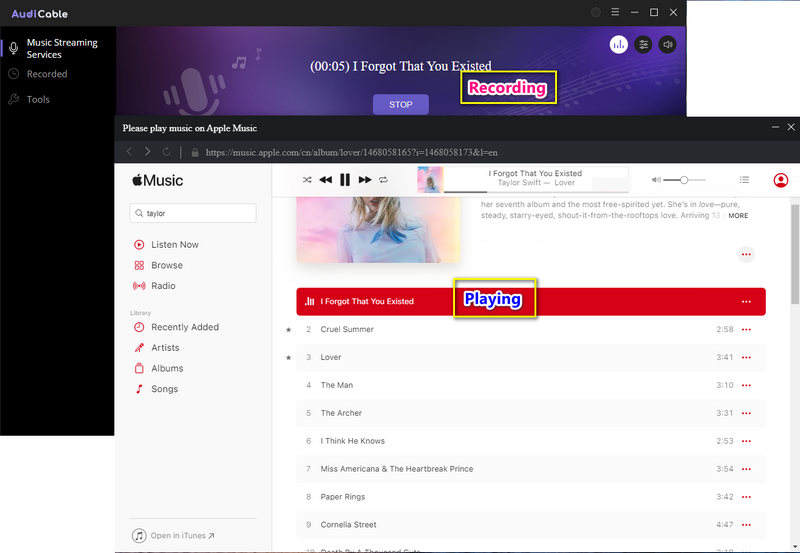 Step 4: Check the Downloaded Apple Music
Go to the list of downloaded songs on AudiCable, click the "folder icon" behind any song. Quickly, you will see the output folder where the downloaded songs store. Now we can move songs to PS5/PS4 or any other devices.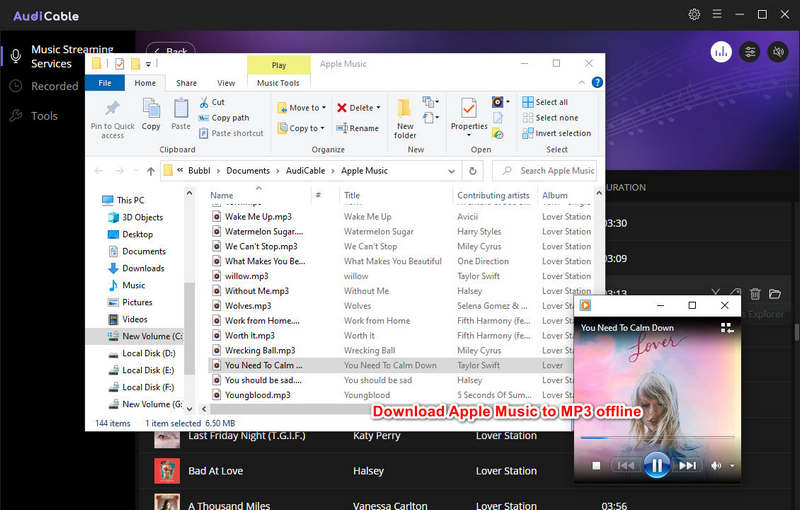 Step 5: Copy Apple Music to a USB Flash Drive
Connect a USB flash drive to computer then copy the downloaded songs to it. We'd better create a new folder to store the downloaded Apple Music tracks.
Step 6: Stream Apple Music on PS5/PS4
Finally, we just need to insert the USB flash drive into PS5 or PS4. On on your PS5/PS4, navigate to music icon - USB Drive on the main menu. You will find the connected USB flash drive from this page. Open it to check all songs. Now, you can stream Apple Music on your PS5 or PS4 freely for playback without time limitation.
💬 Extra tips to use AudiCable Audio Recorder:
You may wan a quiet working environment when recording. There is a "sound icon" on AudiCable, click it to mute the playing song in the background.
If you want to record all songs or audiobooks within one file, then go to "record setting icon" on the upper right of AudiCable. Tap it and tick off Do not split. But the tag information will not be kept. If you just want to record songs one by one with tag data, then you need to choose Automatically split when the silence is more than (number) milliseconds.
Behind a downloaded song, there is a pair of scissors , click it to edit the song. You can customize your own ringtones directly.
---
✅ Solution 2:

Stream Apple Music on PS5/PS4 with DLNA Online

Another tool you can use to stream Apple Music on PS5/PS4 - DLNA (Digital Living Network Alliance). You are allowed to share music, videos, photos between DLNA-certified devices over a home Wi-Fi network with this app. Thus if you need to stream Apple Music on PS5/PS4, you just need to ensure a stable and smooth network environment. Otherwise the music will not be played properly. Follow steps below to see how to stream Apple Music on PS5 or PS4 from iPhone with DLNA.

Step 1: Firstly, if you do not have DLNA server on your iPhone, you need to get one from App Store. Install is according to its on-screen prompts.

Step 2: After that, get access to your PS5 or PS4, go to PlayStation Store > Apps > Catalog. Then you will see the Media Player app. Download it and start this app on your PS5/PS4.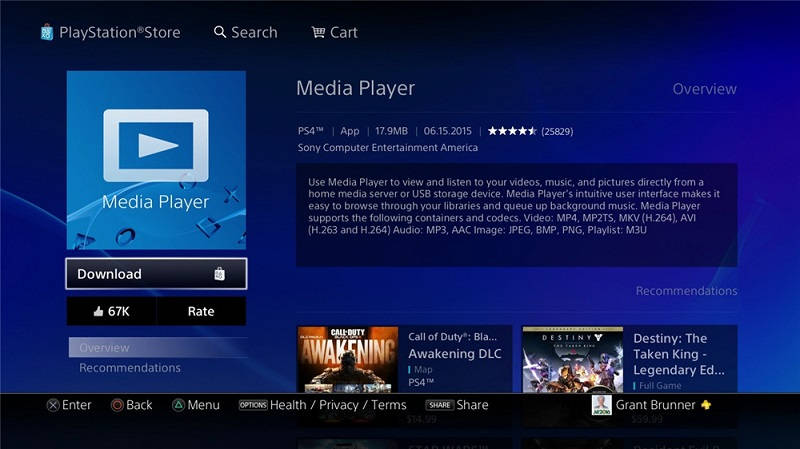 Step 3: Now on iPhone, just select your DLNA server. Please note that your iPhone and PS5/PS4 need to be connected to the same Wi-Fi. Otherwise, you can not play Apple Music successfully.
Step 4: The last step it to play Apple Music. Simply log in Apple Music account and play Apple Music songs on iPhone. You can enjoy Apple Music while you are inside of a game on PS5/PS4
🤠 Note: To play Apple Music on PS5/PS4 with DLNA, two conditions must be met. Firstly, you need to make sure your Apple Music subscription is valid. Secondly, The Wi-Fi connection is stable and smooth. If you want to listen to Apple Music or other streaming music on PS5/PS4 without internet or subscription, you need to check solution 1 in this article.
Disclaimers
This tool is only for personal or educational use.
You should not use this tool to private or distribute music.
---
Conclusion
Though we collect two solutions to stream Apple Music on PS5/PS4, a third-party software should be considered to enjoy Apple Music offline forever on PS5, PS4, iPhone, iPad, Android, computer and many other devices. You can always rely on AudiCable Audio Recorder. It's the best answer when you need to listen to music without restrictions. If you find this post is helpful, please share people around you.
Related posts