Download Adele 30 Album to MP3 [2022 Latest]
Recently, Adele has released a new album "30" at the dawn of this winter. In addition to the most popular title single "Easy On Me", Strangers By Nature, Oh My God, and other songs in the album have received critical acclaim from all over the world. In the few years that Adele disappeared, her talents did not disappear. Her return brought us a new auditory feast.
Not just simply listening to Adele's songs online or downloading this album offline, many music lovers want to actually download all the songs in this album for repeated playback, making CDs, adding these songs as background sounds to videos, and setting these songs as ringtones on mobile phones and so on. In this article, you will learn how to download Adele's new album 30 in MP3 format and have this album forever. This is indeed an exciting thing, now let us look at the detailed steps.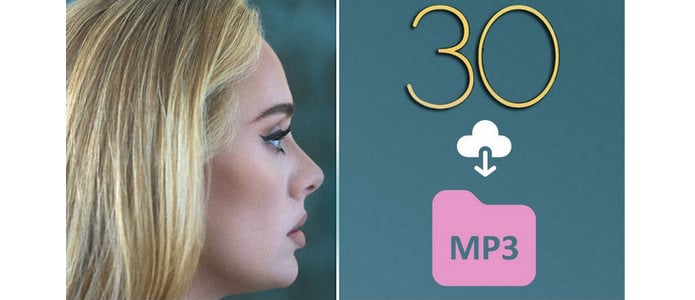 ◉ Steps to Download Adele 30 Album to MP3
As we all know, we can only continue to renew the streaming music service to ensure that we can always get access to our collection of music albums or music lists. And if you renew the streaming music service every month in time, you can only enjoy online listening to songs and offline downloads. And these downloaded songs are protected by an encrypted format and cannot be transmitted or shared.
So if you need to download an album (including Adele's Album 30) and transfer it to other devices, or enjoy playback without a subscription, you can only rely on powerful music software.
Fortunately, AudiCable Audio Recorder is the right app you need. With its help, you can easily download albums to MP3 formats. It supports multi-platform music downloading. It means you can choose any music source to download Adele's album 30. Although it won't download music at multiple speeds, it is safer for your account. Furthermore, when you only need to download songs quietly, you can tap the sound button to mute the sound of the recording song in the background and do your own work.
The main features of AudiCable Audio Recorder are listed below.
1.

Download music from Spotify with a free or Premium account.

2.

Download music from Spotify, Apple Music, Amazon Music, Tidal, Line Music, Deezer, YouTube Music, Pandora, etc.

3.

Record and save Premium music to MP3, AAC, WAV, FLAC, AIFF, ALAC.

4.

Download tracks with original audio quality and ID3 tags.

5.

Play the downloaded songs on any device or PC with a common media player.

6.

Not record sound from the background. Songs will be saved clean.

7.

Can mute the recording sound and record in the background quietly.

8.

No extra need to install the music apps.
▶ Step 1: Install AudiCable Audio Recorder.
The first step is of course to download and install AudiCable. After the installation of AudiCable Audio Recorder, you can simply start this program on your computer. It doesn't work on Android or iPhone, but you can download Adele 30 New Album to MP3 on PC, then more the downloaded songs to your phone or other devices.
The entrance of some major streaming music platforms has been displayed on the AudiCable homepage. You don't need to install additional music software. If you need to download music from other music platforms, you can also manually add the music platform entry to the AudiCable homepage, and then download the music. Here I will choose Spotify. If you download songs through the Spotify platform, both Free and Premium accounts are available. Click Spotify and go to the next step.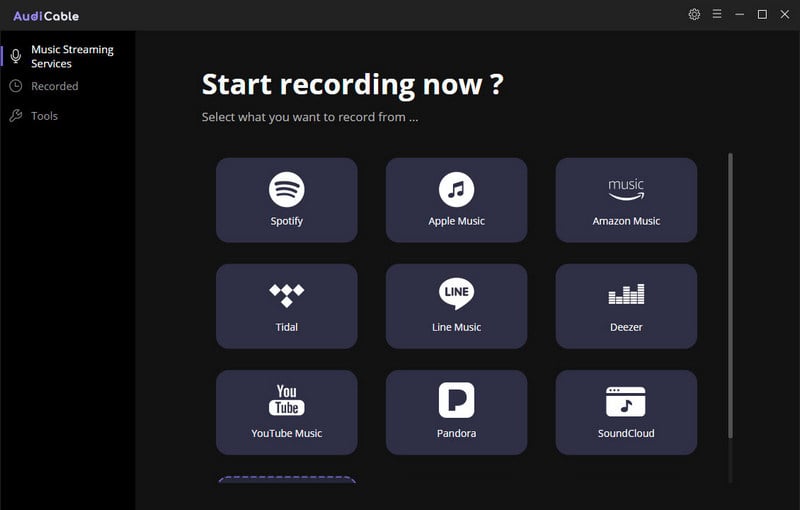 ▶ Step 2: Select the Preferred Output Parameters.
On the top right of AudiCable, there is a setting icon. Click this icon then a setting window appears. You can choose an output format (MP3/AAC/WAV/FLAC/AIFF/ALAC), output quality, and a proper saving path. According to our topic, we choose MP3 as the output format.
Note: The output quality option is only available when you choose to save songs in MP3/AAC formats. When you set the output format as WAV/FLAC/AIFF, AudiCable will keep the original quality of each song.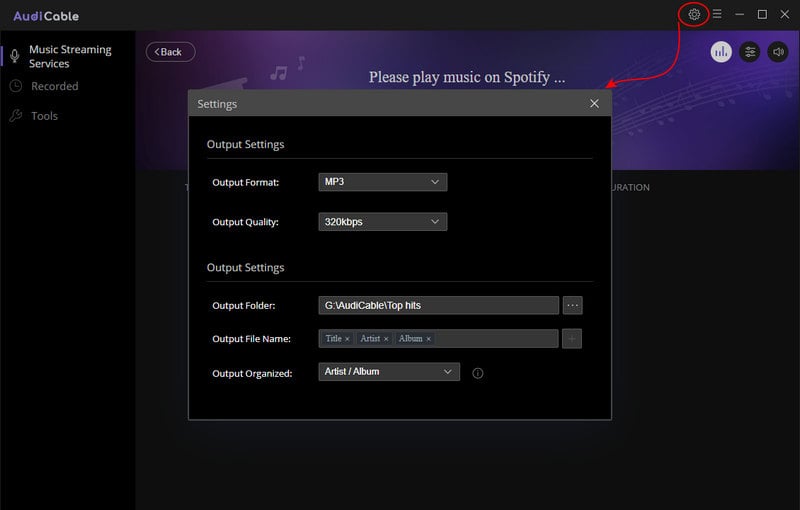 ▶ Step 3: Record Adele 30 Album to MP3
Now, enter adele on the built-in Spotify Web Player. In the search result, find the new album 30. Open it and start playing songs in order. AudiCable will automatically record each song with ID3 tags, including artist, title, album name, and so on.
Tips: When you need to mute the recording song, then go to the upper right corner of AudiCable, tap the "sound icon"

. It will turn to

mute

sound icon. Then you can record the song in quiet mode.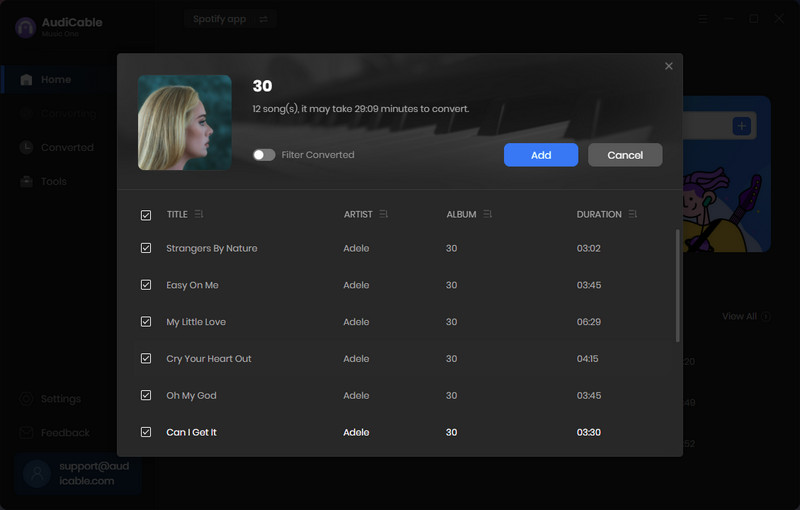 ▶ Step 4: Free Playback of Adele 30 Album
After all downloads, you can enjoy the free playback of Adele's Album [30] forever. There are tons of options to make full use of this downloaded album 30. You can set it as your ringtone on Android, or set it as your ringtone on iPhone, burn this album 30 to a CD, play music in the car, transfer them to a USB, add the downloaded songs to videos, etc. Now leave it to you to discover more fun for yourself!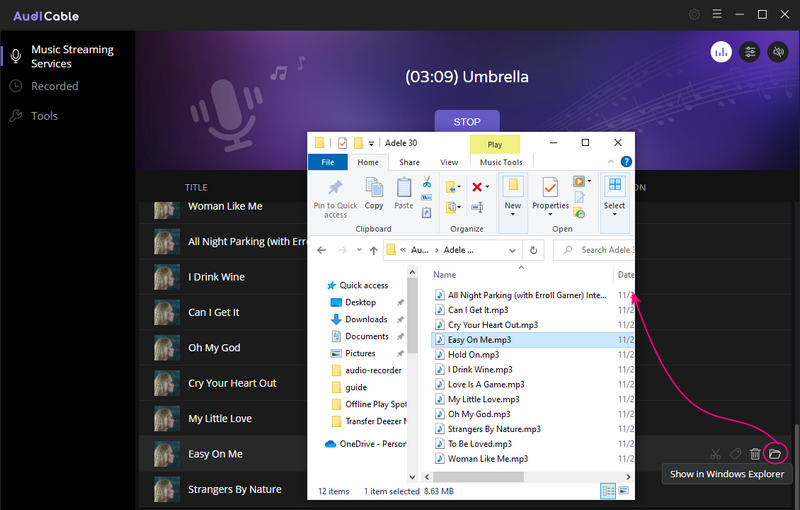 ---
◉ Conclusion
I believe that now you have fully mastered how to download Adele's Album 30 as MP3 with AudiCable Audio Recorder. If you need to fully own this album now, what are you waiting for? Hurry up and download AudiCable Audio Recorder at this moment, and then follow our steps to download this album 30. Every minute deserves to be cherished.
Related posts