Offline Listen to Deezer Music without Premium on Android/iPhone/PC
For a decade, Deezer Music really proved itself as an alternative to major streaming music services such as Spotify, Amazon Music and Apple Music. Now it's available in over 180 countries around the world. Deezer Music provides what we really want when we stream music – an endless selection of music, personal music suggestions and management of your own music library. Thus, more and more music fans subscribe Deezer for its excellent service.
There are many great options for Deezer Premium users. One of them is to listen to your favorite songs without internet. You can download music from Deezer offline with a Premium account. But it will be ended once your subscription is expired. If you want to learn how to listen to Deezer Music offline when the Premium account is invalid, you can follow steps below right now.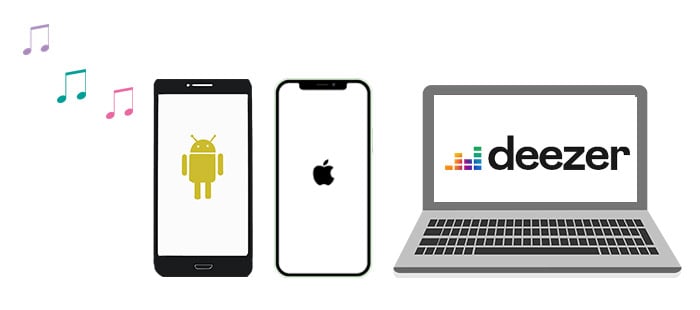 How to Offline Listen to Deezer Music
with Premium
Actually, all streaming music apps provide offline downloading services for their Premium subscribers. With monthly payment, you can listen to music within their music apps online or offline. Things that can't be solved without money. If you only want to listen to songs via Deezer Music on your phone and pay for subscription every month, then you can check steps below to download Deezer Music offline with Premium account.
Step 1: Start Deezer Music on your Android phone or iPhone then tap Favorites.
Step 2: On the top right, click the "gear icon" to access downloading settings. Then just tap on "Audio settings". On the bottom of this audio setting page, you will find "Download via cellular network". Turn it off if you only want to download with Wi-Fi.
Step 3: Log in with your Deezer Premium account. Then find your favorite songs, playlists or albums, toggle Download switch. After That, just wait for music downloading. When the song is downloaded, you can listen to it even without internet.
‼️ Note: You can not get access to all downloaded songs once the subscription to Deezer Music is expired. You need to renew the subscription monthly. And another thing worth mentioning is that you can only listen to the downloaded songs via Deezer Music. And you are not allowed to move them to any other places. If you need to own the downloaded songs for real, you need to check the next part to download Deezer Music tracks, playlists, or albums.
How to Offline Listen to Deezer Music
without Premium
Prior to checking the detailed steps of downloading Deezer Music offline without premium, let's figure out what we need to achieve exactly and how to achieve our goals.
⁉️ Q: How can I keep downloaded songs when my Deezer subscription is expired?
💡 A: Deezer will not allow you to keep the downloaded songs officially if you give up paying for the renewal subscription. Only a music downloader like AudiCable Audio Recorder can download songs for real. It rips songs, playlists from Deezer and save music tracks as MP3, FLAC, AAC, WAV or AIFF formats to local storage. Then you will not be restricted. You can listen to the downloaded songs forever without internet.
⁉️ Q: How can I listen to the downloaded songs from Deezer without Deezer?
💡 A: Officially, you can only play Deezer Music via Deezer app. However, after downloading songs from Deezer via AudiCable Audio Recorder, you can play songs via any other media players.
⁉️ Q: How can I transfer the downloaded songs to a phone?
💡 A: All songs from Deezer are downloaded with a protected format. AudiCable Audio Recorder can save music as plain formats. Therefore you are able to move the downloaded songs to any device you want.
⁉️ Q: How can I add the downloaded songs to a video or burn songs to CD?
💡 A: After saving Deezer Music tracks as MP3 files with AudiCable, you can burn music to CD easily with Windows Media Player or other tools. And you can directly add music to a video as background music.
⁉️ Q: Why AudiCable Audio Recorder is necessary?
💡 A: There is no official way to download music from a streaming music source like Deezer for real. You can only listen to online songs or downloaded songs with a valid Deezer Music Premium account. AudiCable Audio Recorder saves music from Deezer to your local disk and let those songs truly belong to you.
Main features of AudiCable Audio Recorder:
Download music from Deezer, Spotify, Amazon Music, Apple Music, Tidal, Line Music, Pandora, YouTube Music and other music sources.
Download music with ID3 tags.
Export songs with the original music quality.
Download music as MP3/FLAC/AAC/WAV/AIFF format.
Save songs from playlist one by one automatically.
Not record other sounds from system or speakers.
Offline Listen to Deezer Music on Computer
Step 1: Download AudiCable Audio Recorder via the downloading button. Open this program after its installation. You will find Deezer Music on AudiCable start-up interface. Open this built-in Deezer web player directly.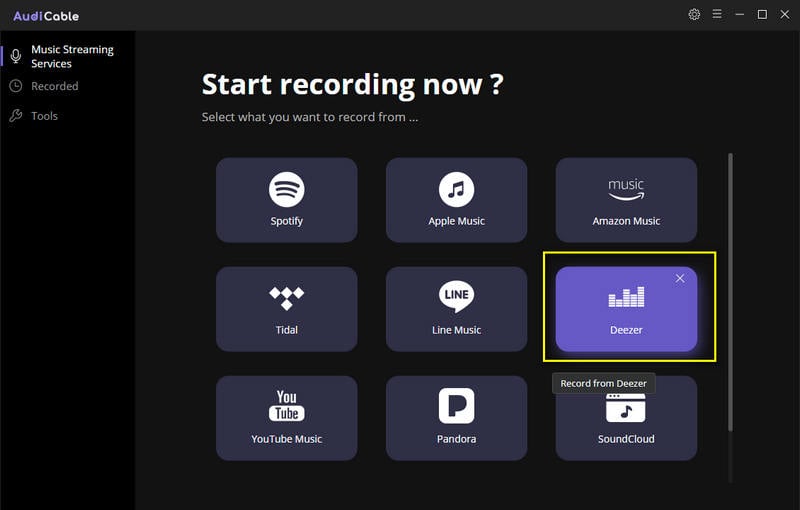 Step 2: On the Deezer Music, you need to log in with its account. And before downloading music, go to the top-right corner of AudiCable. Find the "gear icon" and tap it to open the setting window. You can choose to export songs as MP3, FLAC, AAC, WAV, AIFF formats. And for MP3 files, the audio quality is up to 320kbps. If you need to save the original quality, you can choose to save songs as FLAC files. Generally, we choose to save songs to MP3 files in case we need to move songs to other device. MP3 format is compatible with all media player. Because we need to move the downloaded songs to Android and iPhone, here we choose to save all songs to MP3. Set a proper saving path then close the window.
🌟 Note: Premium account is needed to download songs here. All music downloaders are not allowed to download songs from a streaming music platform without an account. If you do not have a Premium account of Deezer. Then you can download music via Spotify. Spotify provides free account for people who wants to listen to online music. But Deezer Music could not play a full song without a Premium account. After downloading music from Deezer, you do not need to renew the subscription to Deezer. You can enjoy the playback of Deezer Music forever.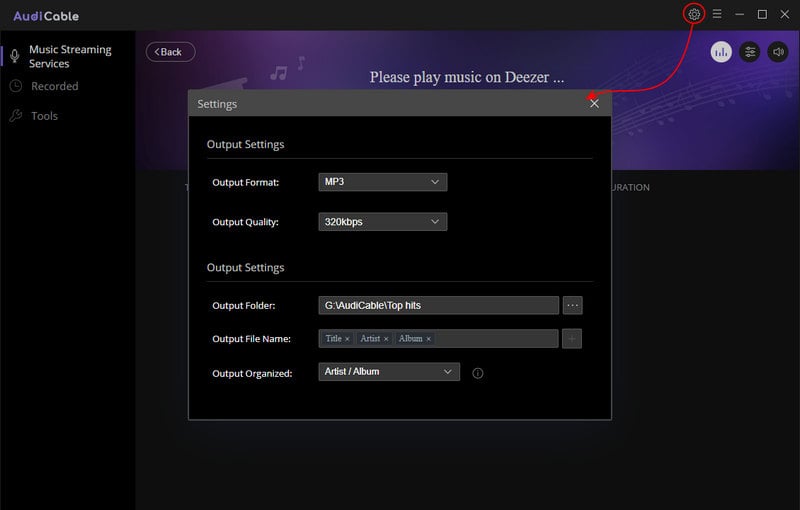 Step 3: Find a preferred music playlist, then start playing the song you need to download. Let Deezer play the songs in the playlist one by one automatically, AudiCable will save songs in the same order simultaneously.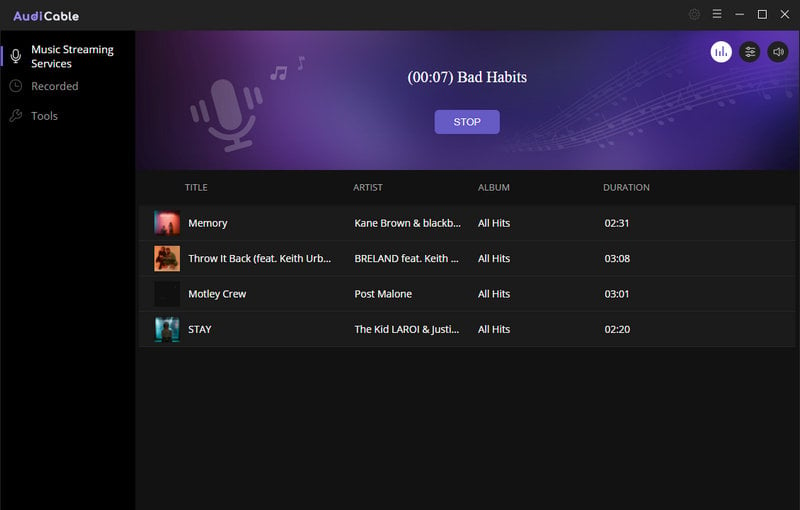 Step 4: Now all songs are saved as MP3 tracks. We can play the MP3 songs on the computer directly with any media player.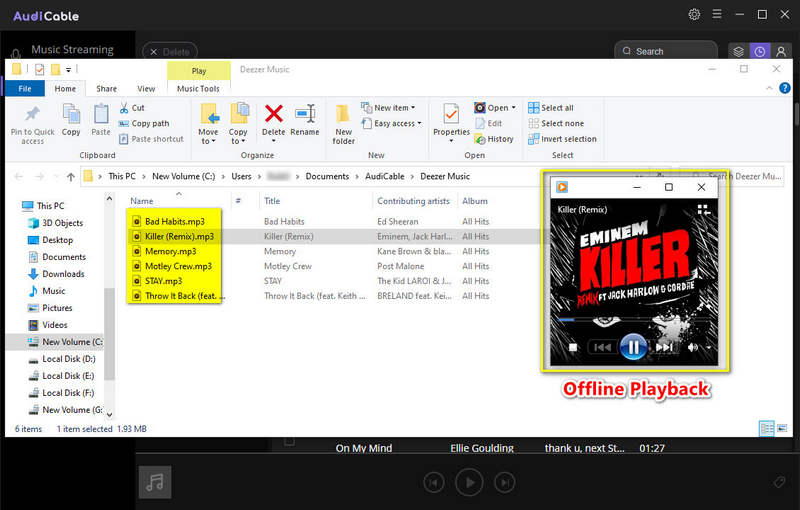 Offline Listen to Deezer Music on Android
Step 1: By following the steps above, we've downloaded Deezer Music to desktop as MP3 files. Now just connect your Android phone to computer via a USB cable. On Android phone, pull down from the notification center to change the connection mode. Set the connection mode as Transfer file or MPT. Otherwise, file folders of the connected phone could not be loaded on the computer.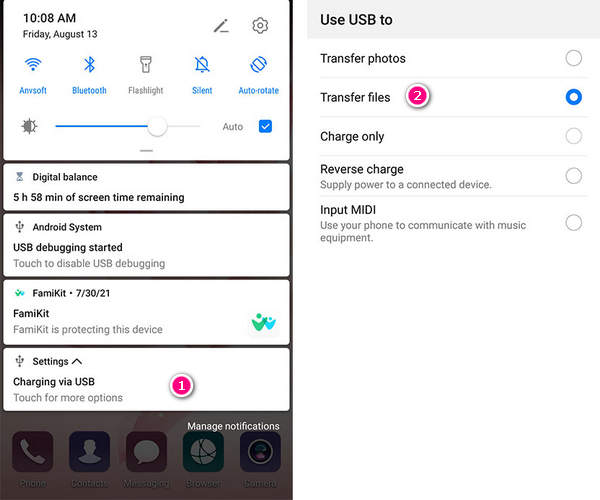 Step 2: On "This PC" you can find the disk of the connected phone. Open its internal storage disk and navigate to Music folder. Copy the downloaded Deezer Music to the Music folder of Android phone.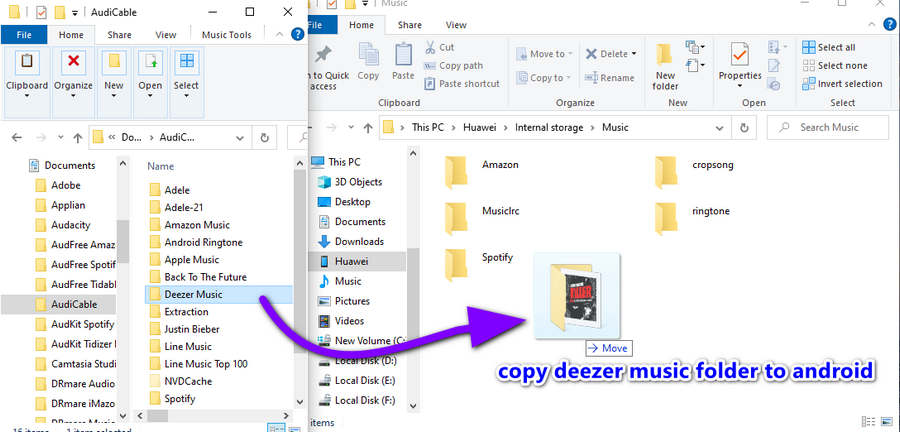 Step 3: Then open any music app on your phone, find an option to scan all songs from local space. The newly imported songs will be displayed in the list. You can enjoy the playback of Deezer Music on Android phone now.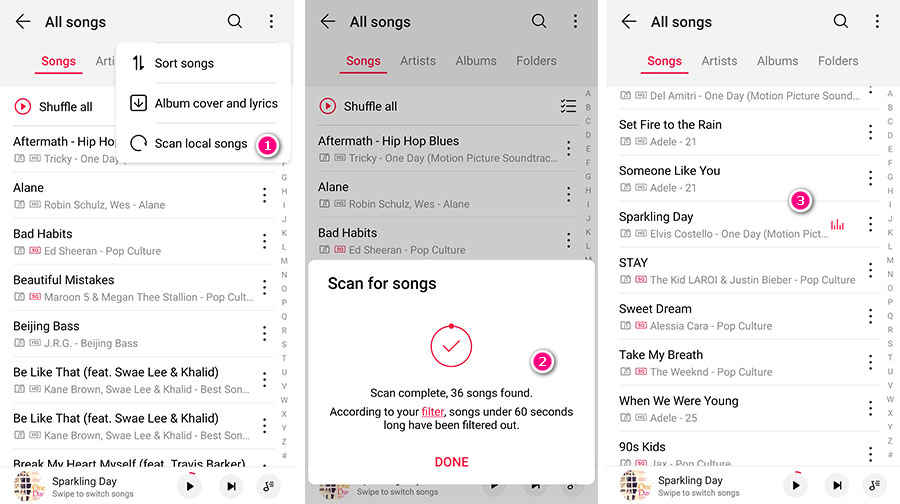 Note:
If you want to move a new folder to Music folder on Android phone, you should name it as "xxx Music". Otherwise, the songs in the folder may be note be scanned by Android phone. And the steps above can be compatible with all models of Android phones. All steps are similar for Android users.
There is another solution to import Deezer Music songs to your Android phone. You can refer to the next part to transfer music to an Android device with the same steps.
Offline Listen to Deezer Music on iPhone
Step 1: Following the steps above to download Deezer Music to computer, then we can move songs to iPhone. When it comes to transferring files to iPhone, we use iTunes. But actually, iTunes will overwrite the existing data on your iPhone. If you need to merge the newly downloaded songs to iPhone, you need another helpful tool - Syncios Mobile Manager. It has free version to transfer photos, music, videos and other files between computer and an Android or iOS device without pay.
Step 2: Open Syncios, then start Mobile Manager on the primary interface. Connect your iPhone to computer with a USB cable. Go to Music column. All songs, ringtones and other audio files will be loaded.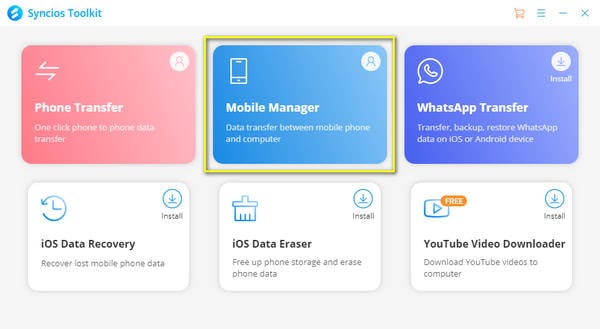 Step 3: Choose a music playlist on the left side bar to import songs or create a new playlist. Click Add button on the menu bar to import the downloaded songs of Deezer from the computer. Or you can open the output folder of downloaded Deezer songs, drag and drop songs to Syncios directly. After a while, all Deezer songs are transferred to your iPhone.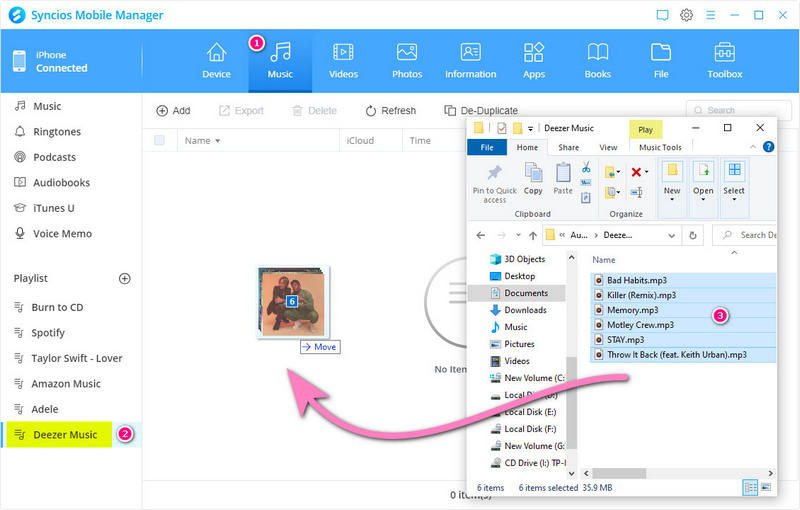 Step 4: Unlock iPhone, open music app then you will find all songs are imported. You can listen to Deezer Music on iPhone without Premium forever.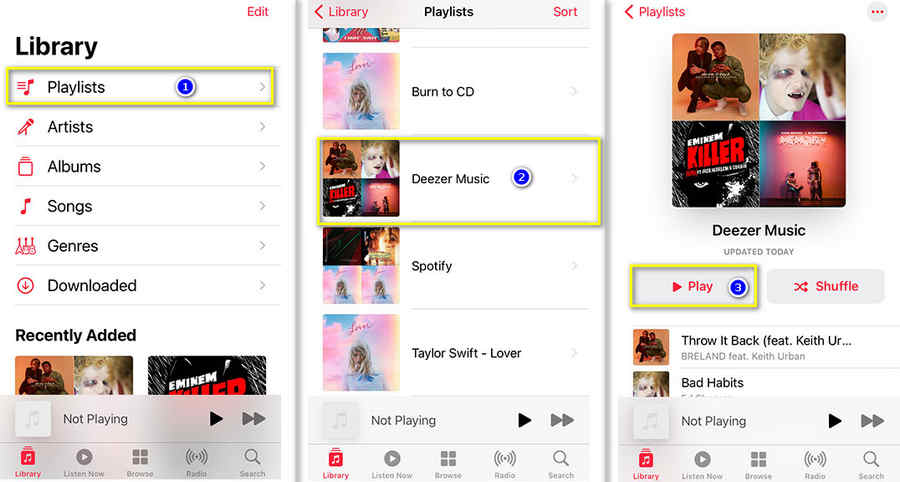 Tips: If you find Syncios Mobile Manager is great helpful, you can also export and import music via Syncios for your Android device. It's compatible with both iOS and Android devices.
Conclusion
As one of the most popular streaming music platforms, Deezer owns a large number of fans all over the world. If you've subscribed Deezer, this article gives you a best chance to keep your favorite songs, albums from Deezer before the subscription is expired. Download a AudiCable Audio Recorder right now to have fun with offline listening permanently. If this post helps you in listening to Deezer music offline via a USB flash drive, please share people around you.
Related posts