Play Deezer Music Offline in the Car
Everyone is always busy. After long hours of work, you are ready for a trip. When driving a car in the journey, music is indispensable.
Deezer Music has been popular for a decade globally. With millions of tracks, playlists and podcasts plus personalized recommendations, Deezer Music can meet most people's needs for online music.
If you are in the journey, and you are also a Deezer Music user, then this article it's right for you. Next, we are going to learn how to download music from Deezer and enable you enjoy playback in the car. No matter what try of car you have, take a look at the option below. You will find a best solution for you to play Deezer Music offline in the car.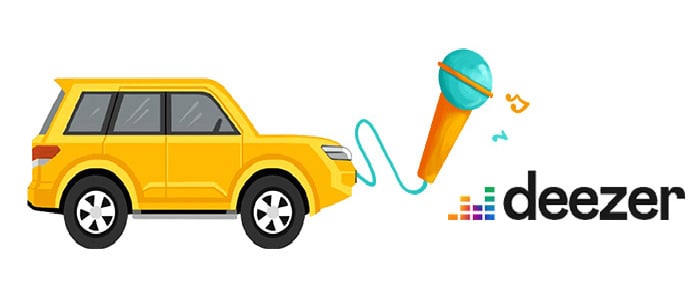 ---
Tool Required -
AudiCable Audio Recorder
Why do you need a music recorder? Deezer Music provides Premium subscription for its users. You can download songs from Deezer Music with subscription and listening to music offline. However, two conditions must be met. Firstly, the subscription is valid. If you give up renewing the subscription the next month, then you can not get access to all online or downloaded songs on Deezer. And also you need to listen to the downloaded songs via Deezer Music app. All downloaded songs could not be played by other music apps, or transfer to other devices. Therefore, it's necessary to own a music recorder that can save songs and playlists from streaming music apps as MP3, FLAC or other plain formats. Then you are allowed to transfer the downloaded song to any device whenever needed.
What is AudiCable Audio Recorder? This program is designed to download streaming music from Deezer Music, Spotify, Amazon Music, Tidal, Line Music, Pandora, SoundCloud, YouTube Music, etc. Through this music downloader, you can save songs, playlists and podcasts from Deezer Music to desktop as MP3, FLAC, AAC, WAV, AIFF files. And then you are able to move the downloaded songs to any portable device to enjoy the playback. Main features of this music recorder are listed below:
Download music with ID3 tags and original output quality.
Download music from all kinds of streaming music platforms.
Not need to install music apps.
Songs can be saved as MP3, FLAC, AAC, WAV, AIFF files.
Download songs from a playlist one by one automatically
Easy to customize downloaded songs.
💡 How it works:
Step 1: Tap the downloading button of AudiCable Audio Recorder below to install this ad-free music downloader on your computer. It's safe and clean. After its installation, launch this app easily. On the primary interface, you will find all common music sources, such as Deezer Music, Spotify, Amazon Music, Tidal, Line Music, Pandora, SoundCloud, YouTube Music. If you need to download music from other music sources, just manually add other music sources.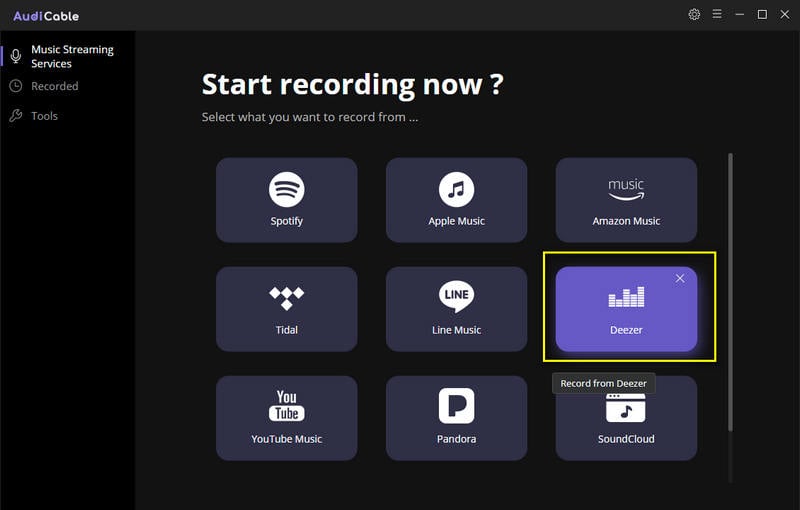 Step 2: According to our topic, click Deezer Music on the main interface. Then a built-in Deezer Music window will pop up. On Deezer Music, you need to log in with your Premium account. It's impossible to download music if you could not even get access to a full song.
Tips: After downloading all songs you need from Deezer Music, you can cancel the subscription to Deezer Music. Then you can freely enjoy offline playback.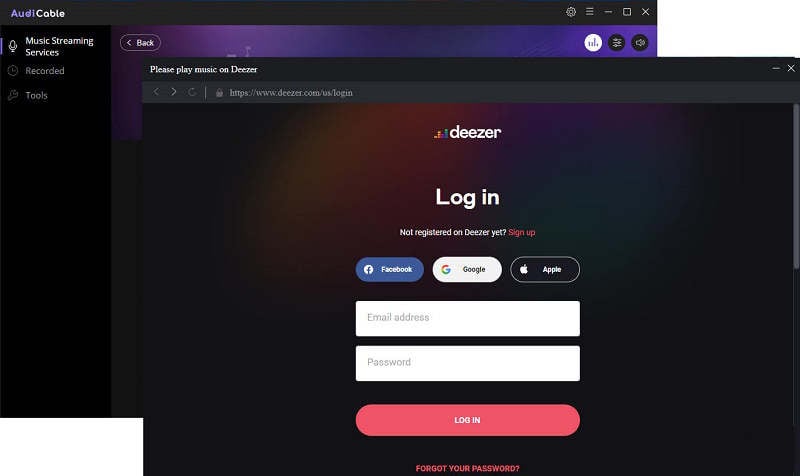 Step 3: On Deezer Music, go to a preferred music playlist, open it. And before the next step, go to AudiCable interface, click the setting button on the top right, choose output quality and output format. And do not forget to set a proper saving path. generally,we create a new output folder for the music playlist to be downloaded. Close the setting window to apply all changes.
Tips: It's recommended to choose MP3 as the output format. Because MP3 files can compatible with most of media player. AudiCable can download MP3 files with 320kbps audio quality which is absolutely enough for most of music fans.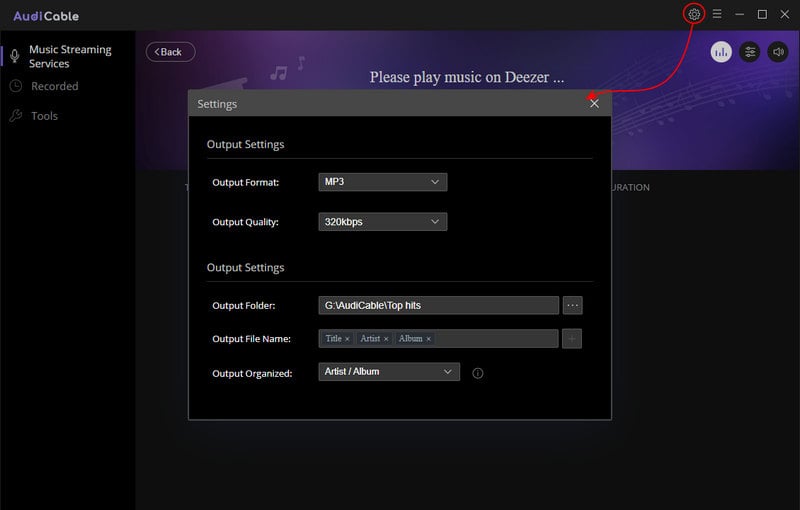 Step 4: To starts download music you need, start playing the song on Deezer Music. AudiCable will recognize the song and its tag information automatically. Songs will be saved according to the playing order. Generally, songs from a playlist will be played orderly. AudiCable records in background in the background will not disturb you.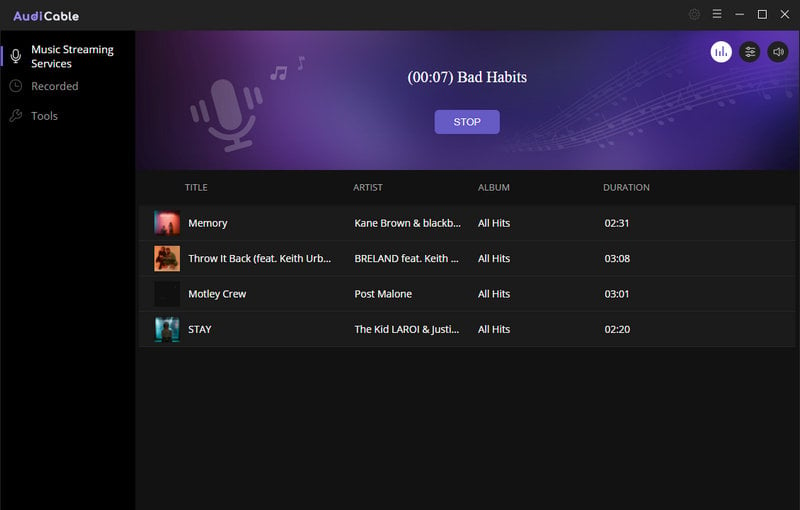 Step 5: When it's completed, click the "folder button" behind a downloaded song to open the output folder. All downloaded songs can be easily transferred to any device now. If you need to listen to music in car, just connect your USB flash drive to computer and copy the downloaded songs to it. Then you can enjoy playback of Deezer Music in car freely.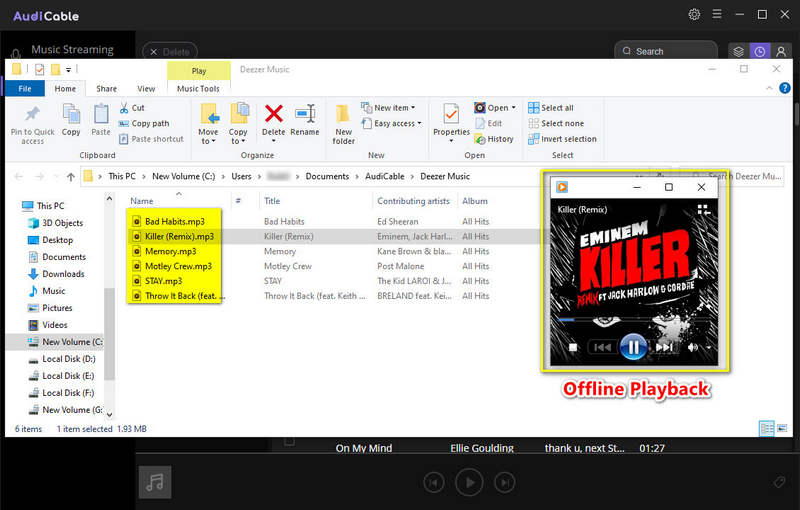 ---
Conclusion
On the go, music is a best company. The first thing most people do when they get in the car is turn the volume up. To freely listen to Deezer Music in the car, this powerful music downloader can not be ignored. Download AudiCable Audio Recorder and have a free try right now! You may be a pity why you didn't see such a good tool earlier. If you find this post is helpful, please share people around you.
Related posts