Transfer Spotify Music/Albums/Playlists to an SD Card
Spotify music streaming service provides millions of songs, interesting podcasts, here you can search for your favorite songs, and even save your favorite songs for offline listening. Spotify provides a free version and a Premium version. Users of the free version can enjoy most of the content, but advertisements are interspersed when listening to songs. If you become a power user of Spotify, you can not only stay away from ads but also download music from Spotify to your device for offline listening. If your phone has an external SD card, then you can choose to save music to the SD card. Because there is sufficient space on the SD card to store your favorite songs. Now we will introduce two feasible methods to save Spotify songs/albums/podcasts/playlists to an SD card. The first method is suitable for advanced users. The second method, whether you are a free or paying user on Spotify, you can choose.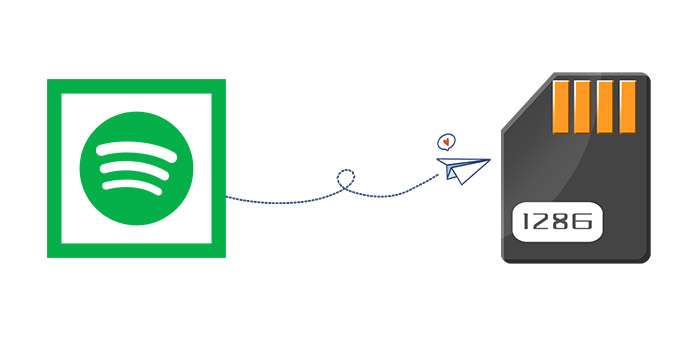 Two methods will be listed in this article to save Spotify music to an SD card, let's check them one by one.
Method 1. Save Spotify Music to an SD Card with Premium
If you have a question: how can I save Spotify music to my SD card? You will find methods in this article. When the memory on your phone is running out of space, you will be distressed about how to save a little space to store more favorite Spotify songs. Undoubtedly, when your phone has an external storage SD card, you can choose to save Spotify songs to the SD card. If you are a Premium user of Spotify, you can easily download songs, albums, podcasts, and playlists from Spotify to the SD card. But if need to download songs without Premium and keep your favorite Spotify collection forever without Premium, you can move to the next method.
Firstly, let's check the detailed steps of how to save Spotify songs, albums, podcasts, and playlists to an SD card.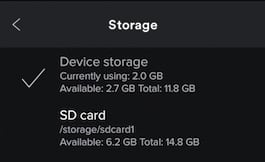 Step 1: Unlock your phone, then open the Spotify app. Go to the "Home" tab at the bottom of the screen.
Step 2: Find the "Setting icon" and click it. Then hit on "Other" and scroll down to find the "Storage" option.
Step 3: Tap "SD card" to check for more information.
Step 4: Then follow instructions and tap "OK" to save your Spotify music to an SD card. It will start transferring. The process will take a longer time if you have a large size of music collection.
---
Method 2. Save Spotify Music to an SD Card without Premium
You could not get access to the Spotify music library even you've saved all songs to the SD card. Unless you own an AudiCable Audio Recorder. It supports downloading music from Spotify with both Free and Premium accounts. And songs will be saved to an SD card in common formats. Here we will share a practical solution with you regarding how to bypass Spotify's music protection technology. So that you can transfer Spotify songs, albums, podcasts, and playlists to an SD card without limitation.
Why AudiCable Audio Recorder is the best choice?
✅ 1. You can download Spotify songs with AudiCable and transfer them to an SD card. Then enjoy the free playback forever.
✅ 2. Spotify Free and Premium accounts are feasible.
✅ 3. AudiCable downloads music from multiple streaming music services, including Spotify, Apple Music, Tidal, Amazon Music, Line Music, Deezer, YouTube Music, Pandora, etc. So that you have more options when you need to switch to another streaming music service.
✅ 4. It will download Spotify songs with ID3 tags automatically, such as artist, title, album name, and so on.
✅ 5. Songs from Spotify can be saved to local disk in MP3, AAC, WAV, FLAC, AIFF, ALAC formats.
✅ 6. It retains original audio quality after conversion
✅ 7. You don't need to install Spotify or other music apps.
✅ 8. It supports adding more music websites manually.
AudiCable offers great help when you need to eliminate the restrictions of Spotify. Spotify music, albums, playlists, podcasts, and other audio files can be saved to the local PC in common formats. Then you can copy the downloaded tracks to an SD card, a mobile phone, a USB Flash Drive, burn the downloaded songs to CDs to enjoy the playback forever. Now, follow us to check the detailed steps.
Step 1: Start AudiCable Audio Recorder
Get this AudiCable Audio Recorder downloaded via the download link in this article. On your computer, start this program when it's installed successfully. Spotify app is not needed to be installed on your computer.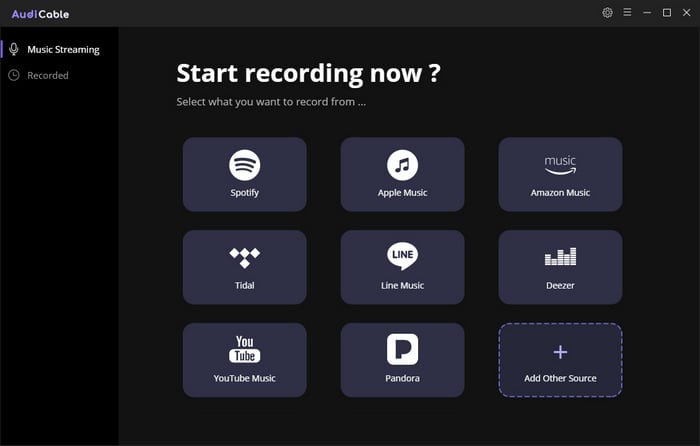 Step 2: Log in to Spotify with a Free or Premium Account
On the homepage of AudiCable Audio Recorder, some entrances of the major streaming music platforms are displayed. We need to download music from Spotify, therefore we just click Spotify. This step will initiate the built-in Spotify Music web player. On the Spotify Music web player, you are required to log in to Spotify firstly. Note that Spotify Free and Premium accounts are available when you download music via AudiCable.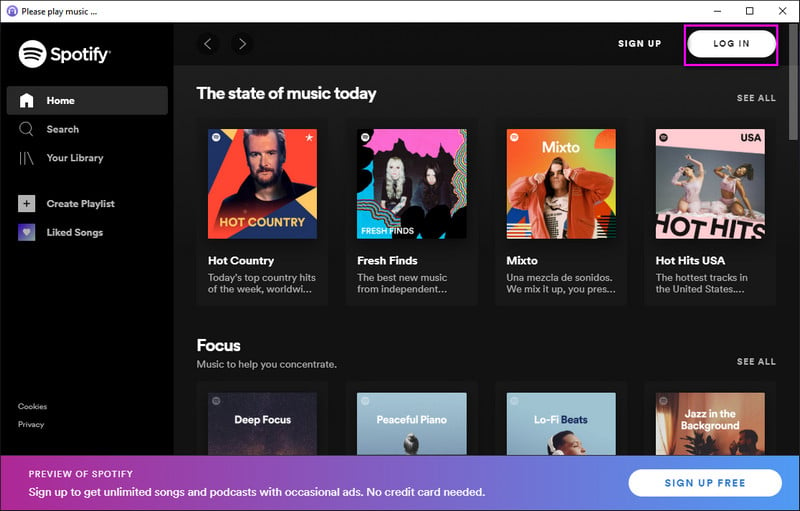 Step 3: Customize the Output Settings
Now we are going to check the output parameters. Before going into the process of downloading music, you need to customize the output format, output quality, output folder according to your need. In the upper right, click the setting icon

. Then the output parameters can be adjusted in the pop-up window.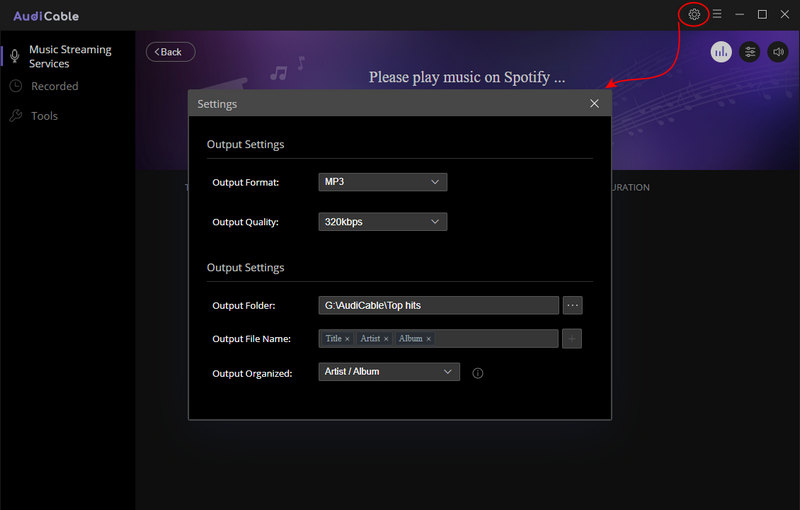 Step 4: Download Spotify Music to Local Files
Now we need to choose songs we like to download. Open a music album you like, start playing songs in order. AudiCable will record the playing song one by one with metadata retained. Meanwhile, songs will be converted to the formats you've chosen in the previous step.
Tips: If you need to mute the playing song when recording, go to the upper right corner of AudiCable, tap the "sound icon"

to mute

the sound.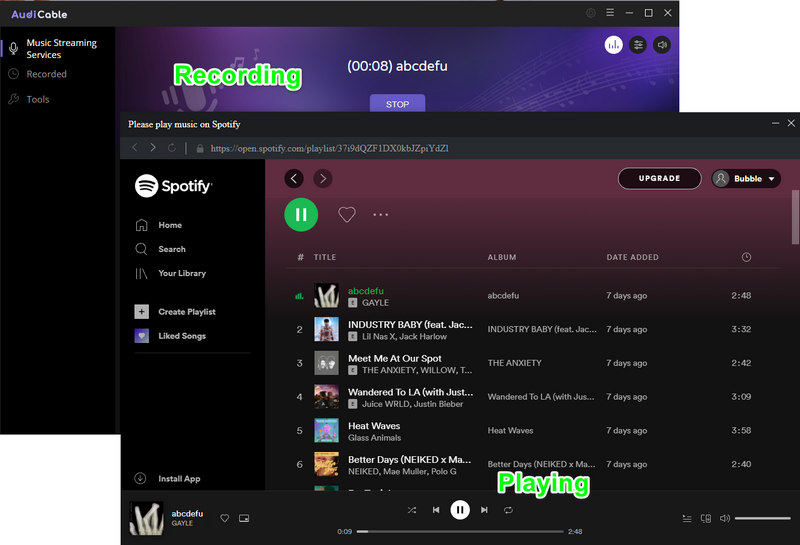 Step 5: Transfer the Downloaded Spotify Songs to an SD Card
All songs will be downloaded with original speed, which is safe for your account. After songs from Spotify are downloaded, we can transfer the downloaded songs to your SD card. Just get an SD card reader to connect it with the computer. Or you can directly connect a mobile phone with an SD card to the computer. Then copy the downloaded songs to this SD card. And for some users.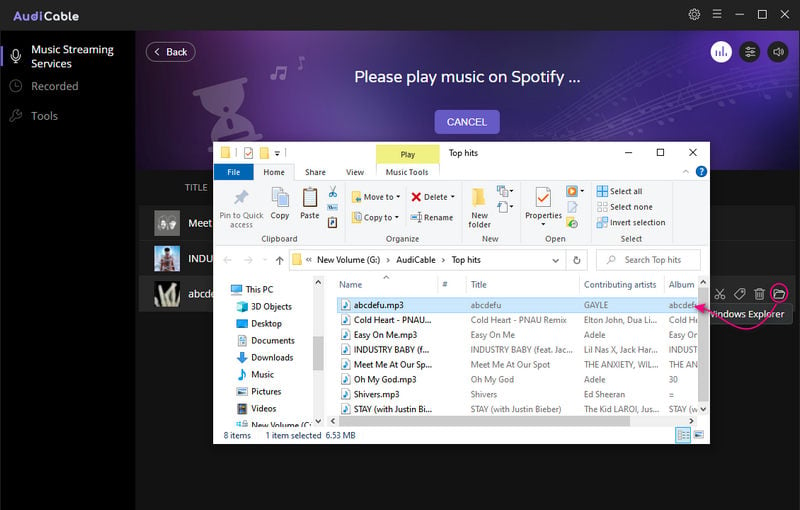 ---
Conclusion
By following this tutorial, you will get greater control over how Spotify audio files are played as well as get a better listening experience. This trustworthy AudiCable Audio Recorder can easily eliminate the restrictions of Spotify music. With its assistance, the downloaded Spotify music, albums, playlists, podcasts, and other audio files are available to transfer to an SD card or other devices conveniently. Download it and have a free trial now!
Related posts