Add Spotify Music/Albums/Playlists to Traktor DJ
Traktor DJ is a very convenient and intelligent application. Its built-in audio mixing recorder can also easily record your collection and mixing. But its disadvantage is that you can't connect to streaming music directly, such as Tidal, Spotify, Apple Music, etc. But just don't get too worked up over it. We will show you in detail how to import Spotify Music to Traktor DJ for mixing.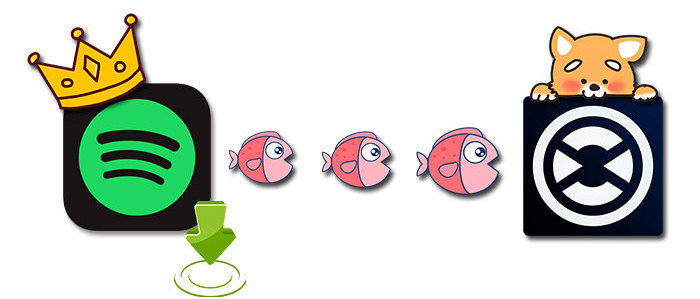 Part 1.

Extract Songs from Spotify Music

Traktor DJ does not support streaming music services. Besides, there is another issue. Spotify Music downloads can not be played outside Spotify. You are not allowed to listen to Spotify music without the Spotify app since the songs are encrypted.

So how to import Spotify music, albums, playlists to Traktor DJ for mixing? There is no official solution. However, the remedy is simple. In this case, AudiCable Audio Recorder will be a perfect choice to minimize any difficulties. Here we will share a practical solution with you regarding how to bypass Spotify's music protection technology. So that you can use Spotify Music in Traktor DJ without limitation.

Why AudiCable Audio Recorder is the best choice?
1. AudiCable downloads music from multiple streaming music services, including Spotify, Apple Music, Tidal, Amazon Music, Line, Deezer, YouTube Music, Pandora, etc. So that you have more options when you need to switch to another streaming music service.
2. It will download Spotify songs with ID3 tags automatically, such as artist, title, album name, and so on.
3. Songs from Spotify can be saved to local disk in MP3, AAC, WAV, FLAC, AIFF, ALAC formats.
4. It retains original audio quality after conversion
5. You don't need to install extra music apps.
6. It supports adding more music websites manually.
7. Spotify Free and Premium accounts are feasible.
AudiCable provides a perfect solution to eliminate the restrictions of Spotify. You can download Spotify music, albums, playlists, and other audio files in common formats and enjoy the playback forever. The downloaded Spotify Music tracks can be imported to Traktor DJ for mixing as you wish. Now, follow us to check the detailed steps.
Video Tutorial - Add Spotify Music/Albums/Playlists to Traktor DJ
Step 1: Start AudiCable Audio Recorder
Download and install this AudiCable Audio Recorder on your computer. When it's installed successfully, you can start this program on your computer. Spotify Music app is not needed to be installed on your computer.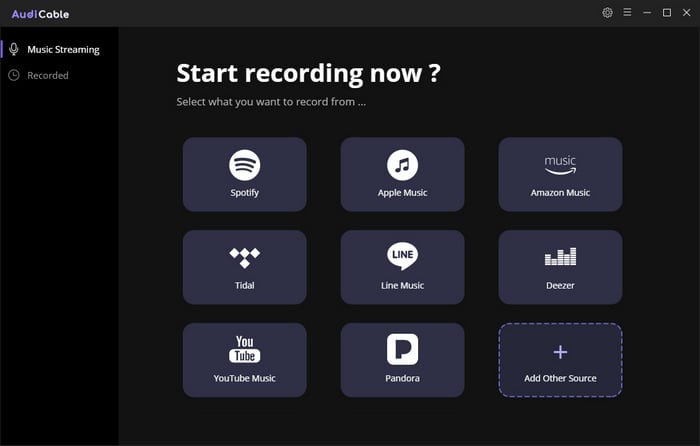 Step 2: Log in to Spotify with a Free or Premium account
When you open AudiCable Audio Recorder, you will find entrances to some major streaming music platforms. To download music from Spotify, just click Spotify. Immediately, the built-in Spotify Music web player appears. You need to log in to Spotify firstly. Spotify Free and Premium accounts are available.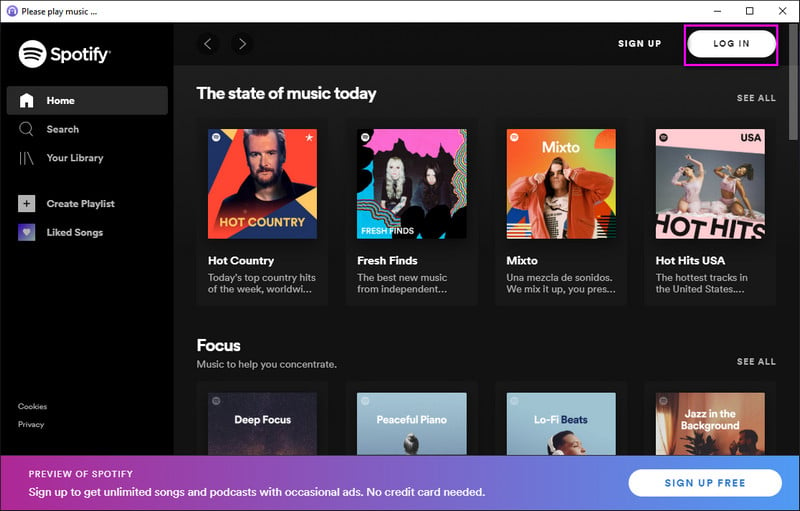 Step 3: Customize the output settings
Do not forget to check the output parameters. You need to confirm the output format, output quality, output folder. In the upper right, click the setting icon

. Then set the output parameters according to your need.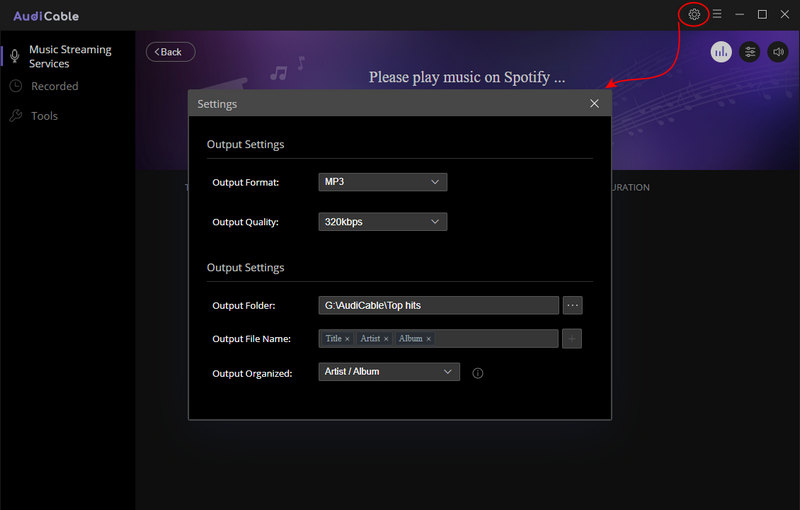 Step 4: Download Spotify music playlists
To download a playlist from Spotify, just open the playlist and start playing songs. Simultaneously, AudiCable will start recording with the artist, album name, title. Songs will be stored in the output folder you've selected in the previous step.
Tips: If you need to mute the playing song when recording, go to the upper right corner of AudiCable, tap the "sound icon"

to mute

the sound.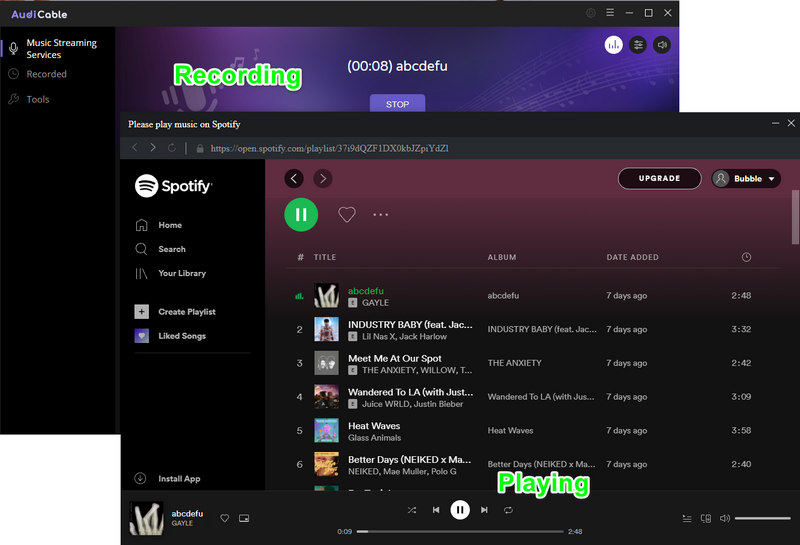 Step 5: Check downloaded Spotify music playlists
All songs will be downloaded with original speed, which is safe for your account. After songs from Spotify are downloaded, we can add the songs to Traktor DJ. Just open the output folder and check the downloaded songs.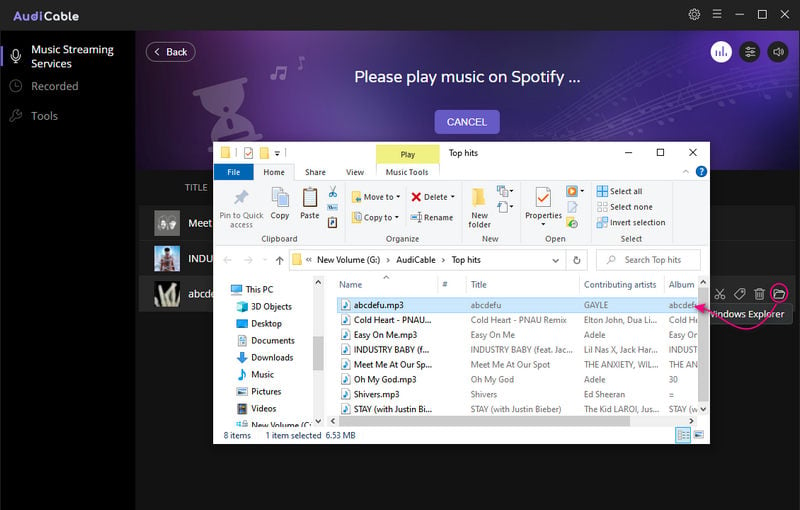 Part 2.

Add Spotify Songs to Traktor DJ

Now, songs from Spotify are downloaded to local PC in common formats. It's unlimited if you need to add the downloaded songs to Traktor DJ. Follow several steps below to import Spotify audio files to Traktor DJ for mixing.

Step 1: Launch Traktor DJ software on your computer.

Step 2: On the top left of Traktor DJ, click the "File" option. And in the pull-down menu, choose "Preferences".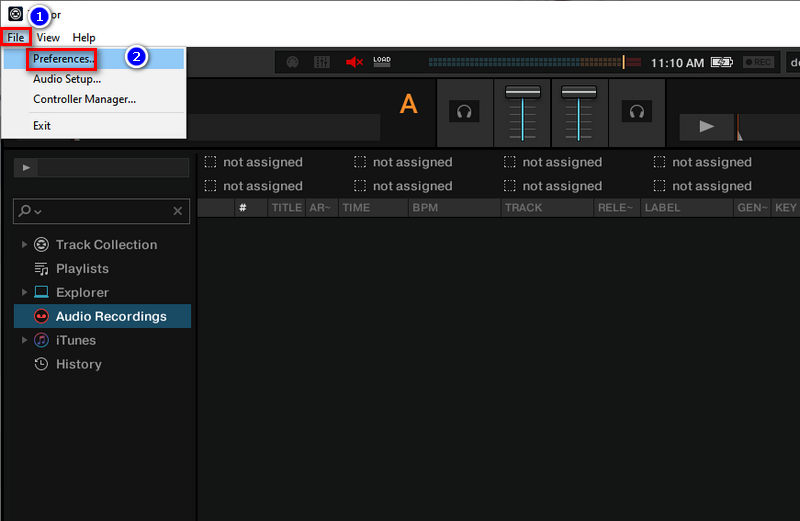 Step 3: A pop-up window appears. More settings can be changed. Head to "File Management > Music Folders > Add".
Step 4: Locate the output folder where the downloaded Spotify songs are stored. Click "OK" to add the music folder to the Traktor DJ library list.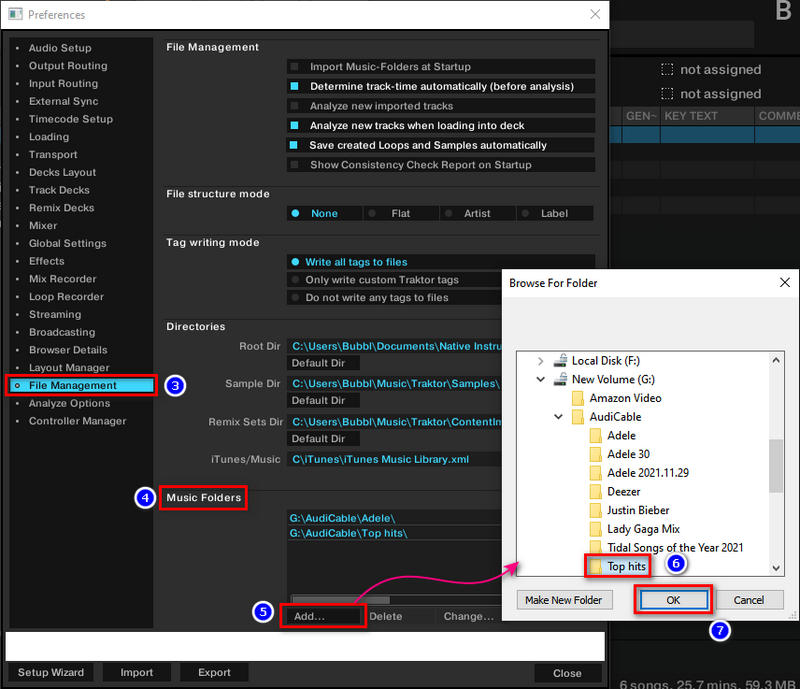 Step 5: When you've added the music folder to Traktor DJ, you need one more step to add the songs to the music list for mixing. Close the pop-up window and hit on Track Collection on the left side. Then tap Import Music Folders. Soon after, the Spotify Music tracks will be uploaded and added to Traktor DJ.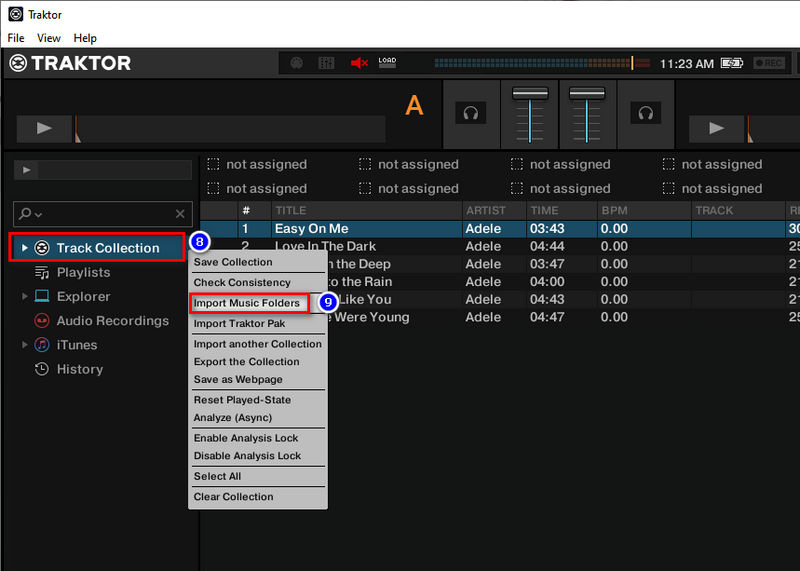 Now, you can get Spotify music to Traktor DJ for mixing without any limitation.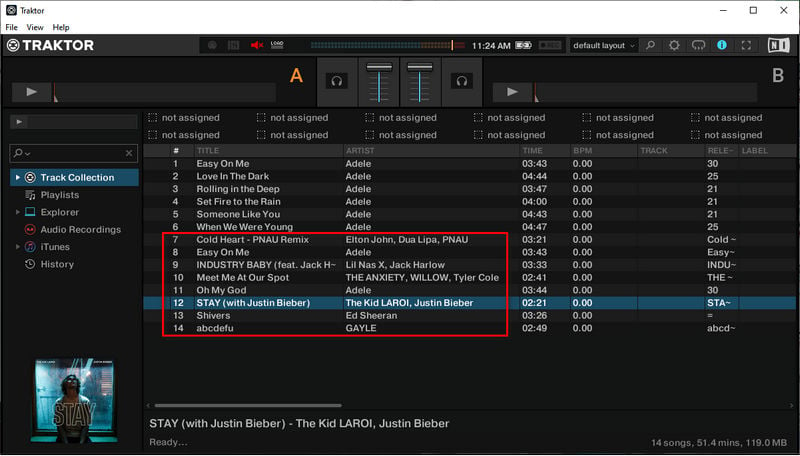 Conclusion
AudiCable Audio Recorder is designed to provide you with greater control over how Spotify audio files are played. To get a better listening experience, you need this trustworthy audio downloader to eliminate the restrictions of Spotify Music. Then the downloaded Spotify music, albums, playlists, and other audio files are available to transfer and use with Traktor DJ.
Related posts