How to Download Spotify Music to ALAC Format
Spotify is a streaming music service that offers access to an extensive library of songs and podcasts. Both Spotify Free and Premium users can access all of Spotify's music and podcast content. Spotify Free only lets you listen to music up to 160kbps. In comparison, Spotify Premium supports playing Spotify songs at up to 320kbps bitrates.
Some music fans might want to download high quality 320kbps audio to other devices by subscribing to Spotify Premium. However, the fact is that all Spotify music is only downloaded to the Spotify app. Worse, these downloaded Spotify tracks are in the protected OGG Vorbis format, which is lossy audio format, resulting in much greater compression but at the cost of some fidelity. For those audiophiles who want to enjoy offline playback on Apple Devices with the best sound quality, ALAC lossless format is the most recommended. Read this article below, and you'll get to know why you choose ALAC and how to download Spotify Music to ALAC Format.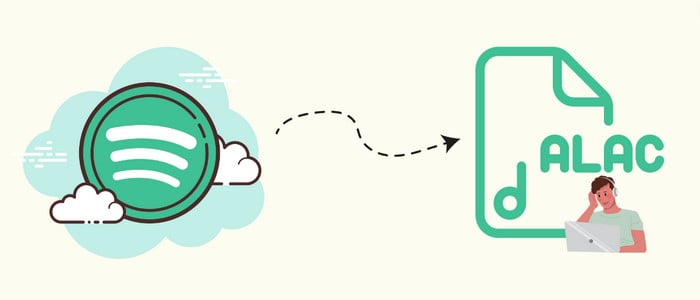 Part 1. What's ALAC Format and Why Choose It?
Today, there are a plethora of music file formats for use, such as MP3, AAC, WAV, and so on. Most people would prefer to download their favorite songs to MP3 for offline enjoyment. But we also have to accept the fact that MP3 is a lossy format. Therefore, if you are looking for superior audio quality, ALAC will be a fantastic option.
ALAC, short for Apple Lossless Audio Codec (or simply Apple Lossless), is a data compression method that reduces the size of the audio files with no loss of information for archiving. Basically, audios compressed in ALAC are stored in an M4A container. Although the ALAC audio is still compressed like AAC, the big difference is that the sound quality remains identical to the source. This lossless audio quality is similar to the FLAC (Free Lossless Audio Codec) but offers more compression comparatively.
ALAC is undoubted an alternative to AAC and MP3 formats because of its better and clearer sound quality. One of the best features of the ALAC format is its compatibility with Apple's most popular portable music players. Apple QuickTime, Apple iTunes, and Microsoft Windows Media Player's K-Lite encoding can open all ALAC audio files.
Part 2. How to Download Spotify Music to ALAC Format?
ALAC will give you the best experience because of its high-quality sound system. But how exactly would that work to download Spotify Music to ALAC format?
AudiCable Audio Recorder is the way out to download Spotify Music to ALAC format. Not only the ALAC format, but you can also use AudiCable to output Spotify Music to other generic formats like MP3, AAC, WAV, FLAC, and AIFF. The downloaded Spotify music will still retain original streaming music quality and ID3 tags. In addition, since some music platforms like Spotify can easily detect the "High Speed" recording feature, AudiCable adopts the original speed recording mode, which is safer than other music converters. Apart from recording Spotify music, AudiCable also allows you to download music from other streaming music platforms like Apple Music, YouTube Music, Amazon Music, and more. Move on to check out the following features!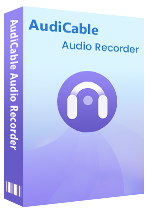 Best AudiCable Spotify Music Recorder( Mac / Win )
Download music from Spotify, Apple Music, Amazon Music, Tidal, Line Music, Deezer, YouTube Music, Pandora, SoundCloud and other music sources.

Save music to MP3, AAC, WAV, FLAC, AIFF, ALAC at 10x speed.

Keep the original audio quality.

Download songs with ID3 tags.

Handy tools: Format Converter, ID3 Editors, AA/AAX Converter, and CD Burner.

Support Spotify Free and Premium accounts.
📂 Tutorial on Downloading Spotify Music to ALAC Format
Step 1: Download and Install AudiCable Spotify Music Recorder
Take first to download and start AudiCable Spotify Music Recorder for Windows or Mac. Most popular music streaming platforms are displayed on the main interface of AudiCable. Navigate to "Spotify" and click.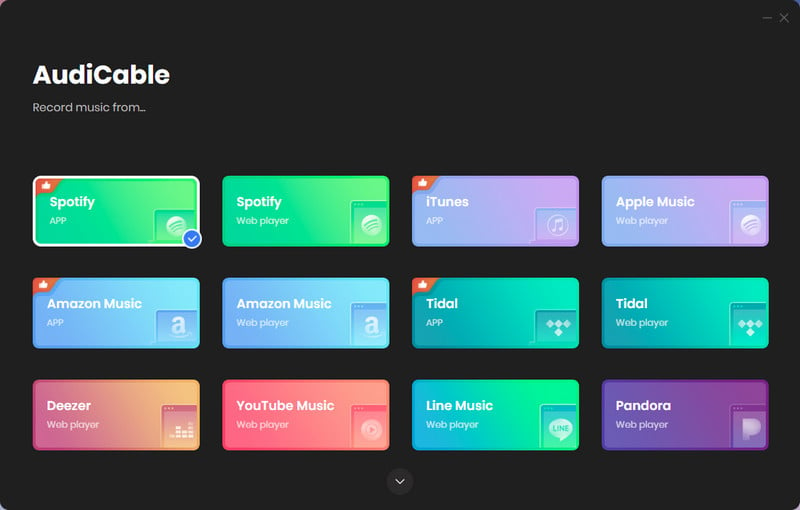 Note: Using the "Add other sources" button, you can also add other music services that you want. Just copy the official website, customize it with a new name, and then implement a new music platform.
Step 2: Choose the Player and Sign in
Please choose the way you want to download Spotify music. After that, sign in with your Spotify Free or Premium account.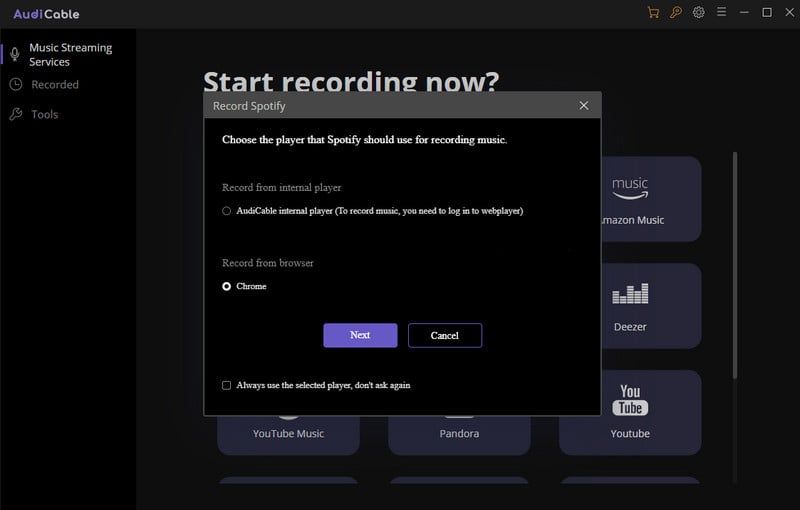 Note: The first option will bring up AudiCable's built-in web player window, and the second will pop up from your Chrome.
Step 3: Adjust the Output format as ALAC
On the top-right corner of AudiCable, click on a "gear icon". From the pop-up setting window, you need to choose "ALAC" as the output format for your Spotify songs. Then close it to apply the changes.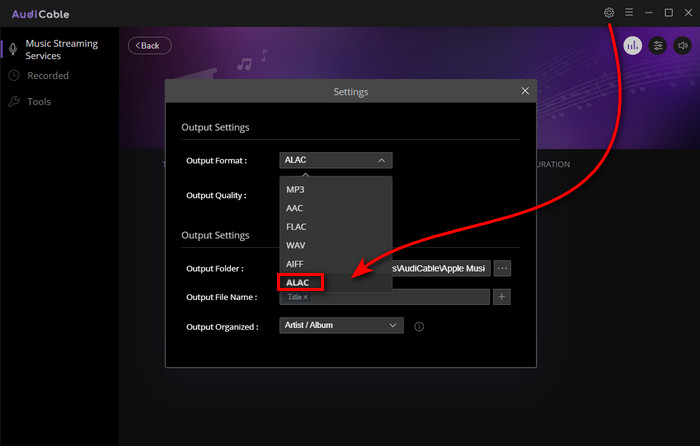 Note: Apart from the output format, you can also freely customize the output quality and output path as you like. The audio quality varies from 128kbps to 320kbps.
Step 4: Start Downloading Spotify Music to ALAC
Choose your preferred Spotify songs, playlists, or albums to play. As soon as you play the song, AudiCable will start recording simultaneously. All recorded Spotify songs are saved in the ALAC format you set before.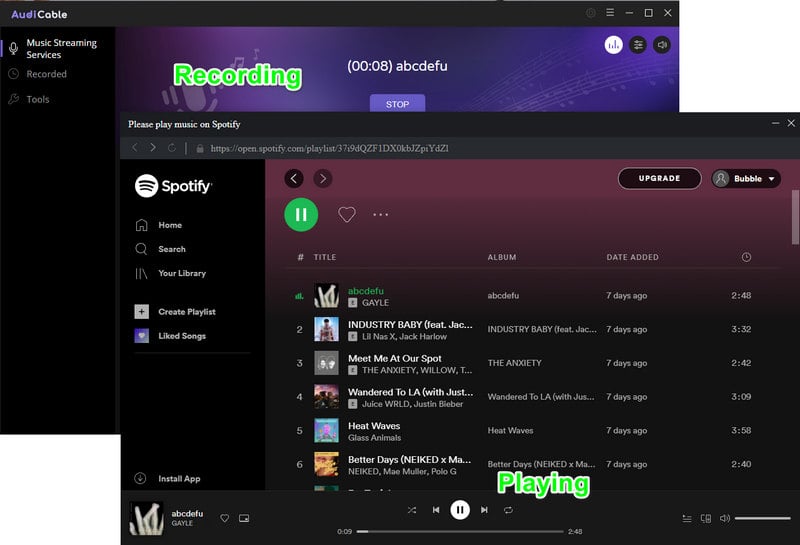 Step 5: Find Downloaded Spotify ALAC Audios on Your Computer Folder
Click the "Recorded" tap, and the "folder icon" behind a song, then you can quickly locate Spotify downloads. Now you can enjoy Spotify freely on all of devices that support ALAC format as you want.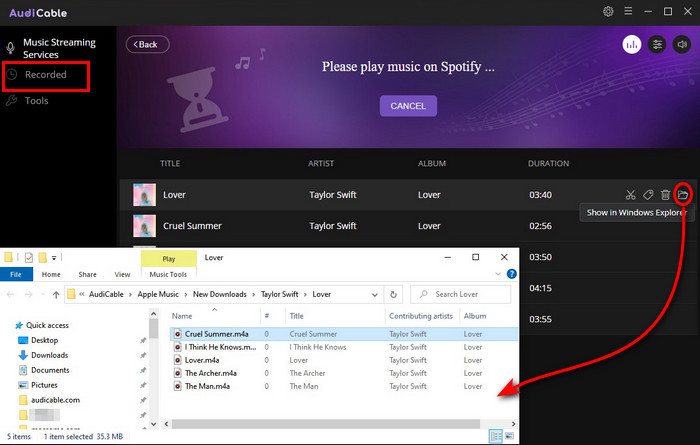 ★ Disclaimer
All these methods are for personal or educational use only.
You should not use this tool to distribute music or for business.
Conclusion
If you want to download Spotify music to ALAC format, and listen to these downloaded lossless tracks on other devices, AudiCable might be the exact tool you're looking for. It works for both Free and Premium users of Spotify on Windows and Mac. Why hesitate? Give it a shot now!
Note: The free trial version of AudiCable enables you to record a maximum of 10 Spotify songs. To get the full conversion, please become a registered member by buying a license from AudiCable.
Related posts