Download Adele Easy on Me Offline without Premium
After six years, Adele finally released a new album "30". Its lead single "Easy On Me" was extremely popular once it was released on 15 October 2021! In the past 6 years, she has experienced marital changes, depression, and tremendous changes in her weight. However, she was not defeated by these gloomy days, instead, she transformed into a braver, wise, and independent woman. Adele seems to be more attractive today. With poignant lyrics and emotional vocals, "Easy On Me" garnered the Spotify and Amazon Music records for the most streams for a song in a day or a week. And it topped the charts in 25 territories, including her homeland the United Kingdom, where it became Adele's third number-one single.
After listening to this song, do you want to own this song truly? The meaning of owning this song is not simply listening to the song or simply downloading it offline, but downloading and saving the song in a common format. Finally, you can play this song offline on any device, use it to make a CD, add background music to your video, and so on. Following this article, you will learn how to convert Adele's Easy on Me to an MP3/AAC/FLAC/WAV/AIFF format, and then truly own the song even if you do not subscribe to any streaming music service.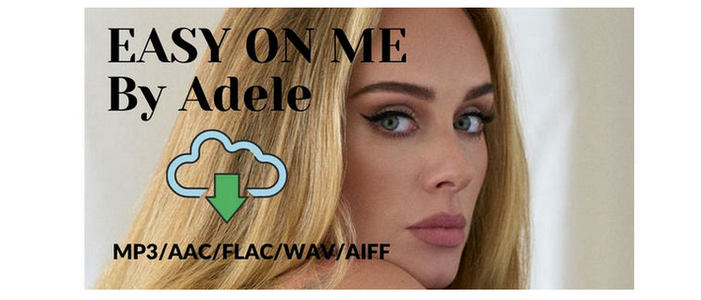 ◉ Steps to Offline Play Adele Easy on Me without Subscription to Any Streaming Music Service
It's known that we could not keep any song forever without a continuous renewal subscription to a music service. So for the playlist of your favorite music, you may have spent a lot of money on subscribing to streaming music services. And at most you can only enjoy offline listening to songs, and you cannot share songs, transfer downloaded songs, or use them for other purposes.
Fortunately, the emergence of some music downloaders broke this limitation. For example, AudiCable Audio Recorder, which is a very powerful streaming music downloader. You can download songs from almost all streaming music platforms. And it adopts an original speed mode, which safely guarantees that your account will not be detected by the music platform because of multiple-speed downloads. It also has a mute function. When you only need to download songs quietly, you can turn off the sound of the recorded songs in the background and do your work.
The main features of AudiCable are listed below.
1.

Download music from Spotify with a free or Premium account.

2.

Download music from Spotify, Apple Music, Amazon Music, Tidal, Line Music, Deezer, YouTube Music, Pandora, etc.

3.

Record and save Premium music to MP3, AAC, WAV, FLAC, AIFF, ALAC.

4.

Download tracks with original audio quality and ID3 tags.

5.

Play the downloaded songs on any device or PC with a common media player.

6.

Not record sound from the background. Songs will be saved clean.

7.

Can mute the recording sound and record in the background quietly.

8.

No extra need to install the music apps.
▶ Step 1: Install AudiCable Audio Recorder.
Open AudiCable Audio Recorder after its installation. You will find most popular streaming music platforms are displayed on the main interface. Among all music sources, I take Spotify as an example here. Spotify Free and Premium account are feasible. Click Spotify to enter the built-in Web Player.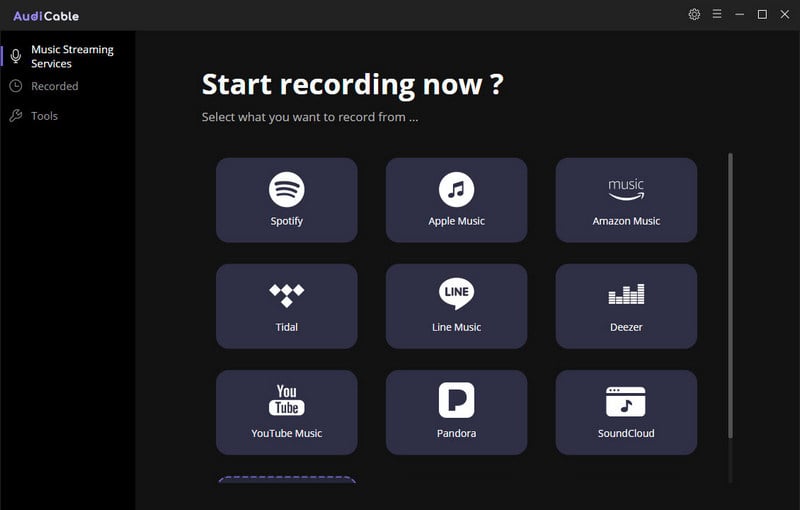 ▶ Step 2: Select the Preferred Output Parameters.
Before downloading music, go to the top right of AudiCable menu bar, click the setting icon. From this pop-up setting page, you are allowed to set the output format, output quality, and output folder. After finishing the settings, to apply the changes, you just need to close the pop-up window.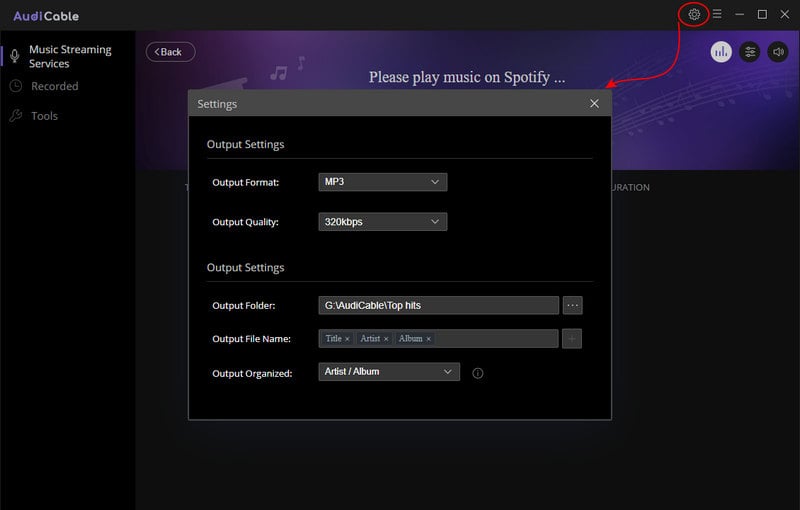 ▶ Step 3: Record Adele's [Easy On Me] to MP3 or Other Plain Formats
On the built-in Spotify Web Player, input Easy On Me or Adele in the searching box to get a result. Then start playing Easy on Me. At the same time, AudiCable will record the playing song with artist, album name, title, track number, and other ID3 tags. The song will be saved to the saving path you set before.
Tips: If you want to mute the song when recording, then under the "Music Streaming" tab on AudiCable, go to the upper right corner, tap the "sound icon"

to mute

the sound. When you need to end the recording, just stop playing the song directly.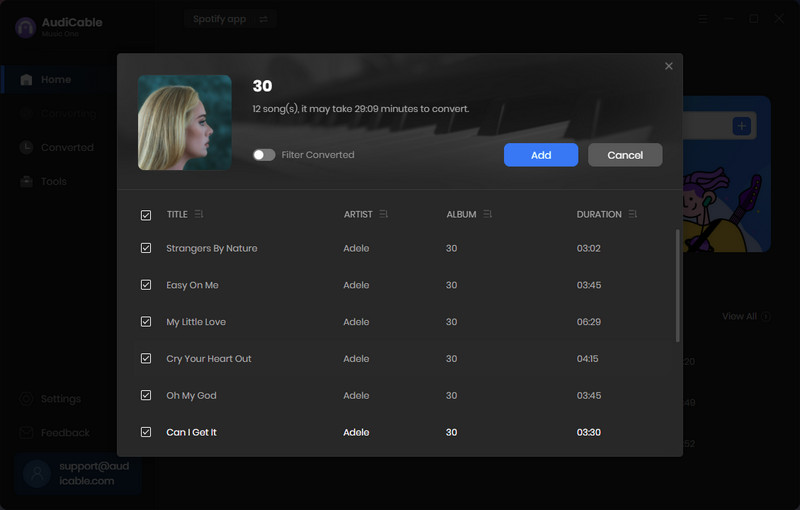 ▶ Step 4: Free Playback of Adele's [Easy On Me]
Now, open the output folder, you truly own this song. You can transfer it to any device, add it to a video as BGM, burn the song to a CD, set it as your ringtone on Android, or set it as your ringtone on iPhone. You can offline play Adele's [Easy On Me] without restrictions.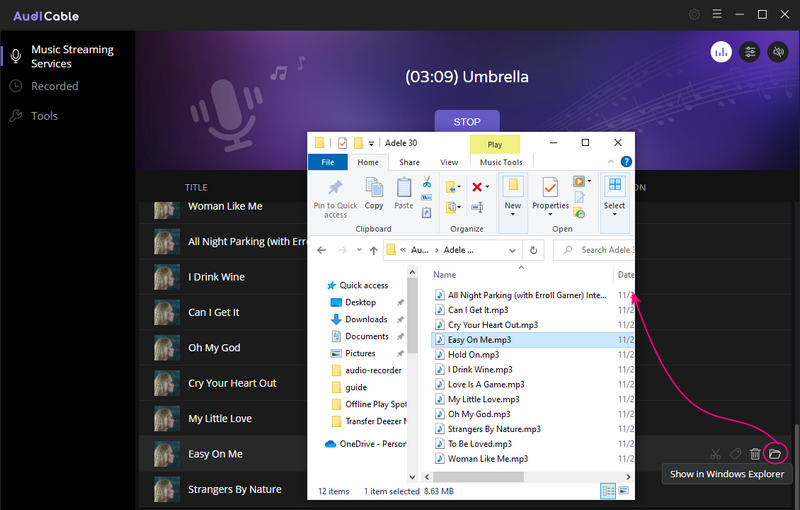 ---
◉ Conclusion
No matter which music platform you want you to download Easy On Me, AudiCable Audio Recorder won't let you go empty-handed. Not only this song but with this powerful music recording tool, other songs, and your favorite music can be downloaded safely and cleanly. No need to think about it, download and install AudiCable now, and enjoy the benefits it brings to you!
Related posts