Download Amazon Music to MP3 for Offline Listening
Nowadays, streaming music is all the rage. And among all popular streaming music, Amazon Music is intriguing. With Amazon Prime subscriptions, you can easily dive into your two million songs. And you can download music for playback with Amazon Prime subscription.
However, you can not really own the downloaded songs. Once the subscription is expired, you are not able to get access to music from Amazon. Therefore, you have to renew the subscription from month to month.
Additionally, if you want to move the downloaded Amazon Music tracks to other devices, or share them with your friend, it's impossible officially. Those songs can only be accessible with Amazon Music player. That's why a large number of users are looking for a way to convert Amazon Prime Music to MP3. If you are one of them, you can find a best answer right now. In this post, you will get a professional support to download Amazon Music to MP3 songs.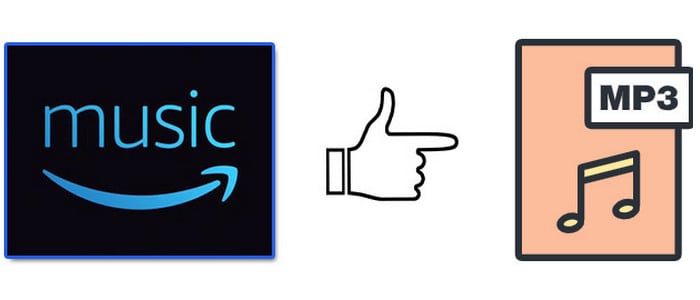 If you get a music downloader that only save tracks, albums from Amazon Music, you can only use Amazon Music all the time. But if you own a comprehensive music downloader like AudiCable Audio Recorder, you can download music from Amazon Music as well as Spotify, Apple Music, Tidal, Line, Deezer, YouTube, Pandora, SoundCloud and other music sources. When you give up Amazon Music, you can stream other music with AudiCable.
With AudiCable, you only need to download music in the background. Soon after, songs from a playlist can be saved to desktop as plain formats with ID3 tags. You can choose to cache the songs while listening to it or you can just download songs without disturbing you.
Check what AudiCable can do exactly then start downloading Amazon Music tracks, albums, playlists, podcasts to MP3.
Download songs from Amazon Music Unlimited and Prime Music.
Record music from Spotify, Apple Music, Tidal, Line, Deezer, YouTube, Pandora, SoundCloud and etc.
Save Amazon Music or music from other streaming apps as MP3, AAC, WAV, FLAC, AIFF.
Convert tracks to MP3, M4A, M4B, WAV, FLAC, AIFF, M4R.
Export music with original quality and ID3 tags.
Support to download songs while listening to music online.
No need to install additional apps including the Amazon Music app
Now we are going to check the detailed steps below to download music from Amazon to MP3.
---
Download Amazon Music to MP3 for Offline Listening
Step 1: Open AudiCable Audio Recorder on PC
The first step is to download AudiCable Audio Recorder from the link below and install this app on your computer. Then we will discuss how to download Amazon Music as MP3 in detail.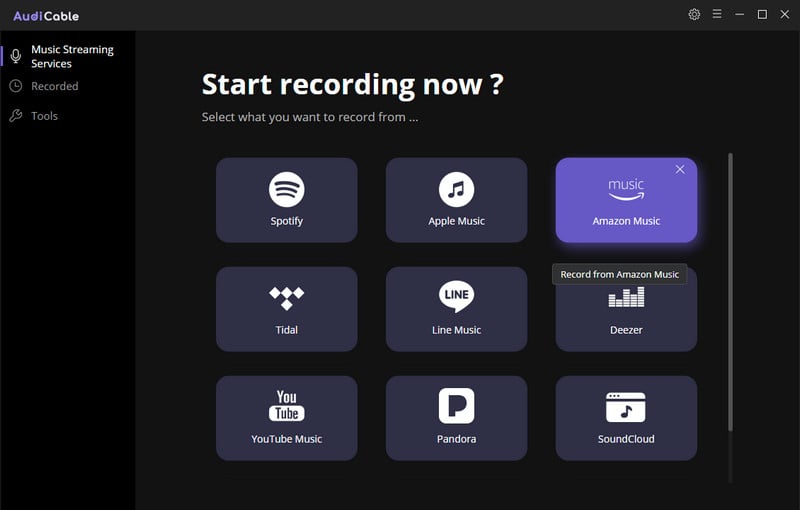 Step 2: Choose the Preferred Output Parameters
Click the setting button on the top right of AudiCable. A dialog of output settings will be displayed. From this page you are able to change the output format, output quality and output folder.
Output Format: MP3 / AAC / FLAC / WAV / AIFF
Output Quality: 320kbps / 256kbps / 192kbps / 128kbps
Generally, we choose to save Amazon Music as MP3 or lossless FLAC format. In this article, we choose to save Amazon music as MP3. And for a better audio quality, 320kbps is the right choice. And the output quality options are for MP3 and AAC formats. For users who need to download songs with original quality, you need to choose FLAC or WAV. AIFF is for Mac users.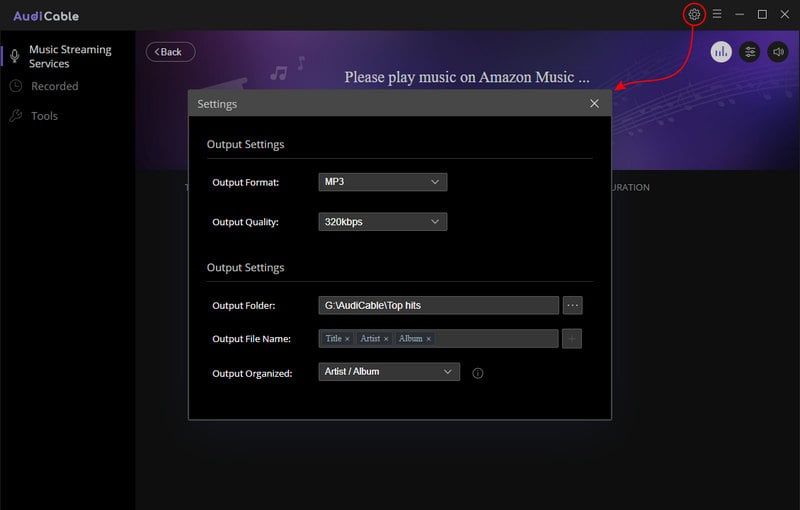 Step 3: Select a Playlist on Amazon Music
Now we start downloading music from Amazon. Look for a music playlist or an album on Amazon. Then start playing the first song in the playlist. Songs will be playing one by one orderly. Automatically, AudiCable will record the playing songs one by one with meta information in the background. After a while, all songs from the playlist are downloaded as MP3 files to computer.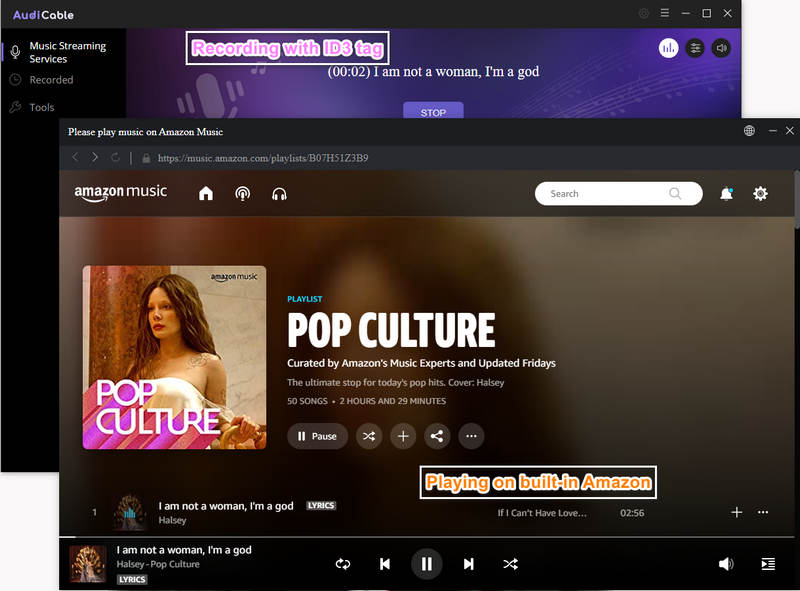 Step 4: Check the Downloaded Amazon Music
Once all songs from the playlist are downloaded, AudiCable will stop recording. If you need to download another playlist, you can repeat the last step. When all of your favorite songs are downloaded, on the history list of AudiCable, you will see a folder button if you move to a song. Click the button to locate the downloaded songs quickly. The output folder is the one you set before. Now you can move the dongs to any device. And all songs can be played with any media player without Amazon Prime subscription from now on.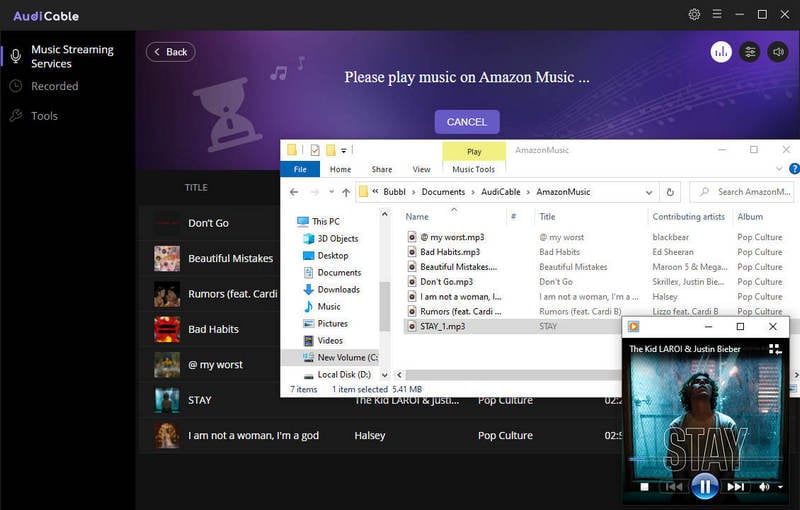 ---
Conclusion
Actually, for some of users, they choose renew the subscription to Amazon Music every month for offline listening. But when they need to move the downloaded songs to another device or want to share their favorite songs with friends, they need to save Amazon Music offline for real. AudiCable Audio Recorder is the best solution for anyone who needs to save music, albums, audiobooks, podcasts from Amazon Music or other streaming music apps as MP3. Download it and have a free try now! You will love this program after a free trial.
Related posts